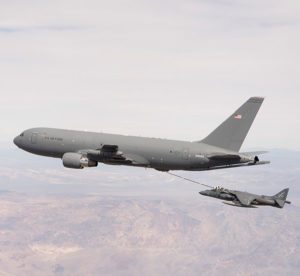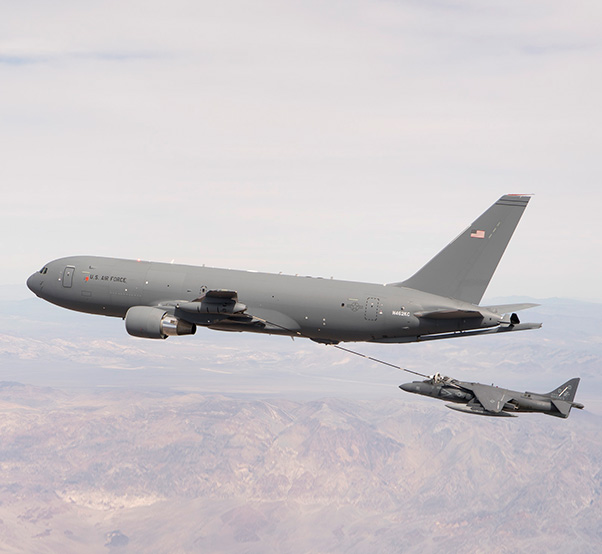 A U.S. Air Force and Boeing aircrew aboard the KC-46 tanker successfully refueled a U.S. Marine Corps AV-8B Harrier II in flight March 1. It took place in the skies over Washington state.
The air refueling used the KC-46's hose and drogue system.
The KC-46 will refuel aircraft using both its boom and hose and drogue systems. The boom allows the tanker to transfer up to 1,200 gallons of fuel per minute, while the plane's hose and drogue systems, located on both the plane's wing and centerline, enables the KC-46 to refuel smaller aircraft such as the Harrier Jump Jet with up to 400 gallons of fuel per minute, according to Boeing.
Like every aircraft in the Marine fleet, the AV-8B Harrier is used for multiple missions, which include attacking and destroying surface and air targets, escorting helicopters, engaging in air-to-air defense, providing reconnaissance and applying offensive and defensive support with its arsenal of missiles, bombs and an onboard 25mm cannon. Offering the versatility to conduct almost any mission, the Harrier II provides the ideal blend of firepower and mobility to effectively counter enemies engaged by Marine ground forces. 22,000 pounds of thrust enable the Harrier II to hover like a helicopter, and then blast forward like a jet at near-supersonic speeds.
The KC-46 has refueled multiple aircraft now including an Air Force F-16 from Edwards, a Navy F-18A Super Hornet and now a Marine Corps Harrier.
The KC-46A Pegasus is intended to replace the Air Force's aging tanker fleet, which has been refueling aircraft for more than 50 years. With more refueling capacity and enhanced capabilities, improved efficiency and increased capabilities for cargo and aeromedical evacuation, the KC-46A will provide aerial refueling support to the Air Force, Navy, and Marine Corps, as well as allied nation coalition aircraft.
The 412th Test Wing is the lead developmental test organization for the KC-46 Tanker Program.