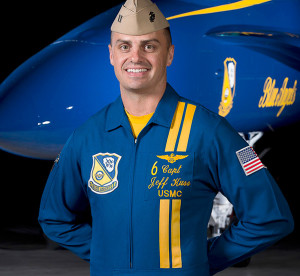 An F/A-18C Hornet assigned to the Navy Flight Demonstration Squadron crashed during yesterday's air show practice at the Smyrna, Tenn., Airport. The pilot, who did not survive, has been identified.
Blue Angel #6 was flown by Capt. Jeff Kuss, 32, of Durango, Colo. He served as the opposing solo pilot. This was Kuss' second year on the team and his first year as a demonstration pilot.
"The Navy and Marine Corps aviation team is grieving the loss of one of our own," said Vice Adm. Mike Shoemaker, commander, Naval Air Forces. "Captain Kuss was an incredible Marine, husband and father, and an inspiration to so many; his loss will be felt across the nation. Being a Naval Aviator is an inherently dangerous profession and our aviators knowingly accept that risk in service to their nation; but it still pains us greatly when we experience the untimely loss of a valued aviator and shipmate. Our heartfelt condolences go out to his family, friends, fellow Marines, and Blue Angels teammates."
At approximately 3 p.m., CDT, June 2, Kuss was taking off to start the afternoon practice when the mishap occurred. The crash occurred approximately two miles from the runway.
The other five Blue Angel jets were not involved in the incident and landed safely moments later. The cause of the accident is currently under investigation.
The Navy's Flight Demonstration team will conduct a one-time flight back to Naval Air Station Pensacola at which time they will begin a stand down (operational pause) for an undetermined amount of time following this mishap. This stand down will give investigation officials time to gather facts and ensure the continued safe operations of the squadron.
"The Navy is deeply saddened by the loss of Captain Kuss. We extend our heartfelt thoughts and prayers to his family, and those he served with."