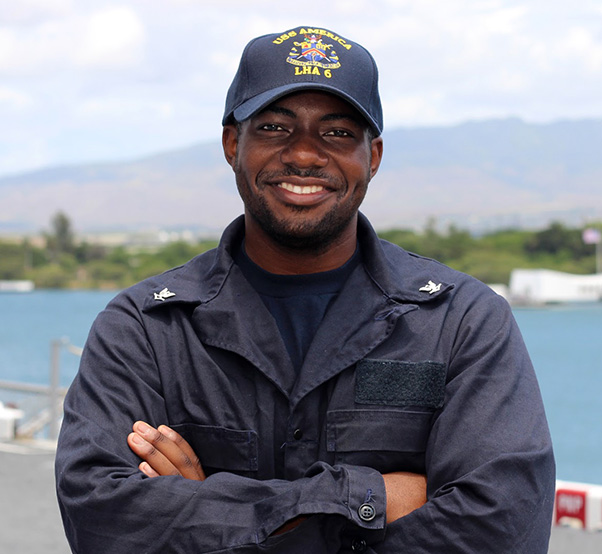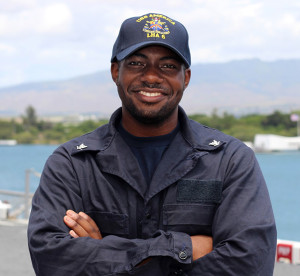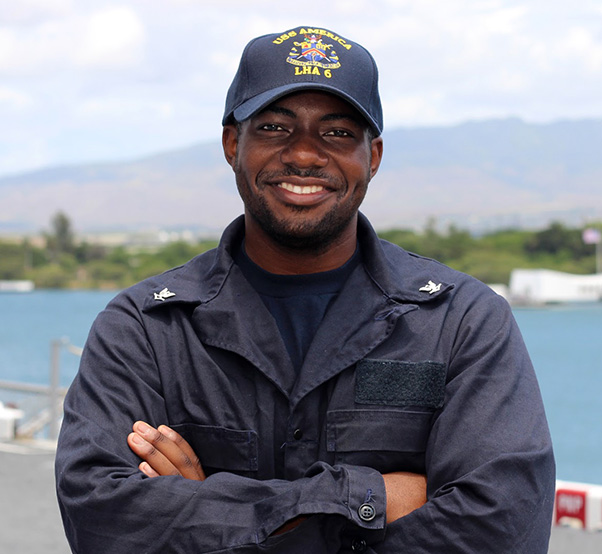 PEARL HARBOR, Hawaii–A 2008 Lancaster High School graduate and Lancaster, Calif., native is serving in the U.S. Navy and is participating in the world's largest international maritime warfare exercise, the Rim of the Pacific Exercise.
Petty Officer 3rd Class Milton Pete is an engineman aboard USS America, currently operating out of Pearl Harbor, Hawaii.
A Navy engineman is responsible for maintaining the ship's engineering equipment.
"I'm new aboard America and working to learn as much as I can about the ship," said Pete. "The RIMPAC exercise has required that I learn my role quickly."
According to Navy officials, RIMPAC provides a unique training opportunity that helps participants foster and sustain cooperative relationships that are critical to ensuring the safety of sea lanes and security on the world's oceans. RIMPAC 2016 is the 25th exercise in the series that began in 1971.
The theme of RIMPAC 2016 is "Capable, Adaptive, Partners," Navy officials explained. The participating nations and forces will exercise a wide range of capabilities and demonstrate the inherent flexibility of maritime forces. These capabilities range from disaster relief and maritime security operations to sea control and complex warfighting. The relevant, realistic training program includes amphibious operations, gunnery, missile, anti-submarine and air defense exercises, as well as counter-piracy, mine clearance operations, explosive ordnance disposal and diving and salvage operations.
The Department of the Navy's Great Green Fleet yearlong initiative will also play a major role in RIMPAC. The initiative highlights global operations using energy conservation measures and alternative fuel blends to demonstrate how optimizing energy use increases resiliency and operational readiness. During RIMPAC, almost all participating units will operate using an approved alternate-fuel blend.
Twenty-six nations, 45 surface ships, five submarines, more than 200 aircraft and 25,000 personnel will participate in the biennial Rim of the Pacific Exercise. This year's exercise includes forces from Australia, Brunei, Canada, Chile, Colombia, Denmark, France, Germany, India, Indonesia, Italy, Japan, Malaysia, Mexico, Netherlands, New Zealand, Norway, People's Republic of China, Peru, the Republic of Korea, the Republic of the Philippines, Singapore, Thailand, Tonga, the United Kingdom and the United States.
"I've been particularly excited about this opportunity. We've just come out of a lengthy period of maintenance," said Capt. Michael W. Baze, Commanding Officer of USS America.  "Our sailors knew this was coming and that it is a unique experience to exercise our abilities while building our connections with allies. RIMPAC gives us the opportunity to strengthen our bond with these navies in addition to sending a message to the world about our collective strength. Our crew is mostly under the age of 30 and something like this offers a tremendous opportunity for them."
"I think it is pretty cool to be serving aboard a ship that is named for our country," said Pete. "We have a feeling that we must hold the standard for all other ships in the fleet."
Challenging living conditions build strong fellowship among the crew, Pete explained. The crew is highly motivated, and quickly adapt to changing conditions. It is a busy life of specialized work, watches, and drills.
"The Navy has taught me patience," added Pete.
Editor's note: Additional information about Rim of the Pacific Exercise is available at http://www.cpf.navy.mil/rimpac/.