by Linda KC Reynolds
Staff writer
Students are having fun learning about science and crazy things that fly at Blackbird Airpark Museum in Palmdale, Calif., during the Junior Test Pilot Program running June 11-July 19, Monday thru Thursday from 9 a.m.-12:30 p.m.
STEM activities include: flight, stealth, altitude, MACH speed, payload, maneuverability, reconnaissance and jet engines.
"What I found interesting was that kids related so much to animals," said Art Thompson, who was guest speaker during the stealth portion of the program. Thompson helped produce technologies used on Northrop Grumman's B-2 Stealth Bomber program and broke altitude records with the Red Bull Stratos program, developed by his company Sage Cheshire. "I like how they related to animals and how they use camouflage to blend into their environments and
avoid detection."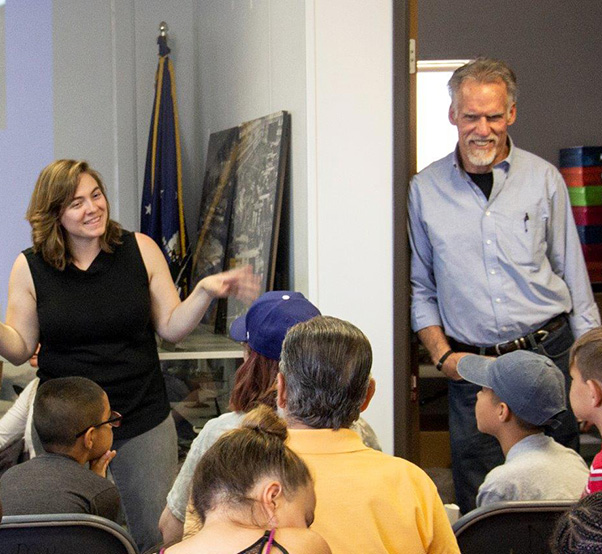 Following the stealth theme, some kids drew a katydid as an example of camouflage, some drew polar bears as an example of insulation, and some drew ants as an example of noise reduction. They also made paper airplanes faceted to refract radar at different angles.
The learning activities are designed for elementary-age children, but all ages are welcome. Classes begin with a half hour educational tour of the airpark, followed by a craft or experiment that pertains to the days' theme, then a lecture from an expert in the field.
Lulu Mercado has all three of her sons, ages 7 to 11, enrolled in the program. "I think it is very important to support children, especially when a program of this caliber is being offered," she said. She enjoyed watching her kids interact with other kids and the instructors, and she says she also learns something new every day. Kids earn mission stickers and patches.
For more information on this program, visit www.afftcmuseum.org/2018-blackbird-airpark-summer-jr-test-pilot.