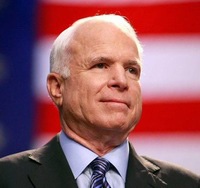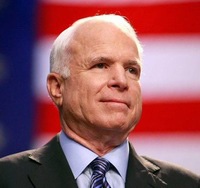 LANCASTER, Calif.—In the week before Labor Day, the nation mourned the death of U.S. Sen. John Sidney McCain, 81, R-Ariz.
McCain's passing was also paid tribute by Juan Blanco, president of Coffee4Vets, at the organization's weekly gathering early Tuesday morning Sept. 4 at CRAZY OTTO'S on West Avenue I. There veterans of all ages, but largely senior citizens from every branch of the military, gather to break bread — or toast — and share memories of the past, with updates on the present.
In addressing the crowd, Blanco said, "Next Tuesday, 9/11, is a very serious day in America."
Blanco mentioned his visits to the World Trade Center several times prior to the terrorist attack that collapsed both towers of the structure. When he saw the devastation, Blanco said, "my heart sank."
That led to his comments regarding the loss of McCain. Blanco acknowledged to a room filled with many Republicans that he is a registered Democrat, an announcement greeted with a round of light-hearted "boos."
But, Blanco told them that despite his political affiliation, he doesn't like hearing anyone disparage McCain's name.
"He was a Navy pilot who did his duty, did his job, was shot down over enemy territory, was a POW for several years, returned home and still served this country."
McCain was held as a prisoner of war and tortured continuously in Vietnam from Oct. 26, 1967, when his aircraft was shot down over Hanoi. He endured barbaric treatment and even spent two years of his more than five-year imprisonment in isolation. His captors released him March 14, 1973.
McCain graduated from the United States Naval Academy in 1958 and followed in the footsteps of his father and grandfather.
Back in civilian life, McCain served in the U.S. Senate from 1986 until his death from brain cancer on Aug. 25. He never harbored any bitterness and seemed to always find the silver lining in every cloud. In a farewell message he wrote to the nation, McCain said, "Thank you for the privilege of serving you and for the rewarding life that service in uniform and in public office has allowed me to lead. I have tried to serve our country honorably.… I would not trade a day of my life, in good or bad times, for the best day of anyone else's."
"There's no doubt in my mind he is a hero," Blanco told the crowd.
"He represented everything we're about in this room — honor and dignity. He served this country tremendously. We're all here and we're all Americans," Blanco said. "We are all one. That's what this room is: a room of one."