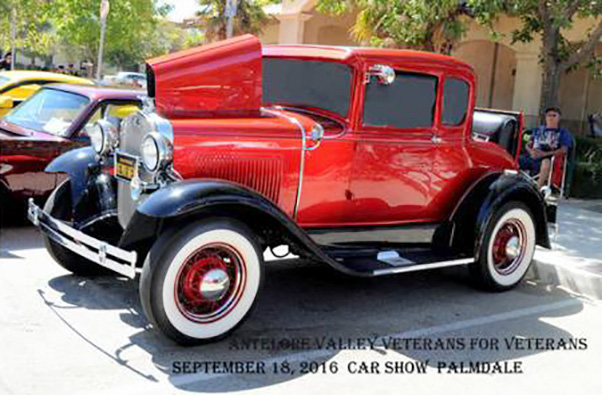 PALMDALE, Calif.–A car and motorcycle show, a parade, food, and fun, the works. It's all in the program for this Sept. 16 with the 9th Annual Vets4Veterans Classic Car and Motorcycle Show hosted at Poncitlan Square in the Palmdale civic center complex.
If that is not enough, there is a Poker Run, too, that features prizes, and many trophies will be awarded in an array of categories for classy, vintage vehicles.
Vets4Veterans organized nearly a decade ago when veterans meeting at the Palmdale VA-affiliated Vet Center decided that they wanted to do something of meaning for veterans who are in dire straits, or who need help in transition to civilian society. The group helps with emergencies for local veterans, with scholarships for veterans attending Antelope Valley College, and is preparing its Operation Restart project, transitional housing of up to six months for a veteran and family members in need.
"All funds raised goes to our veteran projects," Hilzendeger said. "Nobody takes a dime for what we do."
 "The parade at Poncitlan Square starts at noon, and is lining up at 11:40 a.m.," said Vets4Veterans Volunteer Coordinator Jodi Kyman. "We invite all active duty and veterans who would like to march in the parade as we present the colors."
Wearing of the uniform is appropriate, she said, as a demonstration of pride in service. Poncitlan Square is at 38315 9th Street East.
"It really is a family-friendly event with fun for all ages," Vets4Veterans President Tom Hilzendeger, a Vietnam War veteran said. "There's going to be food, and quality vendors in addition to the cars and motorcycles."
"We are looking for people who care about helping out local Antelope Valley veterans who need a hand up, not a hand out," Hilzendeger said. "Our group has established a solid track record of helping a lot of veterans."
The Poker Run begins at 9 a.m. at AV Harley-Davidson and has a $25 entry fee. At the event starting at noon, there will be craft vendors, live entertainment, the bank "Boys Night Out," and food concessions. Poncitlan Square is the community park at 38315 9th Street East.
"You don't need to have served in the military. All that matters is that you really care about people who did serve," Hilzendeger said.
Information about volunteering and the organization can be found at www.avvets4veterans.org, or by calling 661-714-0454.