This week, Virgin Orbit released photographs of its LauncherOne rocket mated for the first time with the modified Virgin Atlantic Boeing 747, dubbed Cosmic Girl.
The 747 2ill carry LauncherOne up to 30,000 feet before the rocket engages its thrusters and flies into orbit. The rocket will travel at 17,500 mph, dropping satellites into earth orbit.
On this online blog, Virgin founder Sir Richard Branson said the first launch will be early next year.
Virgin Orbit is based in Long Beach, Calif.
Virgin Orbit was formed in March 2017. Prior to that, activities now conducted by Virgin Orbit were conducted as a division of Virgin Galactic.
"The team were carrying out the integration check of the rocket with Cosmic Girl to verify mechanical, electrical, software and dynamics all work together for the first time," said Branson. "We wouldn't usually mate the rocket to the plane here [in Long Beach], but it made sense to do so for this first time. And hopefully, it's a nice treat for our neighbors. It's an incredibly exciting moment for us, as Virgin Orbit's first test flights move ever closer."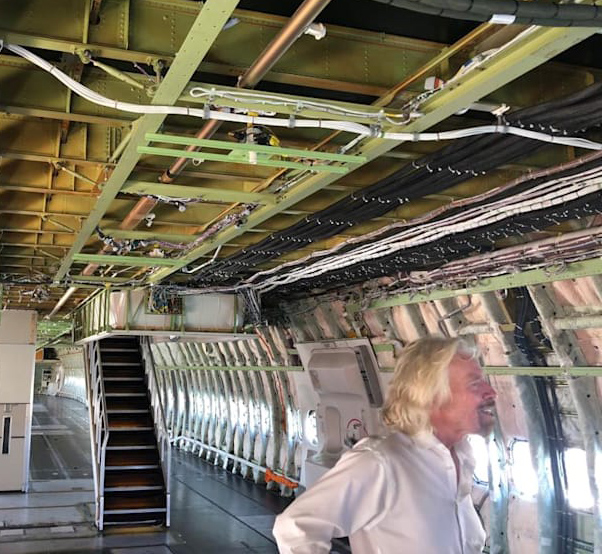 At 70 feet, LauncherOne is twice the length of a London bus and will travel at more than 20 times the speed of sound. The rocket weighs 57,000 pounds, which is the equivalent to 25 small family cars. Launcher One's payload will carry satellites that could be as small as a loaf of bread and as large as a household fridge.
Cosmic Girl is the first 747 in history that has been converted to launch rockets. This means it can fly thousands of miles in any direction at 24 hours' notice to deliver to the right orbit. Currently, people have to wait between 18 and 24 months for manufacturing and a ground launch.
"A week earlier, I got to visit the team at our home in Long Beach and see the progress taking place first-hand," said Branson."I also got to take a sneak peek inside Cosmic Girl too. It was amazing seeing the modified 747 looking so different from her days as part of our Virgin Atlantic fleet. It's the ultimate upcycling!"
This type of air-launch system has been used for decades, but California-based Virgin Orbit aims to reduce the cost by using advanced technologies ranging from carbon composite materials to 3-D printing. Virgin Orbit says the cost of a launch should range somewhere around $12 million.
"We've got lots of exciting milestones to strive towards in the coming months, and we'll be sure to keep you posted," said Branson.