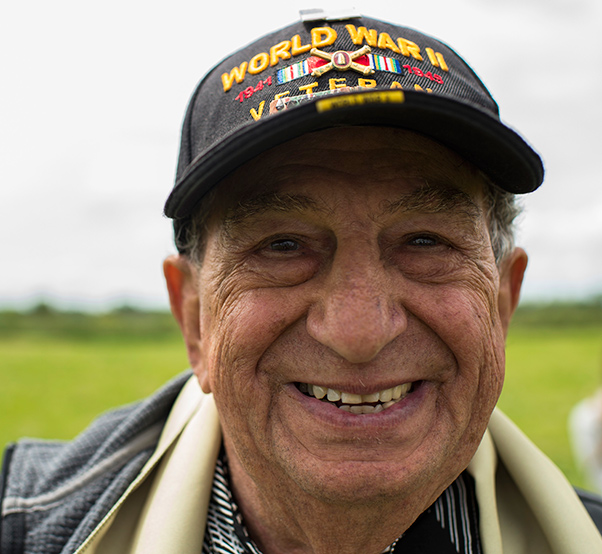 The Joint Task Force Normandy conducted a commemorative airborne drop to honor the historic airborne operation conducted by Allied forces on June 6, 1944, just outside of Sainte-Mère-Église, France, June 9, 2019.
The commemorative airborne operation provided an opportunity for multinational forces to both honor the past and work to secure the future.
Training in the very location where the liberation of France, and then Europe, first began 75 years ago exemplified the Allied partnerships and bonds forged long before D-Day.
Multiple airborne demonstrations were held throughout the day including jumps from U.S. military static-line paratroopers, U.S. military free-fall teams and civilian parachutists. These paratroopers and parachutists landed in the Iron Mike drop-zone in front of thousands of U.S. service members, Allied service members and civilians who spent the day spectating the events and listening to the stories of World War II veterans, also in attendance.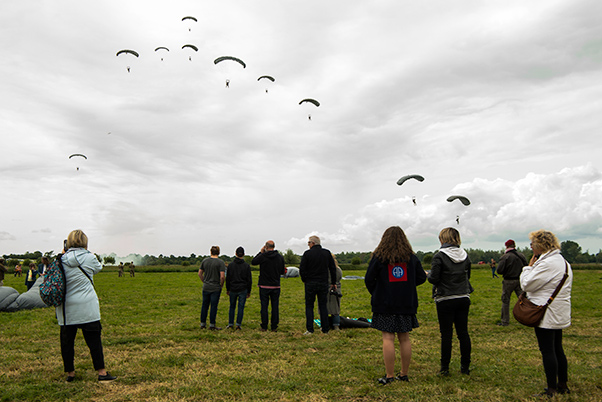 In total, over 900 military paratroopers and 110 civilian parachutists from seven countries participated in what is known to be the second largest airborne operation since WWII.
After descending from the skies and landing in the bumpy fields of the Iron Mike drop-zone, just as Allied forces had on June 6, 1944, one U.S. paratrooper felt overcome with emotion.
"It's incredibly overwhelming," said U.S. Army Staff Sgt. Michael J. Heath Jr., 173rd Airborne Brigade Combat Team, 2nd Battalion, 503rd Infantry Regiment, Chosen Company mortar section leader. "As you know, everyone is jumping here today to commemorate the 75th anniversary of the liberation of France and Normandy. Ever since I was a kid I wanted to be a paratrooper — I was always studying and reading about World War II and the fact I'm jumping here today is absolutely mindblowing."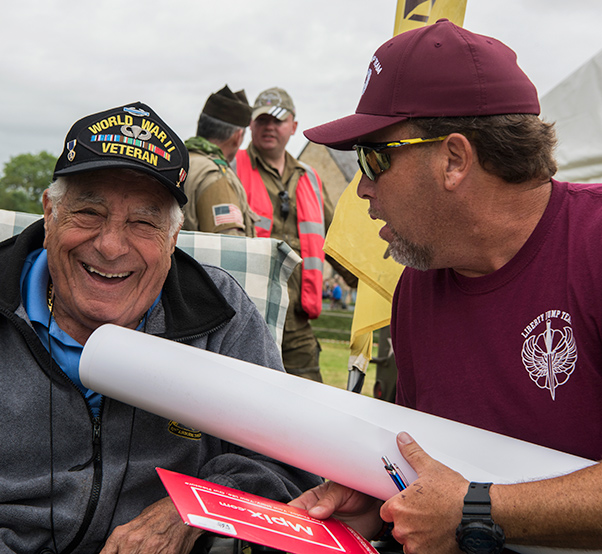 To achieve his childhood dream of becoming a paratrooper, Heath credits one individual for helping him see it through.
"I just want to thank my brother who always believed I could do it when other people said I couldn't," said Heath.
After the last paratrooper had dropped for the day, the commemoration was concluded with the annual Iron Mike Ceremony. The ceremony honored the 254 U.S. soldiers who were killed, and the 525 wounded during the Battle for La Fiere Bridgehead from June 6-9, 1944.

The following countries were represented in this multinational commemorative event:
53 paratroopers from Belgium
120 from France
55 from Germany
60 from the Netherlands
20 from Romania
57 from the United Kingdom
780 from the United States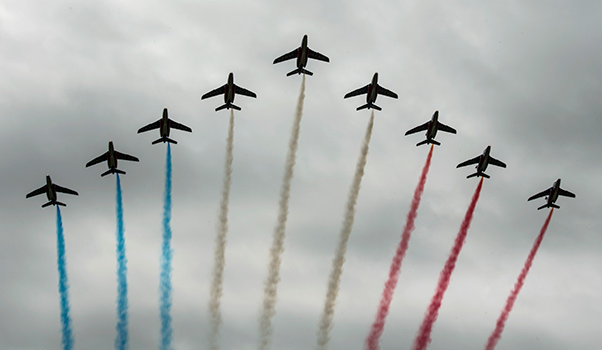 Participating U.S. military units in the commemorative airborne operation included the:
82nd Airborne Division
75th Ranger Regiment
173rd Infantry Brigade Combat Team (Airborne)
4th Infantry Brigade Combat Team
4th Brigade Combat Team, 25th Infantry Division
Army Ranger Training Brigade
1st Battalion, 509th Parachute Infantry Regiment
503rd Airborne Military Police Battalion
U.S. Army Civil Affairs and Psychological Operations Command
Special Operations Command in Europe
U.S. Air Force in Europe
86th Airlift Wing
37th Airlift Squadron
XVIII Airborne Corps




Four F-15E Strikes Eagles, assigned to the 48th Fighter Squadron, Royal Air Force Lakenheath, England,conduct a fighter escort for 23 aircraft dropping personnel into Iron Mike Drop Zone, outside of Saint-Mere-Eglise, France June 9, 2019. The F-15s were painted in honor of their predecessor aircraft, the P-47s Thunderbolts from World War II. (Air Force photograph by Senior Airman Devin M. Rumbaugh)





A static-line paratrooper prepares to land as a U.S. Air Force C-130J Super Hercules, assigned to the 37th Airlift Squadron, Ramstein Air Base, Germany, passed overhead during the D-Day Commemorative Airborne Operation over Iron Mike Drop Zone, outside Saint-Mere-Eglise, France June 9, 2019. Approximately 23 aircraft dropped over one thousand personnel in honor of the airborne operation held on June 6, 1944. (Air Force photograph by Senior Airman Devin M. Rumbaugh)





International Patatroopers participating in the D-Day Commemoration Airborne Operation fall into Iron Mike Drop Zone outside of Saint-Mere-Eglise, France June 9, 2019. More than 900 military paratroopers and 110 civilian parachutists from seven countries participated in the historic event. (Air Force photograph by Senior Airman Devin M. Rumbaugh)





A U.S. paratrooper walks with a U.S. flag on his shoulders after conducting a static-line jump into Iron Mike Drop Zone outside of Saint-Mere-Eglise, France June 9, 2019. Paratroopers conducted the largest airdrop since Operation Neptune June 6, 1944. (Air Force photograph by Senior Airman Devin M. Rumbaugh)





A military-free-fall paratrooper lands as a United States Air Force CV-22 Osprey, assigned to the 352nd Special Operations Wing flies above the Iron Mike Drop Zone outside of Saint-Mere-Eglise, France June 9, 2019. Iron Mike Drop Zone is a historic location to Operation Overlord. (Air Force photograph by Senior Airman Devin M. Rumbaugh)





U.S. Air Force Gen. Jeffrey L. Harrigian, United States Air Forces in Europe and Air Forces Africa commander, and Maj. Gen. James J. Mingus, 82nd Airborne Division commander, converse during an intermission in between airborne demonstrations outside Sainte-Mère-Église, France, June 9, 2019. The airborne demonstrations, which featured 900 military paratroopers, commemorated the U.S. – led airborne operation during D-Day, June 6, 1944. Following the airborne demonstrations, Mingus, as guest speaker, spoke during the annual Iron Mike Ceremony honoring the 254 U.S. soldiers who were killed, and the 525 wounded during the Battle for La Fiere Bridgehead from June 6-9, 1944. (Air Force photograph by Senior Airman Kristof J. Rixmann)





French local, Louis Boyer, parachutist, gets a moment of shut-eye after jumping from a C-47 Skytrain and landing into the Iron Mike drop-zone outside Sainte-Mère-Église, France, June 9, 2019. Boyer, 17, was the youngest individual, out of over 1,000 paratroopers and parachutists, to participate in the D-Day 75 Commemorative Airborne Operation — it was also the first time Boyer had jumped from a C-47. (Air Force photograph by Senior Airman Kristof J. Rixmann)





Thousands of spectators gather to see the D-Day 75 Commemorative Airborne Operation honoring the airborne operation launched on D-Day, June 6, 1944, outside Sainte-Mère-Église, France, June 9, 2019. In total, over 900 military paratroopers and 110 civilian parachutists from seven countries participated in what is known to be the second largest airborne operation since World War II. (Air Force photograph by Senior Airman Kristof J. Rixmann)





A French boy, dressed in a mock WWII-era uniform displaying the American flag, Canadian flag and an illustrated pin stating "I heart our veterans," extends his arm waiting to high five one of the many U.S. static-line paratroopers walking by during the D-Day 75 Commemorative Airborne Operation outside of Sainte-Mère-Église, France, June 9, 2019. Next to him, a French girl, extends her hand to give the paratroopers a token of gratitude which says "Thank You," in four different languages. Thousands of spectators showed up for the multinational commemorative events to witness an airshow and 900 paratroopers descend from the skies into the Iron Mike drop-zone, commemorating D-Day, 75 years ago. (Air Force photograph by Senior Airman Kristof J. Rixmann)





A U.S. static-line paratrooper gives his military service patches to the eager hands of French boys and girls outside of Sainte-Mère-Église, France, June 9, 2019. The military service patch, a unique design embodying the unit it represents, is a highly coveted souvenir for children in Normandy during D-Day commemorations. (Air Force photograph by Senior Airman Kristof J. Rixmann)