Test pilot Evan Thomas shared what it was like to be part of the team that brought Stratolaunch, the world's largest airplane, to its first flight, at a presentation hosted by the Antelope Valley Board of Trade and Antelope Valley College, at the college's Performing Arts Center in Lancaster, Calif., June 28.
Thomas, Stratolaunch's chief test pilot, touched briefly on what it took to create the Scaled Composites-built Model 351 Stratolaunch airplane, although he said it would take five presentations to describe in detail what it took to build the aircraft. Fully loaded, the airplane will weigh around 1.3 million pounds. For its first flight the crew, which also consisted of co-pilot Chris Guarente and flight engineer John Riley, flew a lighter 700,000-pound airplane.
Thomas said Scaled Composites, which was hired by Stratolaunch Systems to design, build and test the aircraft, used a lot of known systems, "The plane's six engines, its landing and nose gears are proven systems used on 747 airplanes, but adapted to the needs of this aircraft," he explained.
The mission of the airplane is to put a rocket booster in between the fuselages under the plane, carry it up to the intended altitude and launch the 500,000-pound rocket into orbit. To put that into perspective Thomas said it would be equivalent to hanging three fully-loaded 737 airplanes from the center of Stratolaunch and taking it to the 35,000-foot altitude needed for launch, something no other aircraft can even come close to doing, he said.
Building the airplane took a lot of guesswork, Thomas said. He compared the task to someone building a car in his home garage.
"There's a number of things that can happen," he said. "We went through a thousand 'what ifs' sitting with engineering teams."
Lots of testing was done before first flight, "First we did taxi testing — it's a big airplane and sort of like driving a super tanker. We started out at low speeds to make sure everything works. Test runs had to be carefully planned," he said.
Thomas said that before actual takeoff, he and the two other crew members spent hundreds of hours getting a feel for the airplane in the simulator, "The last thing you want is to be nervous at takeoff," he said.
The flight crew practiced takeoff in the simulator hundreds of times and each crew member's responsibility was scripted letting everyone know who is going to do what, he said.
"By the time we were ready to fly, the three of us were very confident," he said.
Thomas said their first flight went almost like their flights in the simulator and said it was super smooth.
He said they did several taxi tests on the 12,000-foot-long runway. They applied the brakes at 10 knots, then again at 25 knots, 40 knots, 70, 85, 100 and 110 knots to ensure brakes were working.
They climbed to 15,000 feet and did basic maneuvers while looking for anything strange while at high altitudes.
"It was very exciting to finally fly, it felt like we were in an elevator, it was quite an experience," Thomas said.
The airplane is not equipped with ejection seats. It has standard 747 seats and crew members are outfitted with parachutes.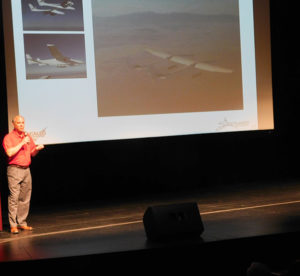 "In an emergency we'd go with a manual bailout and jump out the side of the airplane," he said.
He said before landing they made a low approach to check out the landing site, then turned around and did it again. "Folks on the ground thought we did a fly-by for them to check us out and thanked us," he chuckled.
He said first flight is a big deal. "Everything is unknown, virtually everything."
At the end of his presentation Thomas opened the floor to questions. Folks wanted to know where the crew sits and to their surprise, Thomas said all three members sit in the right-hand fuselage. "There are no controls in the left-hand side cabin, it's just a cabin with some electrical equipment inside it," he explained.
Someone asked if they copied any part of the Stratolaunch design from Howard Hughes' Spruce Goose. Thomas said the design is not the same as Spruce Goose, however, the Evergreen Aviation & Space Museum in Oregon gave them a piece of that aircraft that had come off and hadn't yet been restored, and the crew took it with them on their first flight.
A popular inquiry was how long until first launch. "That's a question that any good test pilot will not answer," Thomas said with a grin. He said they will continue to work on the airplane and will be ready for first launch when they are ready.
The presentation culminated with a loud applause from those attending the event.
An experienced F-16 and F-22 pilot, along with being certified in and testing many other aircraft, Thomas says he spent most of his career in flight test and also served as an instructor at the USAF Test Pilot School at Edwards Air Force Base, Calif., for 7 years.
Later, when talking with Aerotech News, Thomas said it was an honor to pilot this historic airplane's first flight.
"I've done a lot of first things, but I've never done a first flight. This was an opportunity of a lifetime," he said.
Thomas said it was vision of Stratolaunch Systems Corporation founder, Paul Allen, to build an airplane that can take a rocket booster with satellites on it, fly to an optimum launch location and launch and put satellites into space in a commercial operation.
"Doing the launch in the air saves some weight," he explained, which, he said, allows customers to put more payload into orbit.
Thomas, who's been on this seven-year-old project for a year and a half, hopes to see it through to first launch.