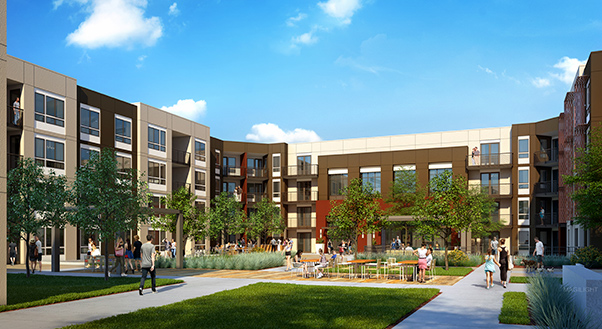 Applications are currently being accepted for the Courson Arts Colony West apartment complex in Palmdale.
Built by Meta Housing Corporation of Los Angeles beside the neighboring Courson Arts Colony East with support from the city, Los Angeles County, state and federal government, the 80-unit complex on Ninth Street East at Avenue Q-12 is expected to complete construction in August.
The complex is one of Meta's Housing's first art colonies geared towards veterans.
Courson Arts Colony West will contain 31 furnished one-bedroom units set aside for honorably discharged homeless veterans referred by the Department of Veterans Affairs.
Rent will be approximately 30 percent of each veteran's gross income, provided that the vet's annual income does not exceed $21,930 (for a one-person household), VA officials said.
There is no minimum income requirement for the 31 units, because the rents will be subsidized through the Veteran Affairs Supportive Housing Program.
The veterans living in the complex will get services from a social worker, a "peer supporter" and an in-home nursing provider.
The complex will feature a mix of one-, two- and three-bedroom floor plans as well as a variety of common areas, such as community room, clubhouse, outdoor lounge area, etc., where residents can gather.
Veterans can apply through their Veterans Affairs Supporting Housing case manager or VA social worker. Veterans who don't have a case manager or social worker, or anyone who wants additional information, can call Dalia Sanchez at 626-969-5673 or Russell Phillips at 213-247-3270.