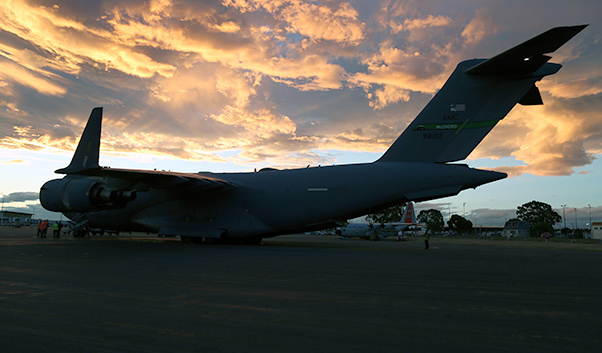 A U.S. Air Force Globemaster III, assigned to the 304th Expeditionary Airlift Squadron, Joint Base Lewis-McChord, Wash., landed at McMurdo Station, Antarctica, Aug. 31, 2019.
The aircraft delivered personnel and cargo to McMurdo, marking the first flight of the 2019-2020 Operation Deep Freeze season.
Operation Deep Freeze is a joint service, inter-agency support for the National Science Foundation, which manages the United States Antarctic Program. Joint Task Force-Support Forces Antarctica, provides Department of Defense support to the NSF and the USAP through ODF.
"The 2019-2020 ODF season marks the 60th Anniversary of the Antarctic Treaty and the 64th year of military dedication, ingenuity and labor in support of the Antarctic mission," said Col. Jamielyn Thompson, JTF-SFA deputy commander. "Each season presents new challenges; yet, the men and women volunteering to support Operation Deep Freeze continue to demonstrate their courage, determination, innovation and hard work.  Without them, our ability to ensure the success of the scientific research and to provide transportation and logistics to the US Antarctic Program and the National Science Foundation would be impossible."
JTF-SFA coordinates strategic inter-theater airlift, tactical deep field support, aeromedical evacuation support, search and rescue response, sealift, seaport access, bulk fuel supply logistics, port cargo handling and transportation requirements.
"For the upcoming ODF season, we are conducting a proof of concept test with the Air Force Portable Doppler Radar system," said Thompson. "This test will evaluate the PDR's ability to improve detection and forecasting of hazardous weather conditions in the vicinity of McMurdo station.  The PDR was chosen due to its reduced footprint, remote interface and capabilities to provide mission-impacting weather data in global austere environments via real-time Doppler products to designated sites." 
The intent of the PDR deployment to McMurdo will be to support JTF-SFA's strategic inter- and intra-theater airlift missions.
"From October 2019 to February 2020, technicians will observe and evaluate the PDR's operational capability in Antarctica's extreme environment," said Thompson. "If successful, procurement plans are in place to deploy the PDR system on a long-term basis."
The DOD's logistical support to the USAP, helps enable the nation's scientific research on the southernmost continent.
The 2018-2019 ODF season saw the first fully operational deployment of a U.S. Air Force LC-130H fleet modified with new propellers. The aircraft supported JTF-SFA to oversee and direct 270 airlift missions, moving over 6.7 million pounds of material, nearly 1 million pounds of fuel and transporting 4,658 passengers.
The ODF season runs annually, Aug. 1 through July 31. This timeframe allows the NSF's research teams and partnered entities the safest and most efficient method of accomplishing their joint goals.