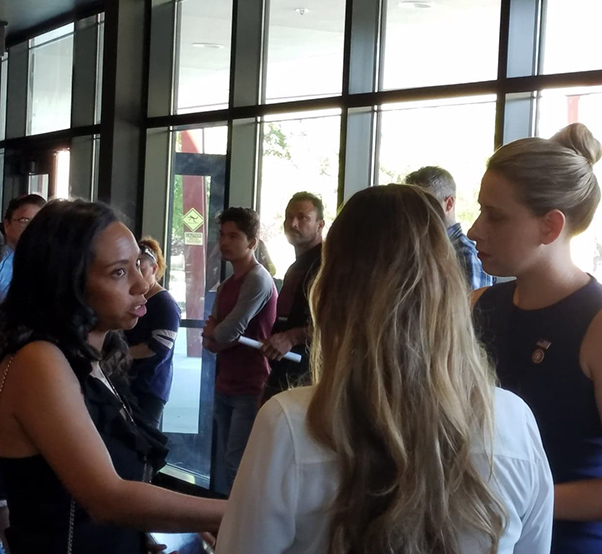 College bound? Why not consider applying for admission into a United States service academy run by the Air Force, Army, Navy, Merchant Marine or Coast Guard? These military academies offer a competitive and superior education. Students can serve this nation while working toward a career path for their future.
More than 75 college-bound students, some accompanied by their parents, attended a Military Academies Information Session Sept. 14 in the Performing Arts Theatre at Antelope Valley College, an event sponsored by Congresswoman Katie Hill, D-Calif.
Hill sits on the House Armed Service Committee among others, including the House, Science, Space and Technology Committee.
Representatives from the United States Military Academy; United States Naval Academy; United States Air Force Academy; United States Coast Guard Academy, and the United States Merchant Marine Academy spoke with prospective students and parents about life in a military framework.
Kelsey O'Hara, Programs and Research director for Hill, served as emcee for the formal program, which kicked off with a video that described the "Five-Pointed Star." Points on that star stand for United States service academies. Although each branch of service has its own identity and its own function, the video narrator said a common thread runs between them — "to be challenged at the highest levels."
The various branches have more in common than most people realize. "Each academy is rated as a top undergraduate college." Because standards are set so high, cadets not only excel while at the academies, but they excel after graduation and possibly make a career of the military. Students enrolled in any of the academies learn to be leaders in the service and that leadership quality continues in civilian life.
They learn to rely on each other "to get the job done. These are the young men and women we turn to for our national defense."
In each of the academies the cadets must be athletically inclined. Each academy has a similar code of conduct based on honor, morals and ethics. Lying, cheating and stealing are taboo. The education and training they receive inspires them to become adults of solid character. They give selflessly, regarding the well-being of the nation and of others before thinking about themselves.
While in the academies they have a wide range of fields they can choose from as their major, whether in engineering, the sciences, humanities, philosophy, economics and even music.
"They stand out as leaders, rather than followers," the narrator said. "They serve our nation in times of peace as well as times of conflict."
Students seeking an appointment to a United States Service Academy must meet certain requirements, O'Hara told the crowd. Academics accounts for 60 percent of their admissions score. The academies look for a strong composite on the ACT/SAT's, which students should start taking in their junior year in high school. Academies like composites close to 29-30 on the ACT's and from 560–600 or more on the SAT's. Students must have a thorough understanding of algebra and they must maintain a challenging core curriculum in high school.
Leadership counts for 20 percent of the score. They can gain that through participation on a high school athletic team such as football, baseball, basketball and track. Being team captain scores extra points. Participation in Scouts also adds points. The final 20 percent is a composite of the fitness assessment, an interview with Academy Liaison Officers, and a personal essay. Proper grammar, punctuation and communication skills factor into that score.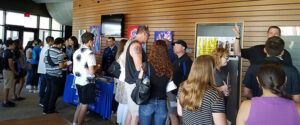 O'Hara said the deadline to get applications into Hill's Simi Valley District Office is Oct. 22. Applicants need to include a Letter of Recommendation and their SAT scores.
"This is a competitive process," O'Hara emphasized. "A nomination doesn't guarantee you go to an academy. An appointment guarantees your go to an academy."
Gregory Waugh, the Admissions Field Force Representative for California's 25th Congressional District at West Point, said Hill "has the ability to submit 10 nominations. Our district works hard to get in as many students as we can."
Waugh said he chose the Service Academy instead of a traditional college after spending a night at West Point. "I was a basketball player. I wasn't a partier in high school. I worked hard."
When he spent the night at West Point, he was impressed with the level of commitment he saw from the students.
"The way I look at business is everything I learned at the academy and in the military," Waugh said.
Andrew Barry, a research pilot for NASA at Air Force Plant 42 in Palmdale, graduated from the Naval Academy in 1994. "Why I went to the academy? I wanted to be a leader."
Barry came from a family of World War II veterans. From them he learned what it meant to be in the service. At the Academy, he majored in oceanography. In the Navy, he was an aviator.
"If you guys are up for the challenge," Barry said, "America is counting on you."
Kevin Yeam, an attorney, never went to a Service Academy. He earned a degree at the University of Southern California then studied law at Pepperdine University. But, he serves as a Volunteer Field Representative for the United States Merchant Marine Academy. His daughter attends that academy.
Merchant Marines are "some of the finest human beings you will meet."
Yeam said the Merchant Marine does not function in the same manner as a typical branch of the military. "We're different. We're with the Department of Defense."
What do the students learn? "You can fix any boat, in any ocean, anywhere in the world." At any given time, 250 students from that academy are out at sea. They earn $1,200 a month for that.
"Who do you think drives the boats for the Navy? The Merchant Marines," Yeam said. He recommended applying to the Merchant Marine Academy "at least as your backup. You will visit, on average, 20 different countries."
Cindy Jones Wade is an Academy Admissions Partner for the U.S. Coast Guard Academy. She's also a public high school teacher, a career she's worked at for the past 28 years. Her daughter joined the Coast Guard.
"She liked the humanitarian mission," Wade said of her daughter. They helped residents of the Bahamas in the aftermath of Hurricane Dorian and they also responded for a rescue mission to the Santa Cruz Island boat fire disaster, where more than 30 people died.
Everyone can apply. Last year the academy accepted 284 students, including some from international territories. For those not accepted into the academy on their first try, Wade said, a prep school provides an awesome opportunity. It gives students a year to prepare for an academy.
There are more women in the Coast Guard than in any of the other Service Academies, she noted.
Jennifer Riedel graduated from the Air Force Academy. "I was not vision-qualified to be a pilot. If you're not going to be a pilot, there are so many other opportunities." She became an engineer in the Air Force, and worked as a research scientist. Now she's a veterinarian.
Riedel described her time in the academy as a "huge learning process" for a young woman from a small town in Michigan.
Caden Kulp is a second-class cadet in the Air Force Academy. Why did he decide on the academy? All through high school he was involved in sports. "I love being part of a team. There's no better team than the military academies."
His first time of jumping from a plane with a parachute was terrifying. But, he did it. There was no backing out. He overcame that fear.
He offered advice to other young people contemplating applying for a United States service academy. "To make yourself better, remember why you're there. You're not there for yourself. You're there for the people next to you."
Ellie Kay, an Air Force Academy Admissions Liaison Office and parent of academy students, focused on the parent/child relationship.
"When our kids are little, we have to 'helicopter.'" She and her husband, Bob "K-Bob" Kay, a retired Air Force lieutenant colonel and an Admissions Liaison Officer, have seven children. Thinking back to when they were little, she said, "I saved their lives on many occasions. As they get older, the helicopter has to fly further and further away."
Students should not apply to a United States service academy because their parents want them to. The other side of that equation is if they want to join an academy, parents in opposition shouldn't stop them.
"When they apply to an academy, it has to be their decision," she said. "When they put on that uniform, they will be our heroes. You will be the heroes at home. You're supporting their dream. That's an heroic thing."
"I really am grateful for you taking the time," Hill told the crowd in attendance at the event. "This district sends more academy nominations than most districts."
Hill noted that her family has a long military history, dating back to the Revolutionary War. Her brother is currently a sailor. She said U.S. service members do much more than people realize — they fulfill the roles of diplomat and protector of this nation's allies.
For more information on the nomination process for residents of Rep. Katie Hill's congressional district, visit https://katiehill.house.gov/services/military-academy-nominations.