Last time, I shared the story of the F-100 jet display that never showed up at the Pete Knight Veterans Home, and my belief that we as a community should rally around this project to keep the promise that was made to our local veterans, who have been waiting patiently for its arrival.
Many folks would wonder why this is such a big deal, and may not understand just how spiritual a "gate guard" or "plane on a stick" is to those who find a value in such things.
Why, we ask? To illustrate my point, let me share a story about another old jet at the entrance to an airport, which went through a pretty tough bout with the turbulence that society and the elements can place on an airframe — and the love of some volunteers who adopted it and gave it back its dignity.
I'm taking you back to a time years ago, when I was doing some contracting work in Iowa City on a veteran's hospital there. I was lucky to get a place for a couple months near the local airport, so on my days off so I could explore the local aircraft community and see what "winged wonders" were housed in all those little hangers.
On one of my first trips I noticed some kind of jet in the trees, just off the entrance to the airport. Getting close up, I was horrified to see a once-proud bird that had fallen on more than hard times, as it was a mish-mash of components that was struggling to represent what it once was.
Shaking my head, I wanted to know more and went in search of the story of this F-86L front-line fighter which had once held court in the heartland of America, not far from where Field of Dreams was filmed. I wanted to know why its dream had turned into a nightmare.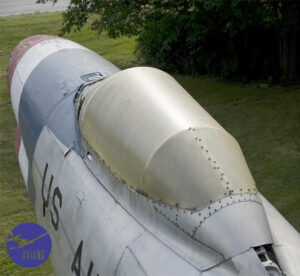 Talking to some locals at the airport, and finally ending up at the local American Legion post, a sad tale emerged of love lost and a community that had grown tired of a war, and decided to take out their frustrations on an old warbird.
On a special day, and after much political and community involvement, the star of my story landed at the Iowa City Airport and was presented to the community to honor those in the military that had come from their city and served our nation in times of conflict. Before long, the F-86 was mounted at the airport gate in a manner that allowed kids to climb on it and play until their childish hearts were content. The local veterans lovingly took care of it and the display became a point of pride for the local veterans and community.
Then came the turbulent 1960s and the Vietnam War caught up with the once-proud gate guard.
With the university just down the road, the display became the place where student protesters would come to vent their frustrations. The F-86 became a focal point of anger, as it became the proverbial and literal punching bag for those who wanted to send a message to the military and our government that military relics were not welcome in their city.
As the community took up sides, the veterans and protesters did their best to protect and to destroy. One fateful day, an organization that was against the war managed to remove the once-proud F-86, chop it up and haul it off to the scrap yard.
But they were soon informed that the aircraft was not theirs to dispose of; the U.S. Air Force still owned the rights to the jet, and a lawsuit would be filed if the jet did not find its way back to the airport. So after a lot of back and forth, the F-86 arrived back up at the airport in pieces and sat waiting for attitudes and the cultural climate to change.
After time and softening attitudes, some Midwest veterans did their best, with the help of farmers and local auto mechanics, to give it its dignity back at the entrance to the airport. While the heart was there, the skill of the amateur restoration crew was a little less than ideal — but at least the F-86 was once again doing its job of welcoming folks to the airport.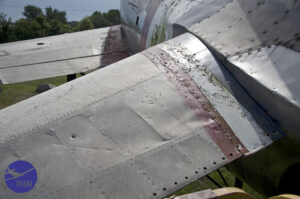 When I came upon it the first time, it had been struggling for decades and it showed. Nothing hurts more than seeing a once proud symbol of American Aviation pride in a condition of despair. I don't think even the birds in the area wanted to give the aircraft its due as a once-winged wonder that shared the air with them. Over the years, I followed the story of this gate guard and wondered if it would ever find the love that it once had before time, attitude and the weather caught up with it.
Well, I'm glad to say that to a small group of individuals this story needed a better outcome. Showing the spirit of the military faced with a task and a mission to bring back the pride to their local veterans who had embraced the aircraft when it first arrived, they rallied support from the community with donations and labor and have done their best to dress the old girl up and give her a new lease on life.
When we see the journey of just this one old warbird, we realize it's just one of many that dot the landscape across America. Each and every one of them holds a special place in the hearts of American military men and women, who find a value in their placement at locations to celebrate service to country in a special way.
I was thinking, when I was looking at the empty corner at the Lancaster Veterans Home, that we have an F-4 on a stick on Lancaster Boulevard, and an F-18 Hornet in front of our baseball field, but the one place that really calls out for that representation only has three cement blocks on a tarmac of white rock. We can do better, my friends, and we must. Time ticks away and we face losing another generation of veterans to whom we made a promise. At least we will never worry about an angry mob showing up and dragging such a monument off to the scrap yard, as I don't think a Veterans Home full of our nations very best, and the community that loves them, would ever let that happen!
So until next time — let's keep thinking about this project, pressing on and looking forward to the day when we can meet in person and get the ball rolling or — or should I say, give clearance for the safe landing of an F-100 at the Pete Knight Veterans Home.
Bob Out…