When NASA's Orion spacecraft travels beyond the Moon during Artemis I, boosted by the Space Launch System rocket on its maiden voyage, the spacecraft will carry a host of mementos for educational engagement and posterity in the Official Flight Kit.
NASA spacecraft, both crewed and uncrewed, have carried mementos from Earth since the 1960s. NASA's Voyager probe carried with it a gold record with Earth sounds, and the Perseverance rover that landed on Mars included a microchip with 10.9 million names that people submitted for inclusion in the journey. The agency flew metal on the last space shuttle mission that was later melted down and made into awards for employees.
A small Moon rock from Apollo 11 that also was aboard Orion's 2014 flight in space, Exploration Flight Test-1, will fly aboard the Artemis I Orion, marking the significance of the return of a spacecraft built for humans to the Moon. The National Air and Space Museum is lending an Apollo 8 commemorative medallion, a bolt from the Apollo 11 mission, and an Apollo 11 mission patch to the kit. The Apollo items contributed by the museum will be displayed in an exhibit after they are returned to Earth.
Many of the items included in the flight kit are symbols of cultural significance or NASA's collaborative efforts with STEM-focused organizations. The agency and the Girl Scouts of the USA collaborated to include space science badges to inspire scientific and career exploration in the STEM fields. Four LEGO minifigures also will catch a ride on the flight — NASA and the LEGO Group have partnered on collaborative efforts over the past two decades to engage children and adults alike in STEM and space exploration, including a free online Artemis I "Build to Launch" lesson series.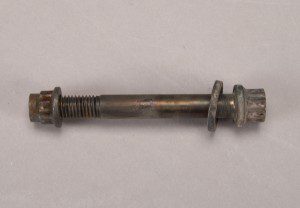 Digitized entries from NASA's Artemis Moon Pod essay contest, in recognition of students' efforts and contributions, as well as pledges from teachers to educate students about space exploration will also be included in the flight kit. Around 100 miniature Artemis I patches will be included and given after the flight for team recognitions to some participants in Artemis Student Challenges, an annual series of engineering challenges for middle school through undergraduate students. A variety of tree seeds will fly and will be distributed to educational organizations and teachers as a learning opportunity after the mission. Tree seeds were flown aboard the Apollo 14 mission and were germinated and grown into "Moon Trees" after being returned to Earth as an experiment to understand the effects of deep space on seeds.
A pen nib from the Charles M. Schulz Museum and Research Center in Santa Rosa, California, will make the trek on Artemis I. NASA has shared an association with Schulz and his American icon Snoopy since Apollo missions began in the 1960s. Schulz created comic strips depicting Snoopy on the Moon, illustrating public excitement about America's achievements in space. NASA renewed its relationship with Snoopy in 2019, the 50th anniversary of Apollo 10. The nib, used by Schulz himself, will be wrapped in a space themed comic strip.
NASA has a strong history of international collaboration and is extending many of its international partnerships to Artemis. Several items from other space agencies will be included in the flight kit. ESA (European Space Agency), which is providing the service module that powers and fuels Orion around the Moon and on its way home, will fly Shaun the Sheep, a small animal from the children's television series spinoff from "Wallace and Gromit" that was broadcast in 180 countries. ESA has a long-standing partnership and Shaun the Sheep has flown on its parabolic flight campaign to generate awareness of space.
A 3D-printed replica of the Greek goddess Artemis will fly for later display in the Acropolis Museum in Greece. The Israel Space Agency is contributing a pebble from the shore of the Dead Sea, the lowest dry land surface area on Earth, to symbolize humanity's continuing drive for exploration. The German Space Agency will fly digitized versions of student visions of lunar exploration as part of a nationwide educational activity.
The kit will also include a variety of flags, patches, and pins to be distributed after the mission to stakeholders and employees who contributed to the flight.
The Official Flight Kit, which contains about 120 pounds of mementos in total, augments important scientific research and technology demonstrations that will be aboard Orion.