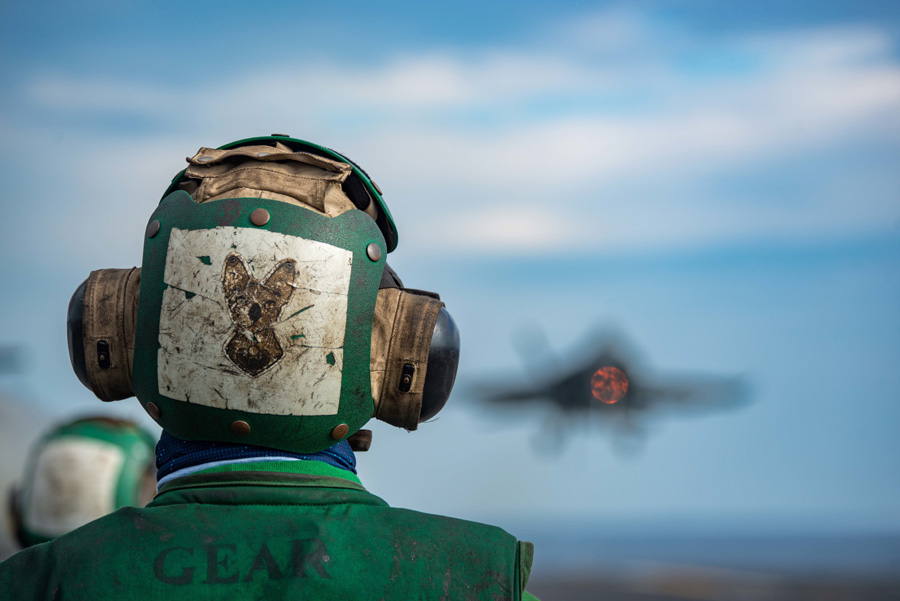 USS Ronald Reagan (CVN 76) conducts flight operations
Navy photograph by PO3 Gray Gibson
PHILIPPINE SEA–Aviation Boatswain's Mate (Equipment) Airman Micah Dayoub, from Lancaster, Calif., watches as an F/A-18E Super Hornet attached to the Royal Maces of Strike Fighter Squadron (VFA) 27, lands on the flight deck of the U.S. Navy's only forward-deployed aircraft carrier, USS Ronald Reagan (CVN 76), in the Philippine Sea, Nov 4. The Royal Maces conduct carrier-based air strikes and strike force escort missions, as well as ship, battle group, and intelligence collection operations. Ronald Reagan, the flagship of Carrier Strike Group 5, provides a combat-ready force that protects and defends the United States, and supports alliances, partnerships and collective maritime interests in the Indo-Pacific region.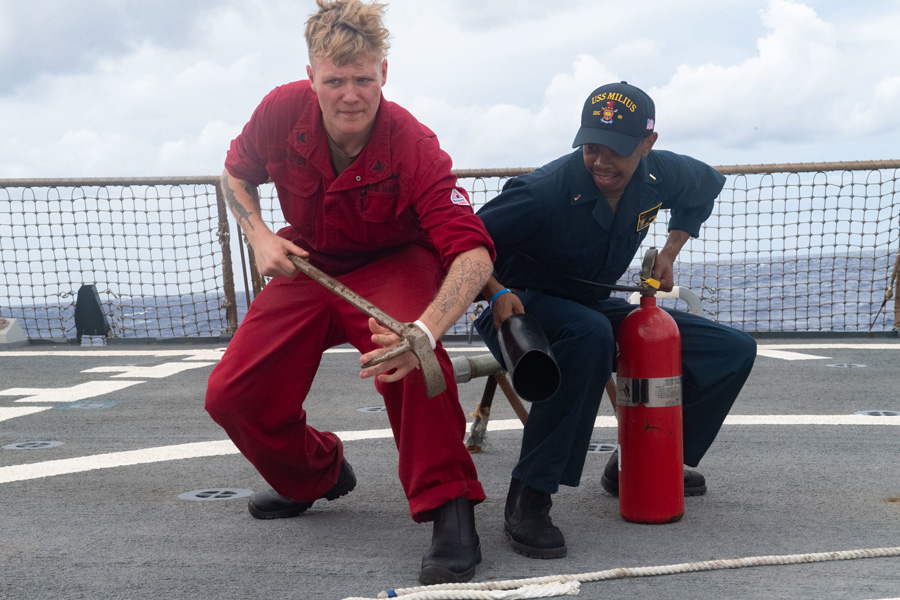 USS Milius (DDG 69) Sails The Philippine Sea
Navy photograph by PO2 Richard Cho
PHILIPPINE SEA–Damage Controlman 3rd Class Peyton Salter, from Williamsville, Ill., and Ensign Michael Brooks, from Santa Clarita, Calif., participate in a damage control exercise on the flight deck aboard Arleigh Burke-class guided-missile destroyer USS Milius (DDG 69) while operating in the Philippine Sea, Oct. 27. Milius is assigned to Commander, Task Force 71/Destroyer Squadron (DESRON) 15, the Navy's largest forward-deployed DESRON and the U.S. 7th Fleet's principal surface force.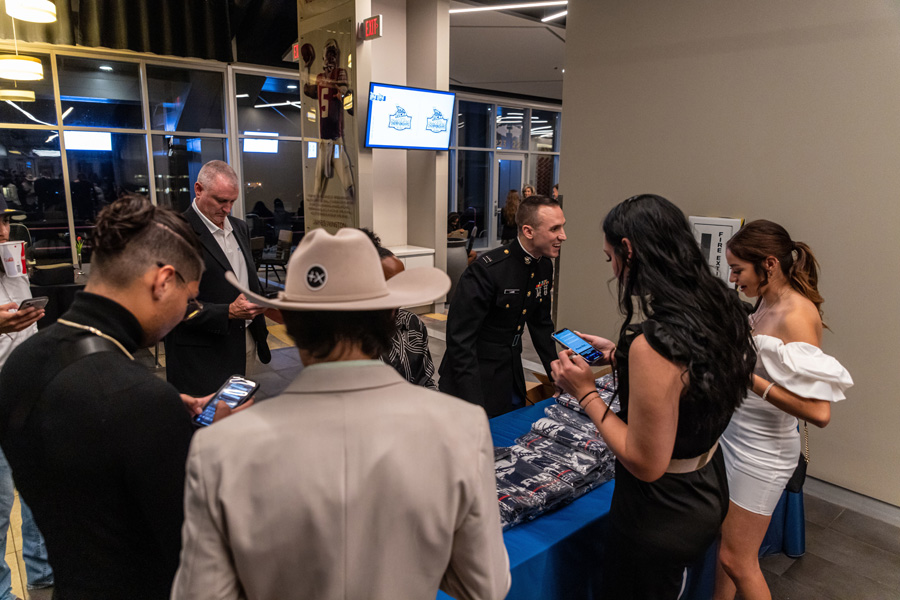 Marines Join NJCAA at Men's and Women's Cross-Country Championships
Marine Corps photograph by Lance Cpl. Gustavo Romero
U.S. Marine Corps Capt. Steven Lamb, officer selection officer with Officer Selection Team Tallahassee, Fla., and Palmdale, Calif., native, speaks to athletes, coaches and athletics directors at the 2022 National Junior College Athletic Association DI and DII Men and Women's Cross-Country and Half-Marathon National Championships in Tallahassee, Fla., on Nov. 12, 2022. The Marine Corps partnered with the NJCAA to develop new relationships with Junior College athletic directors, coaches and other key personnel.