PALMDALE, Calif.— America's research and production center for cutting edge aerospace vehicles got the technological equivalent of a brain transplant the morning of Nov. 30, 2022, with a ceremony marking completion of a state-of-art, 160-foot control tower.
Air Force Plant 42, birthplace of NASA space shuttle orbiters, air superiority fighters, spy planes that fly faster and higher than any foe, and bombers invisible to radar, had been nervously tending to the existing control tower installed in the mid-1950s and well beyond its life expectancy.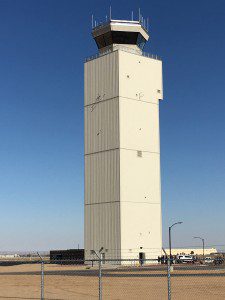 James Elsberry of the U.S. Army Corps of Engineers, which designed the 12-story control tower built of structural steel clad with metal panels, has buckling restraint brace framers to maintain the tower's structural stability in sustained winds of up to 110 mph.
The contract for construction was awarded to Stronghold Construction Co. on Aug. 20, 2020, with construction starting on Nov. 20 of that year. Elsberry said some technical equipment installations remain to be finished by Dec. 22, with the tower to be operational in January or early February.
A special guest taking part in the mid-morning dedication and ribbon-cutting for the $17.9 million control tower was longest-serving Plant 42 administrative secretary Lorraine Saddler whose 40-year career began with the first Plant 42 commander and continued through 18 more until her retirement.
Jared Scott, Technical Director of Air Force Acquisition Environmental and Industrial Preparedness, was master of ceremonies.
Speakers, included Justin Gay, Los Angeles District Army Corps of Engineers commander, and Brig. Gen. Matthew Higer, 412th Test Wing commander at Edwards, who said Plant 42 and Edwards, NASA Armstrong and other civil and military aerospace installations within a 120-mile radius are "at the center of the flight test universe."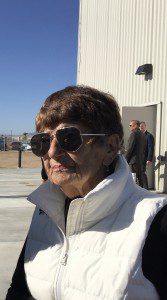 Speaking for NASA Armstrong was Acting Administrator Bradley Flick.
Jacqueline Janning-Lask, SES-1 Director, Engineering and Technical Management and Chief Engineer for the Air Force Life Cycle Management Center at Wright Patterson AFB, OH.
VIPs introduced were: Christine Ward, representing Congressman Mike Garcia; Assemblyman Tom Lackey; Palmdale Mayor Steve Hoffbauer; Alex Briskin, chief acquisition environmental and industrial facilities division, Air Force Life Cycle Management Center; Bradley Flick, acting director, NASA Armstrong FRC; Michael Thomson, chief, science projects branch, NASA Armstrong; Dr. David Smith, director, 412th Test Wing operating location Air Force Plant 42; Brian Mahoney, Northrop Grumman Corp; Brian Eeds, Lockheed-Martin Corp; Allen Hoffman, The Boeing Company; Shaun Frost, construction division chief, Army Corps of Engineering; and Beverly Bailey, president, Stronghold Engineering.