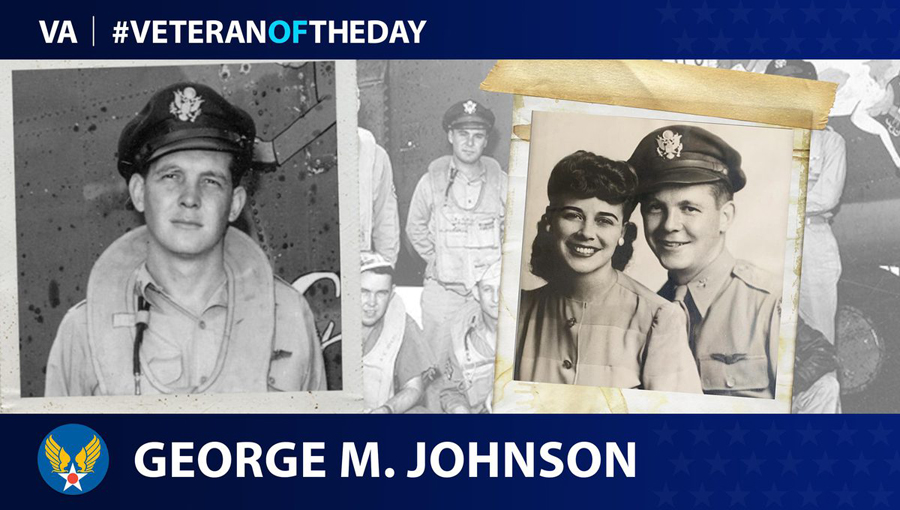 George Johnson was born in May 1920 in Seaford, Del., to James Johnson and Mary Johnson. He grew up with two sisters and played high school football. In 1935, while still in high school, he joined the Delaware National Guard. By February 1937, he had joined the Army's 261st Coast Artillery Battalion. After graduating from high school in 1938, he served at Fort Dupont, and then at Fort Miles in Delaware in 1941. Johnson then requested to be discharged from the Army Coast Artillery Corps, seeking to join the Army Air Corps instead.
Johnson began preflight training in March 1942 at Maxwell Field, Ala., before leaving for primary pilot training in Decatur, Ala. Writing to his mother, an effort he regularly undertook throughout his time away from home, he said that he was "a lot better off [there]." He continued the next stages of his pilot training in 1942 in Blytheville, Ark., before leaving for George Field, Ill. — a move which he described as "the best thing that happened" to him. He became a flight officer later that year, in December.
As a flight officer, Johnson served in various squadrons of the 25th Antisubmarine Wing. Beginning with the 13th Antisubmarine Squadron at Grenier Field in New Hampshire, and later with the 18th Antisubmarine Squadron at Langley Field in Va., the 6th Antisubmarine Squadron at Westover Field in Massachusetts, the 11th Antisubmarine Squadron at Fort Dix Army Base in New Jersey, and then the 3rd Antisubmarine Squadron, also at Fort Dix. With the 3rd Squadron, Johnson moved to Langley Field in Virginia, training with "the biggest bomber that the Air Force uses."
With the 3rd Antisubmarine Squadron, Johnson deployed to March Field, Calif., in September 1943. His unit — redesignated as the 819th Bomb Squadron and assigned to the 30th Bombardment Group — moved to Hawaii, where it conducted sea searches and transported aircraft to bases in the region. As a second lieutenant with the B-24 crew, Johnson was then assigned to detached service with the 38th Bombardment Squadron, moving to present-day Kiribati, where he was to conduct his first combat mission on Jan. 21, 1944. After a normal takeoff, however, the aircraft crashed into a lagoon, killing all 10 men on board. The crash was "[b]elieved to have been caused by water in gas."
Initially, the remains of five of the men were recovered, leading to their burial in Cemetery 33, established on Betio Island in modern-day Kiribati after its capture by the U.S. The remains of Johnson were not initially recovered, however, even after later recovery operations were conducted by the U.S. Army. Nevertheless, in 2017, a non-profit organization called History Flight recovered remains of servicemen from Cemetery 33. After some remains were identified as those of a serviceman who had previously been accounted for, the previously identified remains were reinvestigated. After a medical analysis, those remains were reidentified as Johnson's, and he was subsequently buried in his hometown on May 8, 2020.
We honor his service.