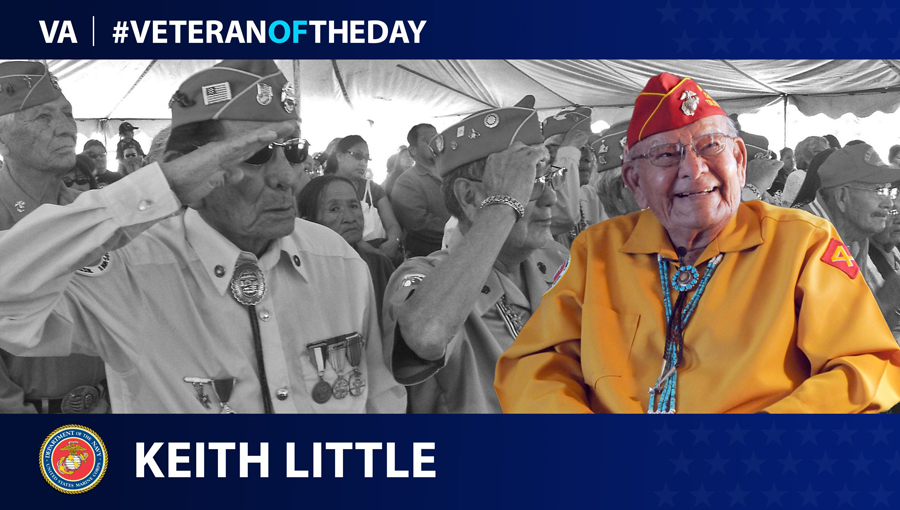 Growing up, Keith M. Little was discouraged from speaking Navajo in school.
Having only been taught Navajo growing up in the Tó Dích'íi'nii clan, it wasn't until he attended a federal boarding school that he and his peers would be punished for not speaking English. Over and over again, if caught speaking Navajo, the teachers would make them write, "I will talk English. I will not talk Navajo." This was a stark contrast to the summer of 1942, when he joined the U.S. Marines at the age of 17 and used Navajo every day in a secret code to confuse enemy militants.
Little was an orphan, raised by his sisters and extended family in Arizona, and got his education at a federal boarding school. There, he learned English and completed his high school education. However, upon hearing about the attack on Pearl Harbor, he was passionate to join the Marine Corps. He had seen advertisements and posters about the Marines and, in a 2011 interview, stated that he too wanted to be a part of the "greatest fighting people in the world." He joined the Marines in 1942 and began training at Camp Pendleton, Calif. Upon finding out he was Navajo, he was enrolled in the Communication School Training Center at Camp Pendleton to learn the code that had been developed in Navajo to communicate war terms. Navajo words, such as "eggs," became code for "bombs" and the word "turtle" became code for "tank." What made the code so unique was how it was based on an unwritten language and was therefore undecipherable by enemies.
After training, Little was stationed in the Marshall Islands, Saipan, Iwo Jima and Roi Namur, all located in the western Pacific Ocean. He returned home in 1945, thankful to come back, as many of his fellow Marines had not. Reflecting upon his return, Little said, "You find that a lot of people who have seen the worst end of it don't talk about it. There's a lot of guilty feeling on the survivors."
Little dedicated the remainder of his life to advocating for the Navajo language and the preservation of Navajo traditions. He specifically hoped to fulfill his dream of creating a museum not far outside of the Navajo Nation capital, Window Rock, Ariz., with artifacts and history of Navajo Veterans and traditions. He was the president of this initiative and spent up until the end of his life fundraising for the museum. The Navajo Code Talkers were formally recognized in 2000 for their service with the Congressional Silver Medallion from U.S. President Bill Clinton. Before his death, Little never got to see the museum built, but his legacy and that of other Navajo Code Talkers lives on through the Navajo Code Talkers Archives.
Little died in January 2012 at Fort Defiance Indian Hospital in Fort Defiance, Ariz. He was 87 years old.
We honor his service.