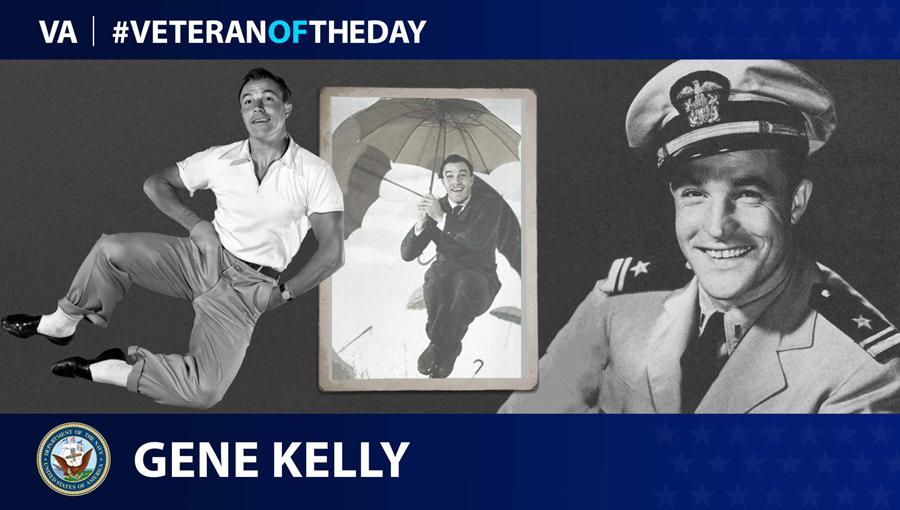 Eugene "Gene" Curran Kelly was born in August 1912 in Pittsburgh, Penn., to James Kelly and Harriet Curran.
In his early life, Kelly was an athlete both in and out of school and wanted to play shortstop for the Pittsburgh Pirates; however, as he got older, his interests and aspirations changed. His mother enrolled him into dancing lessons, and he later performed in Vaudeville shows with his siblings in a troupe known as the Five Kellys. Later in life, he also performed with his younger brother, Fred; they were known as the Kelly Brothers. From this point on, he became known for his athletic dancing style.
After graduating from high school in 1929, Kelly attended Pennsylvania State College, now Pennsylvania State University, for a short time until the Great Depression caused him to pursue other avenues to help earn and save money. Later, in 1933, he attended the University of Pittsburgh, where he graduated with a bachelor's degree in economics. He also attended law school for a short while; however, jobs were scarce because of the Depression, so he resorted to teaching dance at his family's dance studio.
Kelly's first break into show business came in 1939 when he danced to his own choreography in the original Broadway production of "The Time of Your Life." In 1942, he starred alongside Judy Garland in his first motion picture, "For Me and My Gal." Many of his films were released during the decade of World War II and showed him portraying a member of the military, which allowed viewers at the time to better relate to the characters and plot. He also starred alongside other notable actors, including Frank Sinatra, Fred Astaire, Lucille Ball, Donald O'Connor and more.
In 1944, Kelly took a leave of absence from his MGM contract and joined the U.S. Navy. He remained stateside as he served at the U.S. Naval Photographic Center in Washington, D.C., where he wrote, directed and even starred in documentaries which depicted the reality of the military and the war's impact on service members. In his most notable documentary, "Combat Fatigue Irritability," he plays a fireman who struggles with PTSD after serving aboard USS Montana.
After being discharged from the Navy as a lieutenant junior grade in 1947, Kelly continued his career as an actor, dancer, choreographer and director, and he starred in many films—most notably "An American in Paris" and "Singin' in the Rain," which were both released in the early 1950s. Aside from the creative freedom he was able to pursue, Kelly was—and still is—regarded as an innovator of dance in the film industry. Due to their large size, Technicolor cameras and other film equipment of his time were not physically capable of capturing his ideas. In 1948, he invented a new apparatus called the "U-Bangi," now called a camera offset, which captures low-angle shots. This apparatus was used in the production of his 1948 film "The Pirate." He also used other innovative film techniques, such as the double image in his "alter ego" dance in "Cover Girl" and the dance sequences with the animated Jerry the Mouse in "Anchors Aweigh."
Kelly received several awards and recognitions during his career in show business, including an Academy Award, a Primetime Emmy Award, a Golden Globe Award and many other awards and nominations. In 1932, his family dance studio was renamed the Gene Kelly Studio of the Dance. He also received an honorary Doctor of Fine Arts degree in 1961 from the University of Pittsburgh. In the same year, he performed at John F. Kennedy's inauguration. In 1991, the Pittsburgh Civil Light Opera created an annual award known as The Gene Kelly Awards for Excellence in High School Musical Theater.
Kelly was married to his first wife, Betsy Blair, from 1941-1957 and had one daughter with her: Kerry Kelly. He was later married to his second wife, Jeanne Coyne, from 1960-1973, and had two children with her: Timothy and Bridget. He married his third and final wife, Patricia Ward Kelly, in 1990. Throughout his life, he had an appreciation for France that inspired him to become fluent in the French language and culture.
Kelly died at age 83 in February 1996 due to complications from a stroke.
We honor his service.