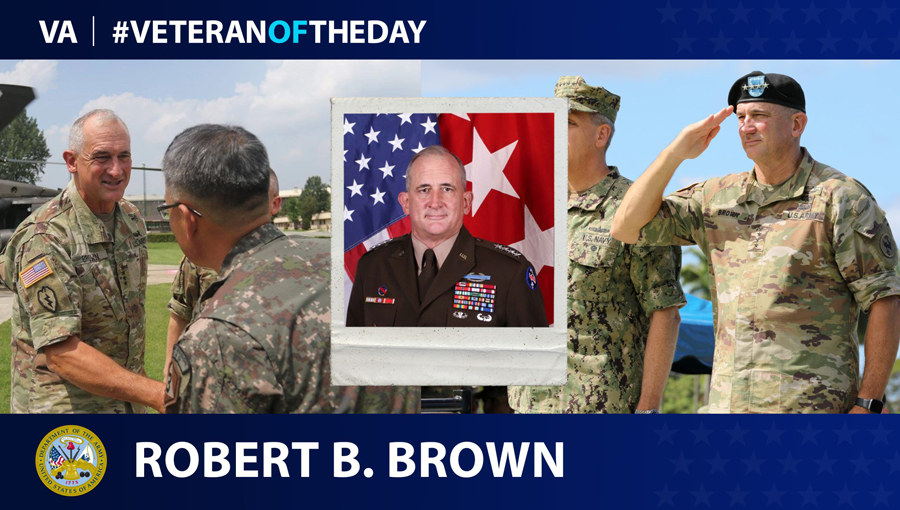 Robert Brooks Brown was born in April 1959 in Pennsylvania. After graduating from Grosse Pointe North High School in Grosse Pointe, Mich., in 1977, he enrolled in the United States Military Academy at West Point. He was commissioned into the Army as an infantry officer after graduating in 1981.
Brown has served in various leadership positions, such as a platoon leader and company commander at Fort Carson, Colo., as well as a battalion commander at Fort Hood, Texas, with a deployment to Bosnia-Herzegovina to support Operation Joint Forge. He also served as a Stryker Brigade Combat Team commander at Fort Lewis, Wash., with a deployment in support of Operation Iraqi Freedom. He served as commanding general of the Maneuver Center of Excellence at Fort Benning, Ga.
Brown commanded the 1st Brigade Combat Team, 25th Infantry Division at Joint Base Lewis-McChord, Wash., from June 2003 to December 2005. The team deployed to Mosul, Iraq, from September 2004 to September 2005. Brown was the I Corps commander at Joint Base Lewis-McChord from July 3, 2012, to February 6, 2014. He served as commander of the Combined Arms Center at Fort Leavenworth, Kansas, from February 2014 to April 2016.
From April 2016 to October 2019, Brown was the commanding general of the U.S. Army Pacific. He announced his retirement in September 2019 and officially retired on Nov. 1, 2019. He joined the Association of the United States Army in 2021 and currently serves as its president.
Throughout his career, Brown has earned the Distinguished Service Medal with two Oak Leaf Clusters, the Defense Superior Service Medal, the Legion of Merit, the Bronze Star Medal with Oak Leaf Cluster and the Defense Meritorious Service Medal, among many others.
"The Army is the greatest team in the world and it's because of the people," Brown said in a 2020 interview. "The dedication of soldiers never ceases to amaze me. When they know you care about them, then you're brothers and sisters for a lifetime."
We honor his service.