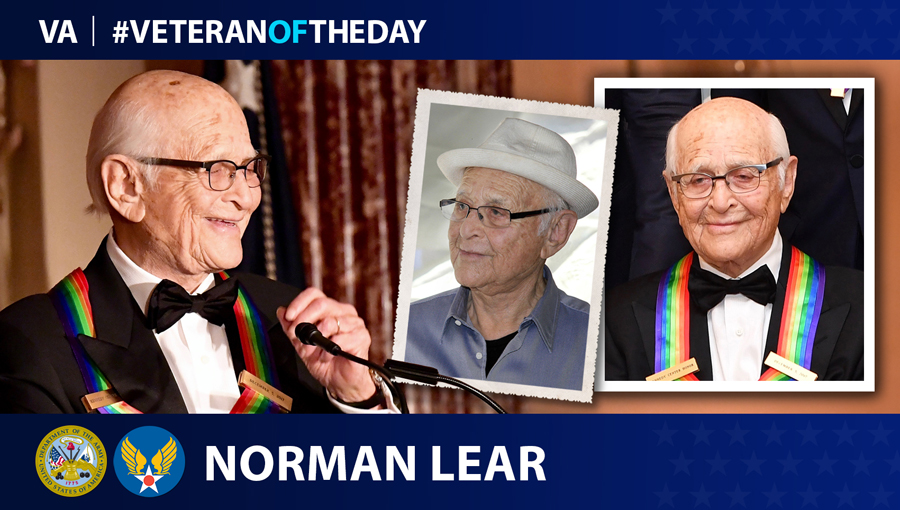 Norman Milton Lear was born in July 1922 in New Haven, Conn., to Herman Lear and Jeannette Seicol, and was raised in a Jewish household.
After graduating high school in Hartford, Lear started a bachelor's degree at Emerson College in Boston. In 1942, he attended a rehearsal for the play "The Two Orphans" when he learned of the Japanese attack on Pearl Harbor. Shortly after, he decided to drop out of school and enlist in the Army.
Lear attended basic training at Fort Devens, Mass., and for a short time in Atlantic City. Afterward, he was stationed at a pilot training camp in Buffalo, N.Y., and then sent to Nashville, Tenn., where he took pilot examinations. He failed the math test and instead received training to be a radio operator and gunner in the top turret of a Boeing B-17 Flying Fortress. He served with the 772nd Bombardment Squadron, 463rd Bombardment (Heavy) Group of the 15th Air Force.
After his training, Lear's squadron flew from Florida to Foggia, Italy, on their B-17, which they called "Umbriago." He took part in 52 missions across occupied Europe, including over Berlin, Stuttgart and Frankfurt. He also served alongside the Tuskegee Airmen on a few missions. In an interview with the West Point Center for Oral History, he recollects feeling particularly at ease with their escort: "When we saw the red tails, which were the Tuskegee guys, it was a particular comfort because they seemed to fly closer."
As the war came to an end, Lear volunteered to deliver men and supplies because he was interested in seeing Cairo, Egypt. Shortly after Victory in Europe Day, his crew completed their assignment and returned to Florida. In 1945, he was honorably discharged as a technical sergeant, and for his service, he was awarded an Air Medal with four Oak Leaf Clusters.
After his service, Lear worked as a publicist in New York City and then a comedy writer in California. He went on to produce and write some of the most popular television shows of his era, including "All in the Family" and "The Jeffersons." He also published a memoir, "Even This I Get to Experience," in 2014. He has received four Emmys, a National Medal of the Arts and has been inducted into the Television Academy Hall of Fame.
We honor his service.