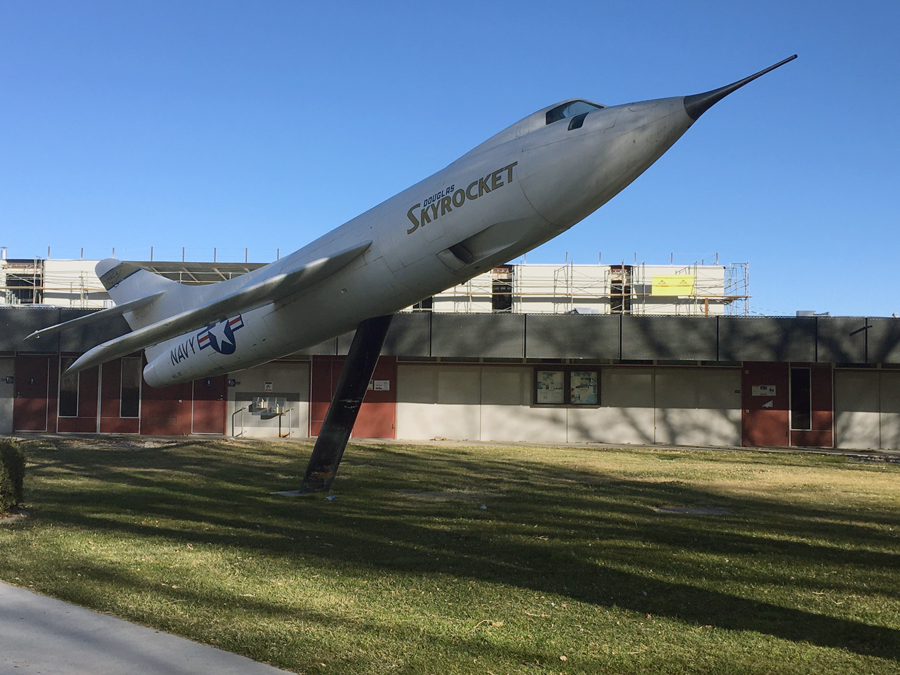 LANCASTER, Calif. – Thirteen months after it was reported that the landmark Douglas D-558-II Skyrocket was to be taken down from its pedestal and relocated due to construction at Antelope Valley College, plans for the rare bird's future remain clouded by unexpected changes in circumstances.
In a personal Facebook post just after New Year's Day, last year's college board president Steve Buffalo predicted, "We'll soon be taking it down, restoring it and putting it in a new location after the next phase of construction is finished."
The statement begs the question, how soon is soon? Dianne Knipple, executive director of the non-profit AVC Education Foundation, said there are no current plans for removal and future disposition of the aircraft, located now on the site for the planned Student Commons building.
The relocation controversy erupted Dec. 8, 2021, when rumor incorrectly had it that the Skyrocket was secretly removed from the pedestal it occupied on campus since the 1960s. In responding to rumor, college officials did confirm a plan to take down the prized aircraft within two to four months, reigniting a decades-long preservation debate involving college officials and aerospace restoration specialists. But plans change with circumstances beyond the control of the planners.
Only three D-558-II Skyrocket research vehicles were built for the Navy by Douglas Aircraft in El Segundo, Calif., in 1947-48, and all were flown at Muroc/Edwards AFB. The second and most famous, National Advisory Committee on Aeronautics Aircraft Number NACA 144, is housed in the Smithsonian National Air and Space Museum in Washington, D.C. Antelope Valley College has NACA 145, and NACA 143 is on display at Planes of Fame Museum in Ontario, Calif. Only ship number 144 is weather protected.
Inflation and other economic circumstances are forcing college officials to reschedule or postpone and rebid some construction, and one of those setbacks is the Student Commons, now expected to get underway in about 18 months, delaying urgency for deciding the Skyrocket's fate.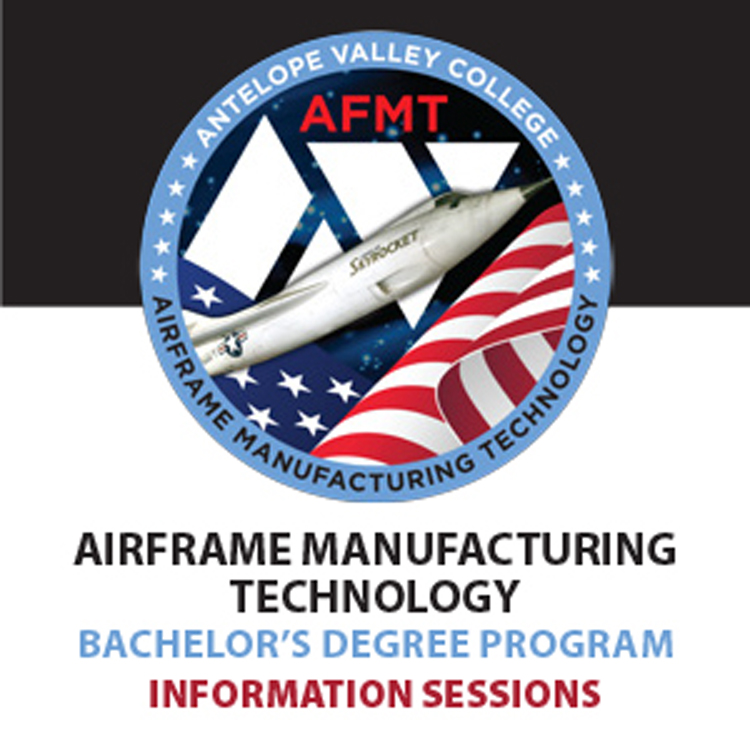 While no formal action is taking place for the Skyrocket, Knipple did say informal conversations are ongoing, including a consensus to abandon the idea of putting the Skyrocket on display at the intersection of 30th Street West and Avenue K.
The pivotal issue, sources agree, is finding the money to restore and permanently house the Skyrocket. Knipple told Aerotech News that the College Foundation has some funds that can be applied to the project, and the Flight Test Historical Foundation has discussed supporting restoration and housing of the Skyrocket in the aerospace museum under construction just outside the Rosamond Boulevard gate to Edwards AFB.
Although previously rebuffed by the college board and administration over the concept of displaying the Skyrocket off-campus, Flight Test Historical Foundation officials have said there is no need for a change in ownership of the aircraft or the historical documents made available to researchers in the museum's Bob Hoover Library Archives.
On another front, the college is leveraging image and legacy of the swept-wing rocket planes that first flew twice the speed of sound in promotional material to start the Airframe Manufacturing Technology Program (AFMT).
Designed to meet aerospace industry needs for multi-skilled individuals as first-line leads in major processes of manufacturing structural aircraft components, the curriculum addresses airframe manufacturing, fabrication, structures, composites and electronics.
The AFMT Bachelor's Degree is a one-of-a-kind program designed to meet aerospace industry needs for first-line leads, with a focus on manufacturing and industrial engineering. The AFMT program is geared toward students who completed or are completing a two-year program in Aircraft Fabrication and Assembly, and who are interested in pursuing a bachelor's degree in Aircraft Manufacturing Technology. Students will enter directly as juniors (3rd-year track students).
In previous comments, Art Thompson, Executive Board President of the FTHF, said, "We don't want to be an adversary to those at Antelope Valley College. I'll support AVC in any way possible. Even if they refuse our proposal to offer a better home for a world of tens of thousands of visitors.
Director of Education and Community Relations for the Flight Test Historical Museum Lisa Sheldon Brown said, "Our relationship with Antelope Valley College is important and valuable to our STEM education efforts. We understand the significance of the aircraft to the college and support its preservation and display. The college is doing the right thing in going forward with the restoration."