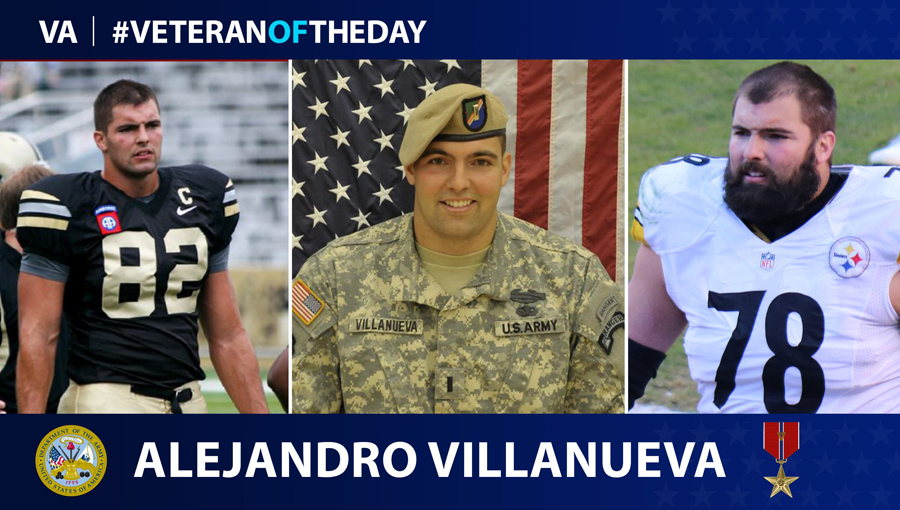 Alejandro Villanueva was born at Meridian Naval Air Station in Mississippi in September 1988. The son of a Spanish naval officer, Villanueva spent time in Rhode Island, Spain and Belgium while his father worked for the North Atlantic Treaty Organization (NATO). He grew up playing rugby with other children on the military bases and learned to play American football while attending the Supreme Headquarters Allied Powers Europe (SHAPE) American High School in Mons, Belgium. After graduating, Villanueva was recruited by the United States Military Academy, where he played college football for the Army Black Knights at several positions.
At the end of his senior year, Villanueva entered the 2010 National Football League (NFL) Draft but went undrafted. Despite his NFL dreams, he also wanted to serve. "As soon as I graduated, especially with all my classmates at West Point who were all going to serve, my mind and my heart were going to Afghanistan, that's where I wanted to be," he told NFL.com in 2014.
After graduating and being commissioned as a second lieutenant, he attended the Infantry, Airborne and Ranger Schools at Fort Benning, Ga. He was assigned to the 10th Mountain Division at Fort Drum, N.Y. Later that year, Villanueva deployed to Afghanistan for 12 months in support of Operation Enduring Freedom as a rifle platoon leader. On Aug. 25, 2011, his platoon was ambushed by the Taliban. While under intense enemy fire, Villanueva carried the wounded to safety. He was awarded a Bronze Star with Valor for his actions.
Villanueva went on to serve two more tours of Afghanistan before signing with the Philadelphia Eagles in 2014. He was cut later that year, but the Pittsburgh Steelers saw his potential and placed him on their practice team. Villanueva left the Army in 2015 having attained the rank of captain. He made his first NFL appearance that same year in the Steelers' opening game against the New England Patriots. In 2017, he signed a four-year contract with the Steelers and became the first graduate of a military academy to be named to the Pro Bowl since 1951.
In September 2017, Villanueva came into the spotlight for choosing to stand for the National Anthem alone while the rest of his teammates remained in the locker room. Explaining his decision to stand, he said, "I do it because of all the veterans, all the soldiers I served with." In the 24 hours following that game, he became the top-selling player in jerseys and t-shirts in the entire NFL. Speaking of his time in the Army, Villanueva said, "Serving my country was the greatest honor of my life. Not everyone gets to come home to their family and loved ones like I did." In 2021, after four years with the Steelers, he signed a $14 million, two-year contract with the Baltimore Ravens, before announcing his retirement in March 2022.
We honor his service.