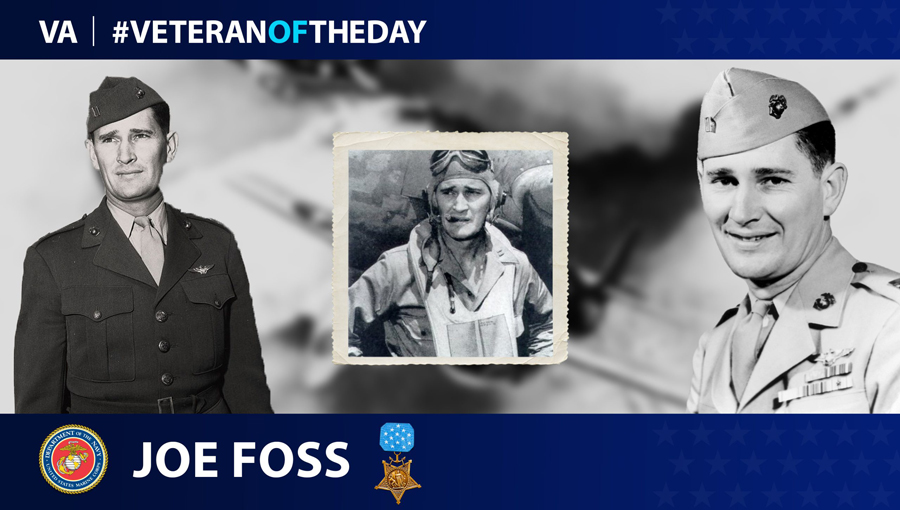 Joe Foss was born in April 1915 in South Dakota. From an early age, he developed a love for flying and was inspired to become a Marine pilot after flying with Clyde Ice and watching a Marine Corps aerial team at a fair.
In 1933, when Foss' father died, Foss dropped out of school and worked to support his family while continuing to save for flying lessons. He eventually resumed his education, attending several institutions, including the University of South Dakota, where he joined the South Dakota National Guard. He continued taking pilot lessons and eventually earned his license. In 1940, he graduated with a bachelor's degree in business administration from USD.
After graduating, Foss enlisted in the Marine Corps Reserve. After completing training in February 1941, he was commissioned as a second lieutenant and served as a flight instructor. After the attack on Pearl Harbor, he was sent to aerial photographer training, having been considered too old to pursue a fighter pilot career. However, Foss proved his mettle on Marine Observation Squadron 1 (VMO-1). He was promoted to captain and reassigned to Marine Fighter Squadron 121 (VMF-121) as the unit's executive officer in August 1942, finally realizing his fighter pilot dreams, and was sent to Guadalcanal aboard USS Copahee.
On Oct. 9, Foss and VMF-121 landed at Henderson Field on Guadalcanal. He saw combat for the first time on Oct. 13.  He quickly earned the status of an "ace", downing five Japanese aircraft within the first week of combat. VMF-121 earned the nickname "Foss' Flying Circus." Foss shot down 14 Japanese aircraft in a span of only 13 days. After downing 19 aircraft, he received a Distinguished Flying Cross medal.
When Foss left the battlefield due to malaria, he had already survived several crashes and scored 23 victories. When he returned, Foss scored three additional victories for a total of 26. He tied Eddie Rickenbacker's World War I record, making him the Marine Corps' "ace of aces."
In March 1943, Foss returned to the United States and received a Medal of Honor from President Franklin D. Roosevelt. In February 1944, he took command of Marine Fighter Squadron 115 (VMF-115), fighting again in the Pacific. By the end of the war, he held the rank of major.
Upon his return home, Foss played a key role in the organization of the South Dakota Air National Guard and was elected as a member of the South Dakota House of Representatives. He was later activated for service during the Korean War in the Air Force, where he trained pilots and reached the rank of brigadier general.
Foss was elected for two terms as governor of South Dakota. Later, he became the first commissioner of the American Football League and hosted several television shows, including "The American Sportsman." Foss died in January 2003. He was 87.
We honor his service.