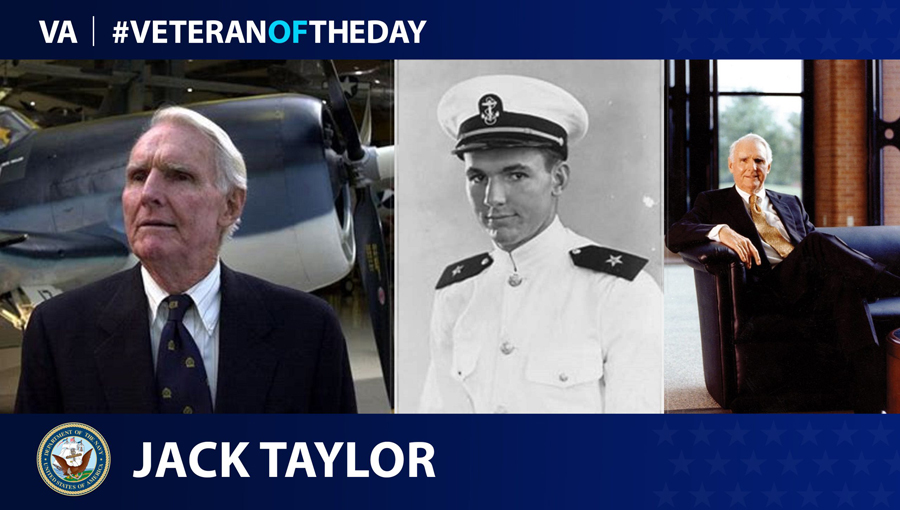 Jack Taylor joined the military not knowing it would be the basis for which he would start a billion-dollar company. The grew up in St. Louis, Mo., with plans originally to attend business school at Washington University's Olin Business School. He enrolled there in 1940, but he left to join the U.S. Navy in 1942 to support the efforts in World War II.
Taylor flew F6F Hellcat fighters from the aircraft carriers USS Essex and USS Enterprise throughout his service as a component of Carrier Air Group 15. When on USS Essex in June 1944, he worked as a replacement pilot. He often flew as a wingman to many aces (pilots who had taken down five or more aircraft), including Group Commander David McCampbell. He ensured other pilots were not ambushed and that attacks were secured safely. While stationed on USS Enterprise, Taylor's main role, along with his squadron, was mounting an air assault against Japan's largest battleship: the Musashi. As an ensign, he landed two strafing runs against the Musashi and, after infiltrating the battleship's anti-aircraft batteries, he watched as torpedo planes and bombers sunk the Musashi in the Sibuyan Sea. Taylor's efforts on the Essex and Enterprise earned him two Distinguished Flying Crosses and the Navy Air Medal.
Taylor returned home from the war in 1945 with the rank of lieutenant in the United States Navy Reserve. He started his civilian life as a sales manager at Lindburg Cadillac dealership in 1948. He partnered with executive Arthur R. Lindburg in 1957 to launch a new kind of car business. It started as "Executive Leasing Company" with a small collection of seven cars that could be rented by customers when their cars needed repairs. In 1969, the business continued to grow, and Taylor rebranded it, naming it after the aircraft carrier he served on in World War II: USS Enterprise. In 1989, the business was rebranded one final time and was called Enterprise Rent-A-Car. By then, it had grown to over 50,000 vehicles and had nationwide facilities. In 2022, Forbes placed Enterprise Rent-A-Car as #9 of America's Largest Private Companies. Taylor's son, Andrew Taylor, took over as CEO in 1991, following his father's motto: "Take care of your customers and employees first, and profits will follow."
In 1982, Taylor also established the Enterprise Holdings Foundation, an organization that contributes to non-profits and community focused philanthropy. Taylor's daughter, Jo Ann Taylor Kindle, now operates as president of the foundation with 98 percent of the grants issued to non-profits coming from requests of Enterprise employees.
Taylor died in July 2016 in St. Louis, Mo. He was 94.
We honor his service.