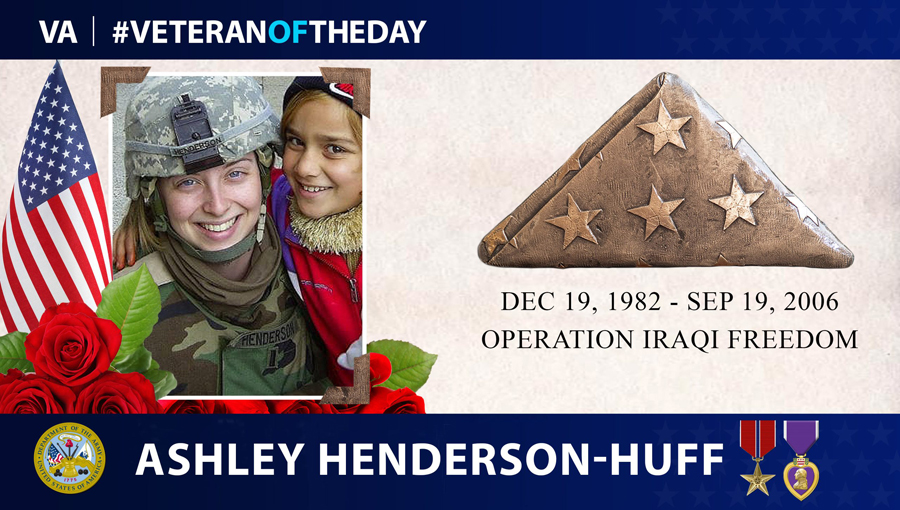 Ashley Laine Henderson-Huff was born on Dec. 19, 1982, in Covington, La. She spent her childhood in Baton Rouge, La., before moving to Belle Mead, N.J., where she graduated from Montgomery High School.
Leaving New Jersey for Athens, Ga., Henderson-Huff attended the University of Georgia. Active on and off campus, she was a member of the Sigma Kappa Sorority and the Army Reserve Officer Training Corps, the latter of which she joined in response to the events on Sept. 11, 2001. She told her roommates, "If we go to war, I'm going."
Henderson-Huff received her commission upon graduating in May 2004. She began service as a platoon leader in the 549th Military Police Company, 385th Military Police Battalion, based out of Fort Stewart, Ga., preparing for deployment.
In December 2005, four months after marrying her husband, Brian Huff, Henderson-Huff deployed to Iraq in support of Operation Iraqi Freedom. In Iraq, she helped train and expand the local police force and was key in the development of the Erbil Police Academy. She called her husband every chance she could and looked forward to buying a house after returning home.
On Sept. 19, 2006, 1st Lt. Henderson-Huff was killed in Mosul, Iraq, when a vehicle-borne improvised explosive device detonated near her patrol. She was 23 years old.
For her actions, Henderson-Huff was posthumously awarded a Bronze Star, a Purple Heart and a Combat Action Badge. During the opening ceremony of the Erbil Police Academy in 2008, a bronze bust of Henderson Huff was dedicated by Iraqi Police in her honor.
In the U.S., Henderson-Huff's story of service and sacrifice has touched many. In 2011, New Jersey students at Community Middle School with the Travis Manion Foundation completed 500 acts of kindness in her honor. Students and faculty at Montgomery High School honored her with the dedication of a memorial street sign on what would've been her 35th birthday in 2017. Sigma Kappa Sorority members created the Ashley Henderson-Huff Memorial Scholarship for Courage and Patriotism, awarded to those who have demonstrated outstanding leadership.
Henderson Huff's father, Mark Henderson, stated, "She was a happy person, a good leader. She was very caring about her soldiers, well respected by them and by her commanding officers." Henderson-Huff will be honored this fall during the 2023 New Jersey Run For The Fallen, which will be taking place between Sept. 20-24.
We honor her service.