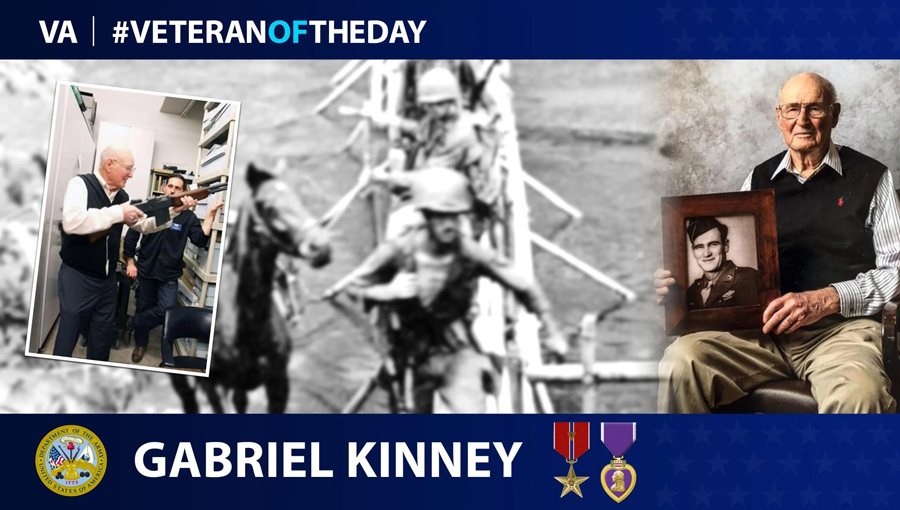 Gabriel Kinney was born in Stouts Mountain, a rural Alabama town, in February 1921 to an Irish father and Scottish mother. He was raised with 11 siblings, including eight brothers who would also serve in World War II. After graduating from high school, Kinney worked at U.S. Steel. When Japan attacked Pearl Harbor on Dec. 7, 1941, Kinney decided to become a pilot and enlisted in the U.S. Army in November 1942. However, because of the relatively high demand for soldiers, he joined the infantry instead.
After completing basic training, Kinney was stationed in New Caledonia, a French territory 700 miles east of Australia. As part of the 35th Infantry Regiment, he was moved to Guadalcanal, Solomon Islands, in August 1943. He then took part in a 3,000-man mission whose members later became known as Merrill's Marauders. The men were tasked to capture the Myitkyina Airfield in Burma.
Kinney and his fellow soldiers walked through the Himalayan Mountains for four months, carrying supplies on their backs and on donkeys. During the journey, the men also fought an elite Japanese division in five major and 30 minor battles, engaging in the longest continuous period of jungle combat in American history. Members of the group fell victim to disease and starvation in addition to warfare. Only 200 men remained by the time the Burmese airfield was reached and captured on May 17, 1944.
For their service in the mission, Kinney and the Marauders received a Presidential Unit Citation. In 2016, several Marauder Veterans attempted to convince Congress to award the unit the Congressional Gold Medal. Kinney and his fellow Marauders subsequently earned the medal in October 2020.
After the mission in Burma, Kinney continued serving in combat roles from September to October 1944. In September 1945, he married Elena Harris, with whom he later had six children, before being discharged from the Army in November of that year. After leaving the Army, he went back to Alabama in 1947, where he returned to working at U.S. Steel until 1982.
Kinney was inducted into the Ranger Hall of Fame in July 2022. In December of that year, died in Alabama at the age of 101. He was one of the two last remaining Marauders.
We honor his service.