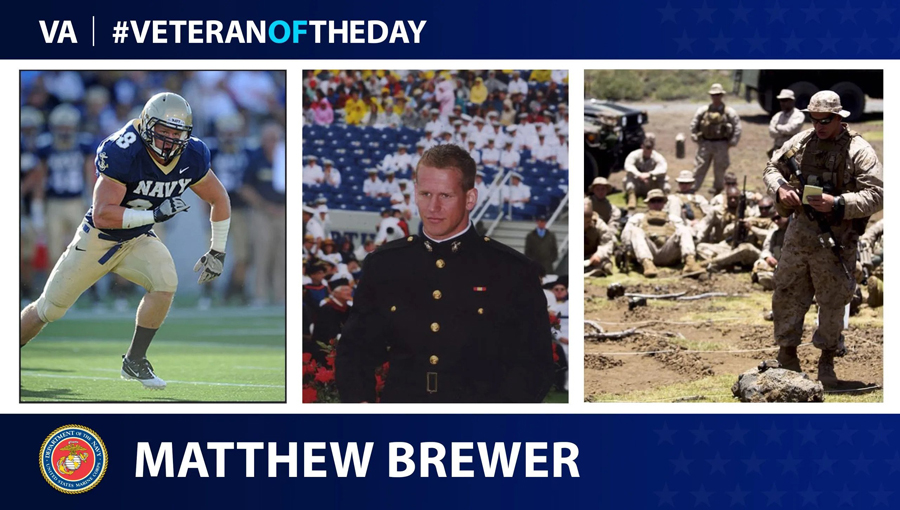 Matthew Brewer was born in August 1989, in Ann Arbor, Mich. After losing his father when he was five, Brewer became a leader for his siblings. Growing up near St. Louis, Mo., he attended Lafayette High School in Wildwood, Mo., where he gained recognition for both his outstanding leadership and athletic abilities. Throughout high school, he served as captain for both the wrestling and football teams, and became an All-American football linebacker and champion boxer at the United States Naval Academy. He won multiple Commander-in-Chief's Trophies as well as the Brigade Boxing Championship his senior year.
Following graduation in 2013, Brewer served as an assistant football coach at Navy before completing the Marine Infantry Officer Course. He then served as a rifle platoon commander in Hawaii and as a Combined Anti-Armor Team platoon commander, serving Japan, Guam and Korea. Brewer completed the Marine Special Forces Assessment Course and served as the special operations expert and operations officer with the United Nations peacekeeping force in Bamako, Mali. He concluded his military career as a future operations officer at the Marine Corps University in Quantico, Virginia.
During his military career, one of Brewer's superiors referred to him as the "Captain America of Marines." His awards included the Navy and Marine Corps Achievement Medal, the National Defense Service Medal and the Korean Defense Service Medal.
Brewer's surrogate grandfather, Jack Buck, took him to the fire station when he was a child, which inspired his post-military aspirations. He continued his life of public service after the military, serving as a firefighter in Kansas City, Kansas.
Brewer took his own life on Feb. 19, 2021. His passing spurred positive change and conversation regarding the stigma associated with suicide, vulnerability and seeking help. The 38 Challenge, a nonprofit started by Brewer's brother Brandt McCartney, emphasizes the strength derived from Veterans showing vulnerability. The "warrior workout" honors and remembers Capt. Brewer by raising money for PTSD and chronic traumatic encephalopathy awareness. His leadership and strength are immortalized through the 38 Challenge.
We honor his service.