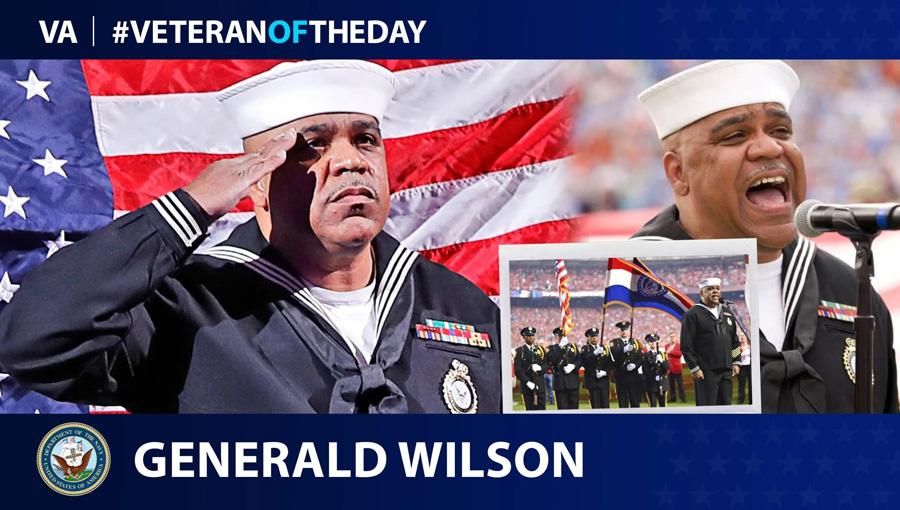 Retired Navy Petty Officer First Class Generald Wilson continues to serve his country both as a VA employee and as a much beloved singer of the national anthem at major sporting events.
Wilson has sung the Star-Spangled Banner and "God Bless America" at nearly 1,000 events, including NFL playoff games, the World Series, NHL Stanley Cup Finals and NCAA championships. His clear, yet powerful delivery has earned him praise across social media following his performances and has made him a highly requested anthem singer.
Wilson's Navy career began in 1989 as a "radio man," now called an information systems technician, at the Naval base in San Diego. He also served in Norfolk, Va., aboard the USS Mount Whitney communications ship, and later at Commander, Submarine Force Atlantic (COMSUBLANT) as the supervisor with oversight over submarine communications along the East Coast.
His Navy tenure includes tours to Vietnam and the Persian Gulf, as well as deployments supporting Operations Iraqi Freedom and Enduring Freedom.
Wilson also began singing in the Navy. Impressed by his tenor, admirals would ask him to perform at their retirement ceremonies. Georgia Frontiere, the late owner of the St. Louis Rams, heard him singing at one of these events in 1998 and asked him to sing for the Rams.
"She came up to me on a Friday and said, 'How would you like to sing for the Rams?' I said, 'Wow.' She said, 'Great, the game is on Sunday," Wilson recalled.
He delivered his first professional stadium performance two days later, and a second career began as the first was winding down.
After 21 years of service, Wilson retired in 2010 in St. Louis, Mo., where he had served for 12 years as a Naval recruiter. Beginning in 1998, he would earn several recruiting awards, including Recruiter of the Year, Minority Recruiter of the Year, and Recruiter-in-Charge of the Year. Six months after retiring from the Navy, Wilson joined the VA as a human resources specialist in the St. Louis Regional Office.
"When the opportunity presented itself to join VA, service for our country and Veterans was still in my heart," Wilson said. "Just to be a part of something that puts Veterans first—and people first—is an honor and a privilege."
Today, Wilson records gospel tracks in a studio while continuing to serve others through both VA and as an anthem singer. After his performance before the AFC Championship game on Jan. 29, 2023, between the Kansas City Chiefs an
d the Cincinnati Bengals, social media flooded with praise, some proclaiming he should be the official anthem singer.
"When people listen to or sing the anthem together, you put away your differences for a minute and a half," Wilson said. "That's unity to me."
We honor his service.