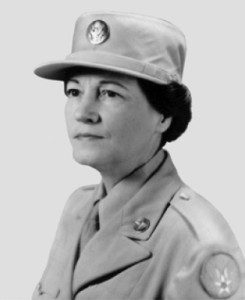 Staff Sgt. Esther McGowin Blake has the distinction of being the "first woman in the Air Force."
She enlisted in the first minute of the first hour of the first day regular Air Force duty was authorized for women on July 8, 1948.
Blake originally enlisted in March 1944, in Miami in the Army Air Forces, served one year in the Alaskan division and was discharged in November 1945. She reenlisted in April 1947 and was assigned to the ground force but seized the first opportunity to return to the Army Air Forces. Service in the nation's armed forces was nothing new for Blake.
She supported the war by working at the Miami Air Depot as a civilian employee. Blake was a widow. She joined the Women's Army Corps when she found out her eldest son, Lt. Julius Blake, was reported missing. He was a B-17 Flying Fortress pilot out of England and had been shot down over Belgium. Her other son, Lt. Tom Blake was serving in B-25 Mitchell medium bombers in Italy — he was also shot down at a later time.
At the time Blake was quoted in the Miami Herald as saying that her reason for joining the WACs was the hope of helping free a soldier from clerical work to fight, thus speeding the end of the war.
"If I can do this, "she said, "My efforts will be worthwhile."
During the months and years that followed, she saw both her sons return from combat with only minor wounds and heavily decorated.
She was assigned to several bases throughout the United States and in Alaska and the Yukon Territory near the Aleutians. She separated from service briefly and return to her civilian job in Miami in the mid-40s; however, she heeded a recall for women in service and returned to an Army assignment at Fort McPherson near Atlanta.
It was during this assignment that the Air Force became a separate branch of the service and women in the Air Force were authorized. She remained active with the Air Force until 1954 when she separated and went to work with the civil service at the Veterans Regional Headquarters in Montgomery, Ala.
Blake, the first woman in the Air Force, died Oct. 17, 1979. In 1987, the Air Force Senior NCO Academy at Maxwell Air Force Base, Ala., named one of their student dormitories in her honor.