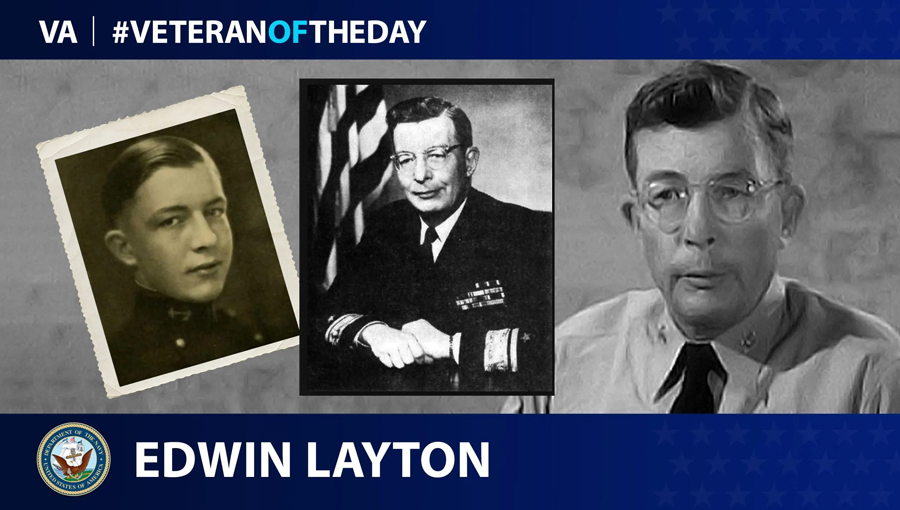 Edwin Layton was born in Nauvoo, Ill., in April 1903. After graduating from high school in 1920, he attended the U.S. Naval Academy and graduated in 1924. Afterward, he served on USS West Virginia and USS Chase. He then served several tours in East Asia, first moving to Tokyo, Japan, where he studied Japanese at the U.S. embassy. Then, he served as an assistant naval attaché to the U.S. Legation in Peking (now Beijing), China, before returning to sea on USS Pennsylvania.
Layton briefly returned to the U.S. in 1936, when he began working at the Office of Naval Intelligence in Washington, D.C. He then moved back to Asia, where he again served in Tokyo and later commanded USS Boggs.
Layton's contributions to U.S. operations were particularly helpful due to the significant knowledge on the personalities of several Japanese leaders whom he met during his service in Tokyo. Prior to the attack on Pearl Harbor, Layton served as a fleet intelligence officer on the naval base. He continued serving in the Pacific after the attack and played a role in planning U.S. operations in the Pacific. He received a Distinguished Service Medal for his role at the Battle of Midway.
Layton was aboard USS Missouri when the Japanese surrendered in 1945. After the war, he returned to the U.S., where he served in several influential positions. He first served in Tiburon, Calif., as a commanding officer before becoming the director of the Naval Intelligence School. Afterward, he moved to Hawaii to serve as a senior intelligence officer. He also served as an intelligence officer in Japan during the Korean War.
During the final years of his military career, Layton served on the staff of the commander of the Pacific Fleet and later on in the office of the Joint Chiefs of Staff. He retired in 1959 with the rank of rear admiral. Afterward, Layton worked at the Northrop Corporation and opened its first Japan office.
After his service, Layton was recognized on several occasions. In 1971, the Naval War College established the Edwin Layton Chair of Naval Intelligence in his honor. Beyond receiving the Distinguished Service Medal, he was awarded a Legion of Merit, a Navy and Marine Corps Commendation Medal and many other medals. The Office of Naval Intelligence also established the Rear Admiral Edwin T. Layton Leadership Award in his name.
Layton died in 1984. He was 81.
We honor his service.