The Defense Department announced an additional security assistance package for Ukraine May 3, 2023, containing more ammunition for U.S.-provided High Mobility Artillery Rocket Systems among other weapons to arm Ukrainian forces against Russia's unprovoked war of aggression.
The latest package, valued at up to $300 million, marks the 37th drawdown of DOD equipment for Ukraine since August 2021.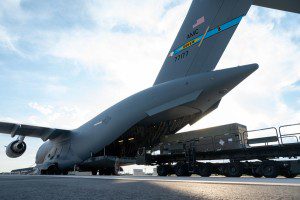 In addition to HIMARS ammunition, the package includes additional artillery and mortar rounds, antiarmor capabilities, heavy transport equipment and spare parts for field equipment.
The additional U.S. security assistance reflects the Biden administration's pledge of enduring support for Ukraine in the face of Russian aggression.
The U.S. has pledged to work with its allies to provide Ukraine with the capabilities needed to meet its immediate battlefield requirements, as well as its longer-term security assistance needs.
Since the Russian invasion in February 2022, the U.S. has led 11 meetings of the Ukraine Defense Contact Group, an alliance of more than 50 countries committed to the defense of Ukraine.
The most recent UDCG meeting was held last month at Ramstein Air Base, Germany.
"Our common efforts have made a huge difference to Ukraine's defenders on the battlefield," Secretary of Defense Lloyd J. Austin III said during his opening remarks. "And they underscore just how badly the Kremlin miscalculated."
"Putin thought that he could easily topple Kyiv's democratically elected government. He thought that the wider world would let him get away with it. He thought that our unity would splinter. But he was wrong — on each and every count."