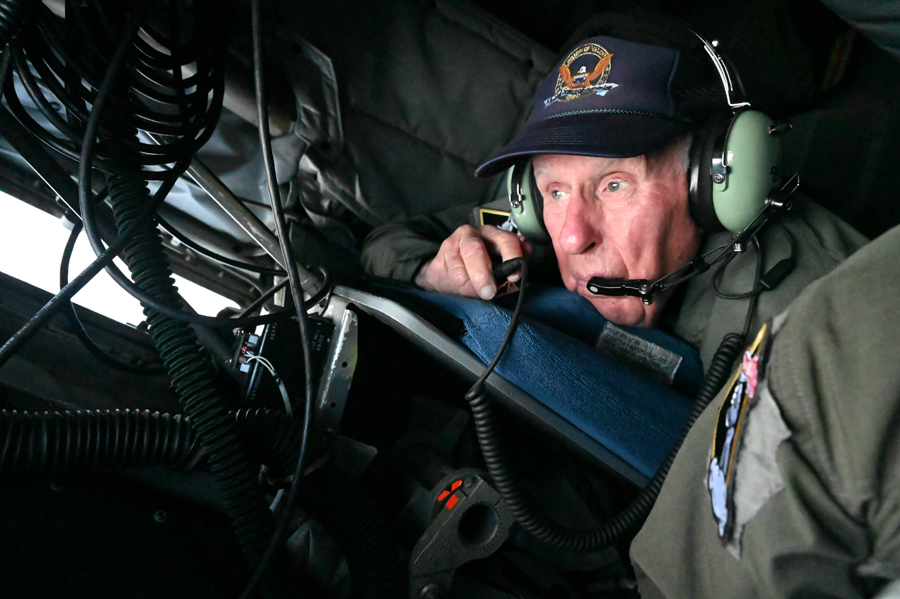 The door of a Nebraska Air National Guard KC-135R Stratotanker opens and a tall, slender man smiles as crew members depart the aircraft to greet him with a handshake April 25, 2023, for a special "welcome home."
Members of the Nebraska Air National Guard's 173rd Air Refueling Squadron flew to California to take 100-year-old World War II veteran James K. Kunkle on an honorary flight refueling F-15 Eagles with the 144th Fighter Wing, California Air National Guard, to thank him for his service and recognize his lineage to the Nebraska and California Air National Guard.
As Kunkle approached the aircraft, he was ordered to stand with the Nebraska crew members as they inducted him back into service for the day.
"Capt. Kunkle, I hereby order you to report back to duty for one day, April 25, 2023, in the 173rd Air Refueling Squadron, Nebraska National Guard, and hereby deem you out of uniform and present you this, your flight suit to wear on the flight today," said Col. Andrew Malousek, the vice wing commander for the Nebraska Air National Guard's 155th Air Refueling Wing.
During his service in World War II, Kunkle was a U.S. Army Air Corps pilot. He received the Distinguished Service Cross for extraordinary heroism while assigned to the 401st Fighter Squadron against an armed enemy in aerial combat over Aachen, Germany.
Kunkle shared his story during the honorary flight. He belonged to the 370th Fighter Group, which had three fighter squadrons: the 485th, 402nd, and 401st. They trained on the East Coast and were shipped to England. The unit was activated on July 22, 1943, and later became part of Nebraska's 173rd operations.
"The P-51 (Mustang) was being introduced into the 8th Air Force, so the P-38s (Lightings) and the P-47s (Thunderbolts) were being shifted to the 9th Air Force, which was the tactical Air Force," Kunkle said. "So, whatever the reason, they chose the 401st to become the first combat group to carry napalm. Napalm was a big secret, and it took the P-38s to do it, so they had to ship our one group and then the 370th had some people who had actually been in the development of napalm at Eglin field, and so they chose our group which was the P-38s."
Kunkle said he was assigned very early on as a P-38 pilot to the group and helped the 370th transition into the three squadrons.
"We were probably a middle-placed group," he said. "We weren't one of the famous ones. We had very little combat experience when we went into combat, and we had to develop it as it went along."
After the 401st Fighter Squadron became inactive on Nov. 10, 1945, the unit was redesignated the 173rd Fighter Squadron and allocated to the Nebraska Air National Guard on May 24, 1946.
Malousek said the honorary flight was highly significant because Kunkle, who first enlisted in the California Air National Guard in 1939 before joining the Army Air Corps and being assigned to the 401st Fighter Squadron, is the last living pilot from the 401st during World War II.
"The 401st Fighter Squadron is the forebear to the 173rd Air Refueling Squadron and connecting the past to the present always serves as an inspiration," he said following the flight. "We learned today he had not been aboard a U.S. Air Force aircraft since he left the service in the 1940s, so making this happen was a great tribute to his service and sacrifice."
Wearing his newly gifted flight suit, Kunkle climbed aboard the aircraft in a symbolic homecoming welcoming him back to military aviation. While it wasn't in the cockpit of his beloved P-38, he joyfully watched as Senior Master Sgt. Matt Ellison, Nebraska National Guard senior boom operator, laid in the boom pod of the KC-135R Stratotanker and refueled six F-15 Eagle fighter jets. One of the F-15s carried the 401st Fighter Squadron patch and displayed an American flag in the cockpit in honor of Kunkle's service.
"You could see his excitement at the idea of flying in an Air Force aircraft again, and it was just incredibly special to be able to be a part of that," said Lt. Col. Randy Douglas, 173rd director of operations.
"It goes to honoring the people who have paved the trail before us," Douglas said. "As far as we know, Jim is the last surviving member of the squadron that eventually became the 173rd Air Refueling Squadron, so to be able to take a member of the historic 401st and actually meet them and take them on a flight is an incredible link to our unit's past."
Born on Oct. 16, 1922, in New Kensington, Penn., Kunkle developed a passion for aviation at an early age. He eagerly transitioned to the Army Air Corps in 1942 after the attacks on Pearl Harbor, starting as an airplane mechanic. His dedication, flair and drive earned him a coveted spot as a fighter pilot.
During his time at the helm of the P-38, one harrowing encounter on Sept. 16, 1944, showcased his skill and determination as he shot down two enemy forces.
"We were really hitting the Germans hard with the fighter bombers," he said. "Mainly, they were hitting our P-47s. We had no navigational radio, so we had to coordinate and pick out what our assigned target was, so you were spending all your time looking at the ground because you didn't have any way electronically to take you to that position."
Kunkle remembers his squadron was hit and their sister group, the 474th, lost half a squadron from German attacks.
"The way fighter squadrons kind of work is that you break in your youngsters – them in the back of the formation, and that's where we were getting hit, so we decided to put some experience in the rear, and we would draw turns," he added.
He drew that position in September 1944.
"Sure enough, we got attacked," Kunkle said. "I got off clean that day and we got two of their FW-190s, but we lost one airplane as they went on past me into our squadron, but the little trick was working and at least we saw them before they hit us."
Kunkle still remembers the evening of Sept. 16 while passing through Stuttgart.
"We were flying top cover and orbiting over the target area, and I was flying element B, which was the back end of the squadron, and sure enough, I saw them coming."
Kunkle said they were flying in a "gaggle" and were up and down.
"I called the break and broke into the one on the left who was leading the pack and thinking this time the squadron would follow me because they hadn't the first time and ended up by myself and they went right by me," Kunkle said. "So, I think I shot down the flight leader on the first pass, but at the same time the other group – instead of hitting our group – they came around and got on my tail and shot me up badly. I was on fire, and I knew it was burning, but didn't know what was burning … and got hit again.
"I was just trying to keep these people from getting beyond me and I really didn't have a good picture of what was going on. It was very chaotic."
Kunkle said he saw a burst of flames and knew he was in trouble. His next actions would be critical to his survival.
"The escape hatch on the P-38 was up above the windscreen, and I don't remember reaching for that," he said. "I don't remember unbuckling my safety belt or anything. Then I saw that flame, and next thing I know I am falling through a cloud and came out the bottom of the cloud."
Eventually opening his parachute, Kunkle landed face-up in what he thought was German territory. He had faced a barrage of gunfire from the enemy, severely damaging his P-38, which had forced him to crash land it in German-occupied France. Evading capture, Kunkle made his way back to allied lines, rejoined his squadron and engaged in more battles well beyond his required tour.
"James Kunkel was an exceptional pilot and a true American hero," Douglas said. "His courage, skill and determination in combat helped to defeat the enemy and secure victory for allied forces. He will always be remembered as a true patriot and a symbol of the sacrifices made by the Greatest Generation in World War II."
"Kunkle's stories bring history alive," Malousek said. "We live in a time now when not many of these men and women from World War II are still around, so hearing them from the actual person who did them is simply remarkable. We also live in a world of uncertainty, just like Jim did back then. Hearing how he got through it and his volunteerism and heroism in the service serves as a reminder to me personally about why I serve."
Douglas said meeting Kunkle renewed his passion for World War II aviation history.
"It was such a groundbreaking time in aviation, and to meet someone who was there, and flew the planes and conducted the missions was incredible," Douglas said. "Most people only get to read about history in books or see it portrayed in movies, but to be able to listen to someone who was there – to watch them as their stories come alive again when they talk about their experiences – was such an incredible opportunity that I will always be thankful for."
Kunkle is still an active Federal Aviation Administration licensed pilot, and both the Nebraska National Guard and the California National Guard wish to salute him with the motto of the 401st Fighter Squadron in tribute: "A toast to the host of those we boast."