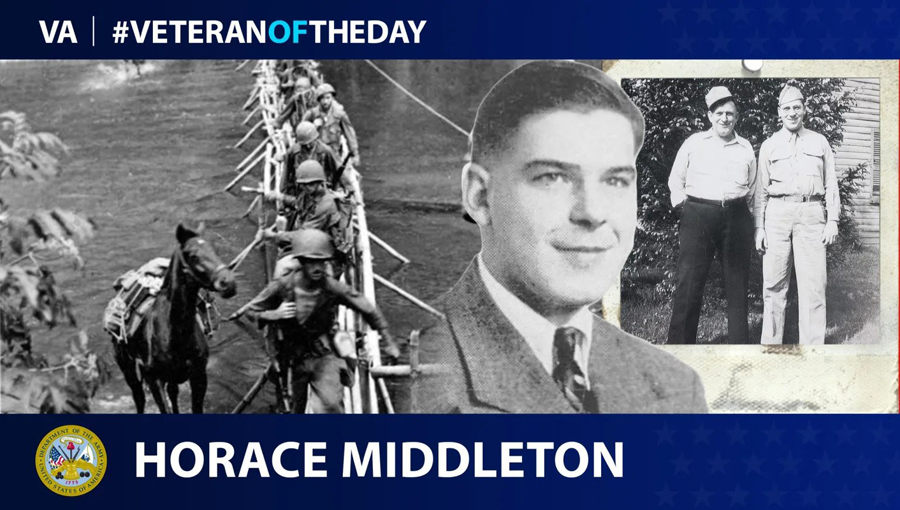 Horace Middleton served as an infantryman in World War II as part of the "New Galahad" reinforcements that helped Merrill's Marauders secure the Myitkyina, Burma (now Myanmar) airport, controlling access to and dominance over the region. Pvt. Middleton earned a Purple Heart after being killed in the Siege of Myitkyina on July 12, 1944. He was 20. Now, 79 years and 7,829 miles later, his remains arrived in Milton, Penn., on April 14, 2023.
Born in Northumberland, Penn., in February 1924, Middleton graduated from Northumberland High School in June 1943 and joined the Army on his 19th birthday. He deployed in April 1944, serving as an infantryman with Company F, 2nd Battalion, 5307th Composite Unit (Provisional), also known as Merrill's Marauders.
Capturing Myitkyina and its airfield, containing northern Burma's only all-weather airstrip, was a vital mission that enabled the Allies to maintain supply lines and communication between India and China during the war despite the Japanese forces claiming Burma.
Middleton's team joined the battle as reinforcements for the remaining 300 of the 3000 soldiers who had crossed over 800 miles on foot through the jungles of Burma, with only pack mules and air drops for supplies. The Marauders defeated superior Japanese 18th Division forces over five major and 30 minor engagements.
For their courage and achievements, the Marauders received a Congressional Gold Medal, and every member earned a Bronze Star. The 75th Ranger Regiment proudly wears the Marauder's patch as its unit crest, with the colors of four of the six Marauders teams. Even the regiment's name comes from that of the 475th Infantry, the organization that the few Marauders remaining combat-worthy joined following the dissolution of the Marauders in August 1944.
Middleton was among the 272 individuals who were killed in the Marauders' final Battle of Myitkyina that resulted in U.S. forces holding the airfield and town. His unit had just broken through to China and was involved in the heaviest fighting during the Siege of Myitkyina when Middleton was killed.
Along with other soldiers killed at the siege, Middleton's remains stayed in local burial sites until they were moved to the U.S. Military Cemetery in Myitkyina before being consolidated at the U.S. Military Cemetery in Kalaikunda, India in 1946. Lacking a dog tag, Middleton's remains were left unidentified and were transferred to Honolulu's National Memorial Cemetery of the Pacific (the Punchbowl) in March 1949, where they were referred to as "Unknown X-63 Kalaikunda."
On Sept. 17, 2018, Defense POW/MIA Accounting Agency (DPAA) scientists used dental, anthropological and circumstantial evidence to narrow down identities of remains at the Punchbowl. Middleton's final surviving brother died half a year before DPAA could identify Middleton with the help of mitochondrial DNA analysis from the Armed Forces Medical Examiner System on Oct. 21, 2019. Now that he has been identified, a rosette is next to Middleton's name on the "Tablets of the Missing" at the Manila American Cemetery and Memorial in Taguig City, Philippines.
COVID-19 delayed Middleton's original April 18, 2020, date for returning home. As one of 14 local soldiers commemorated on the "Wall of Remembrance" at American Legion Post 44, Middleton was welcomed by a huge crowd along Route 11, including the Selinsgrove fire company, the American Legion, the Sunberry Junior ROTC and extended family members.
At 11 a.m. on Saturday, April 22, 2023, Middleton's remains were laid to rest with family, alongside his parents at the Harmony Cemetery on 257 Willow St. in Milton, Penn. Active duty Rangers from Fort Benning, soldiers from Fort Indiantown Gap and several Central Pennsylvania American Legion Riders escorted Middleton to his final resting place.
We honor his service.