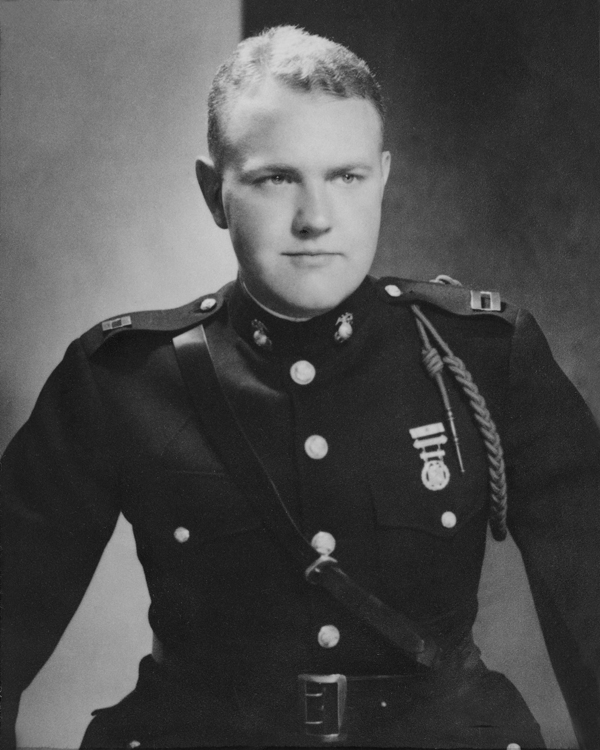 World War II Marine Corps Maj. Henry Alexius Courtney Jr. never gave up on his objective as he led a group of battered men up a fire-swept hill in Okinawa. Courtney didn't come off the hill alive, but his courage led to a foiled Japanese counterattack and saved numerous American lives. Those actions earned him a posthumous Medal of Honor.
Courtney was born Jan. 6, 1916, in Duluth, Minn., to parents Florence and Henry Courtney Sr. He had three siblings ó John, Elizabeth and Grace ó and was the youngest of the four.
Courtney came from a well-known family of lawyers, according to the Duluth News Tribune. He wanted to follow in his father's footsteps, so after graduating high school, he went to the University of Minnesota, where he played football and earned his bachelor's degree. From there, the devout Catholic got his law degree from Loyola University in Chicago. While there, he also felt drawn to serve his country, so he joined the Marine Corps Reserve.
Courtney was commissioned as a second lieutenant in February 1940. He was permitted to practice at his father's law firm and was hoping to pass the bar before he left for active duty, according to a 1946 edition of Bench & Bar, a newsletter for the Minnesota State Bar Association. But that didn't happen. He was put in command of the Duluth unit of the Marine Corps Reserve, which was then mobilized in the buildup to war and sent to San Diego for training.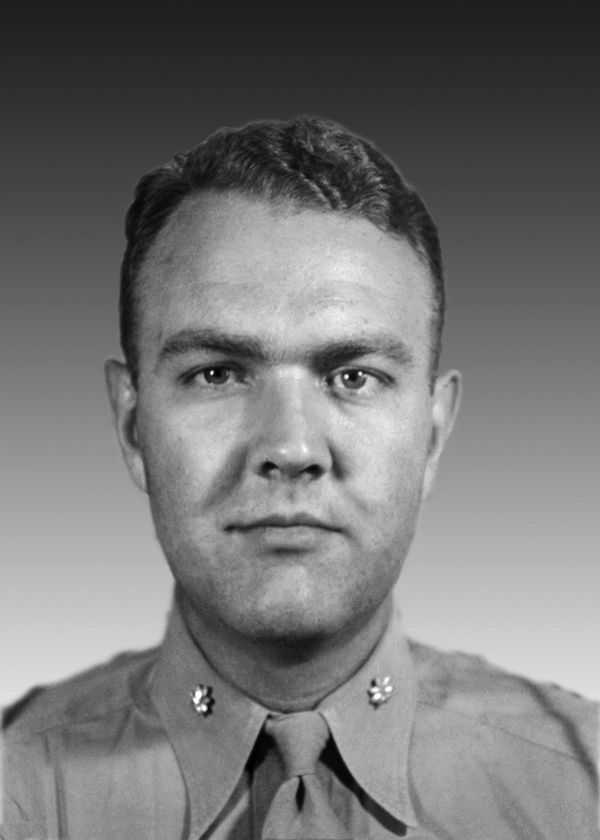 Life at war
Courtney served about 10 months in Iceland and learned about the Japanese bombing of Pearl Harbor while he was there. From late 1942 to early 1943, he commanded a company of the 1st Marine Division in the Solomon Islands during the Guadalcanal campaign, which was the first U.S. offensive of World War II.
While in the Solomons, Courtney suffered from a bout of malaria, so he was sent back to the U.S. to recover. He could have stayed stateside to train others, but he wanted to go back overseas to lead the newer, younger Marines, so he requested to return to combat duty. The request was granted. However, according to the Bench & Bar newsletter, Courtney also got the opportunity to sit for a special bar exam while he was on leave. He took it, and he passed with distinction.
Soon after, in November 1944, Courtney went back to the Pacific to join the 2nd Battalion, 22nd Marines of the 6th Marine Division. According to the Marine Corps University, his next combat action was during the Battle of Okinawa, where he would give his life for the cause.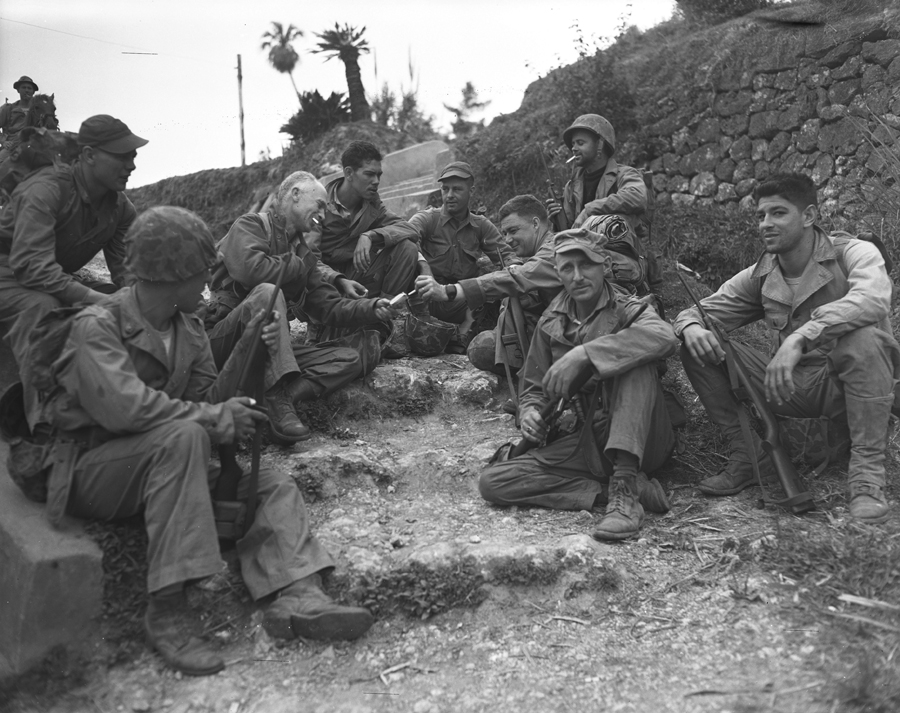 Fortitude in Okinawa
The Allies first invaded Okinawa on April 1, 1945. A little more than a month later, Courtney's division joined the 1st Marine Division in preparing to attack Japan's main line of resistance on the island.
Before they could do so, though, they had to get over three small hills that housed part of the enemy's defensive complex. The first was a hill that the Marines codenamed Sugar Loaf.
On May 12, Company G was ordered to take Sugar Loaf Hill ó something that proved to be a major challenge. The rocky hill was barren and pocked with caves and tunnels that kept the Marines at bay for days and decimated Company G's numbers. That first attempt ended in retreat.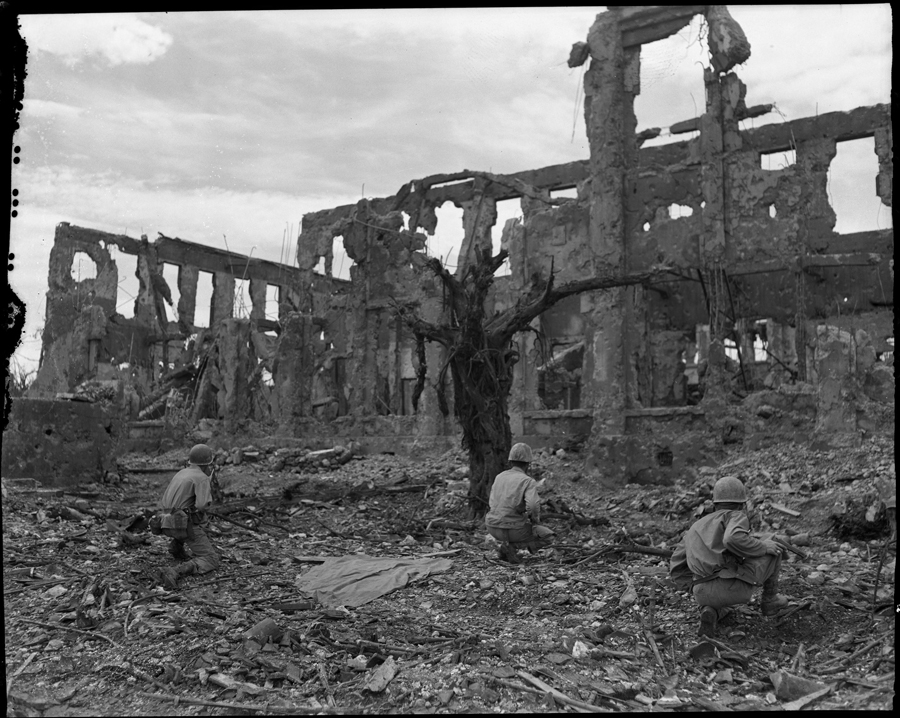 Courtney's chance to assault the hill came on May 14, when he gathered what was left of Company G and another company to try again. After a prolonged firefight behind the hill, they were ordered to hold for the night. Courtney, however, felt they had a better chance of getting up the hill at night when they weren't as exposed. So, according to his Medal of Honor citation, he got permission to advance up the hill in the dark. He quickly explained the change of plans to his Marines before starting the climb.
"At one point, the major said, "Come on men, let's give them a Banzai†charge of our own,'" remembered Marine Cpl. Jack Houston in a 1996 letter written ahead of the 40th anniversary of the battle.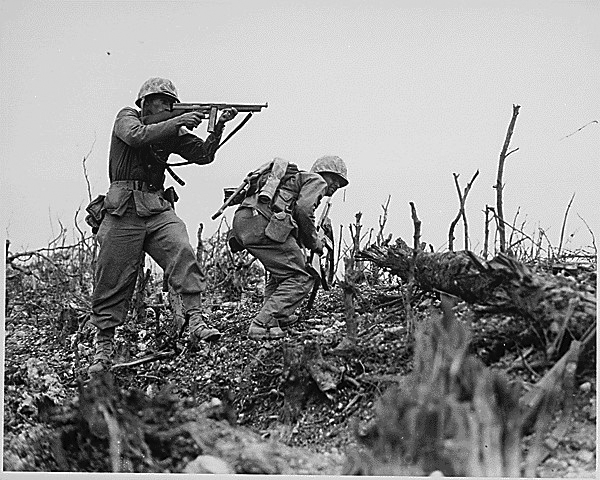 Leading by example
Inspired by his courage, every man followed Courtney without hesitation. Despite heavy enemy gunfire, they boldly blasted cave positions and took out as many enemy guns as they could to skirt the hill on the right and reach its reverse slope. There, Courtney stopped his men for a minute and sent guides to the rear for more ammunition and possible replacements.
After acquiring 26 more men and a vehicle load of grenades, Courtney was determined to crush any planned counterattack before it could gain sufficient momentum. So, he pushed forward again, leading by example rather than by command.
"As we were getting ready to leave, I expected to hear that old familiar order, "Take off, men!" Houston remembered. "Instead, it was, 'Follow me, men!' and the major led the way."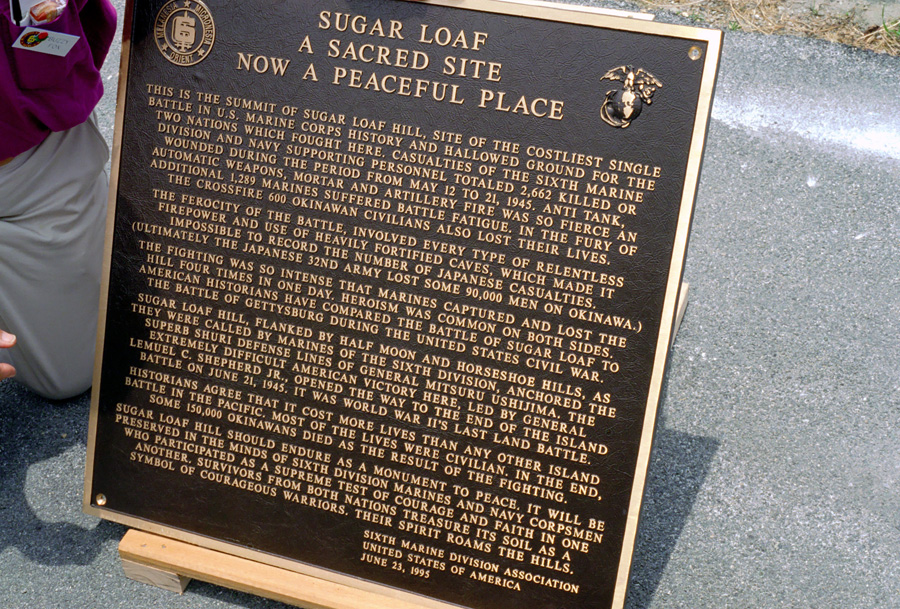 Courtney aggressively attacked, hurling grenades into caves and damaging many of the enemy's positions. When the men got to the top of the crest, they noticed Courtney's instincts had been correct ó a huge number of Japanese were gathering for a counterattack less than 100 yards away. Courtney immediately charged the formation, killing several enemy combatants in an attack that caused the rest of the force to take cover in the caves.
Determined to hold the position, Courtney ordered his men to dig in while he rallied his weary troops, offered aid to the wounded and moved certain men to more advantageous ground, all while enemy fire grew more intense.††
Sadly, Courtney wouldn't make it to the end of the fight. While moving among his men, a mortar burst killed him instantly, his Medal of Honor citation said.
"The last I saw of the major, he was going over the crest," Houston said. "For all the world he looked exactly like a heroic recruiting poster, and that's exactly what he was ó a hero. No man with him could doubt his leadership and courage. This was a brave, brave man who died for his convictions, the Corps and his country. I feel honored to have served with him."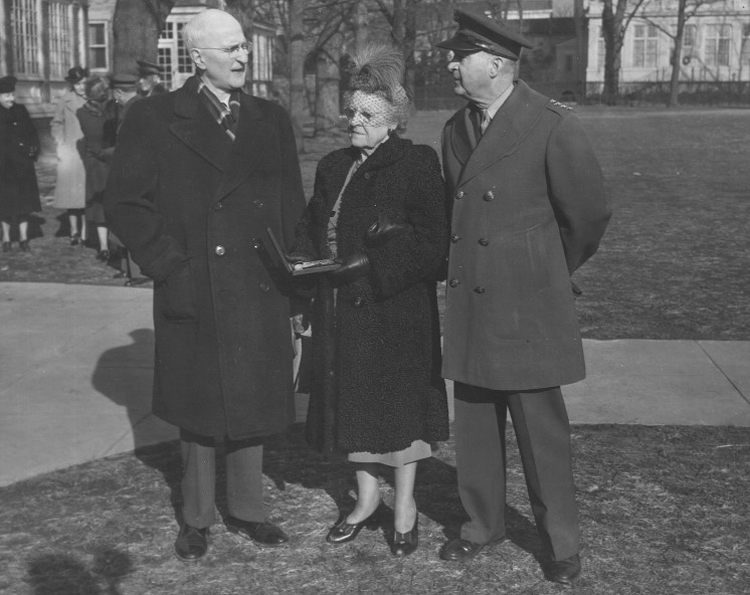 Courtney's courage, confidence and spirit disrupted the Japanese assault, allowed his men to take the hill, and it kept the enemy from overrunning Allied lines, which saved the lives of a countless number of troops.
"To this man alone, many Marines owe their lives," said 1st Lt. Robert O. Hutchings in a 1945 letter recommending Courtney for the Medal of Honor. "To him, those of us who fought there and lived owe an eternal debt of gratitude for his resplendent example of stark courage."
In July 1945, Marine Corps Maj. Gen. Lemuel C. Shepherd Jr., who recommended Courtney for the Medal of Honor, wrote to the fallen 29-year-old's parents to express his grief for their loss.
"Your son was loved by his men and admired by his many friends," Shepherd said. "Your boy died a hero Ö I sincerely hope that the knowledge that your son sacrificed his life for his comrades-in-arms may be a comfort to you in your great loss."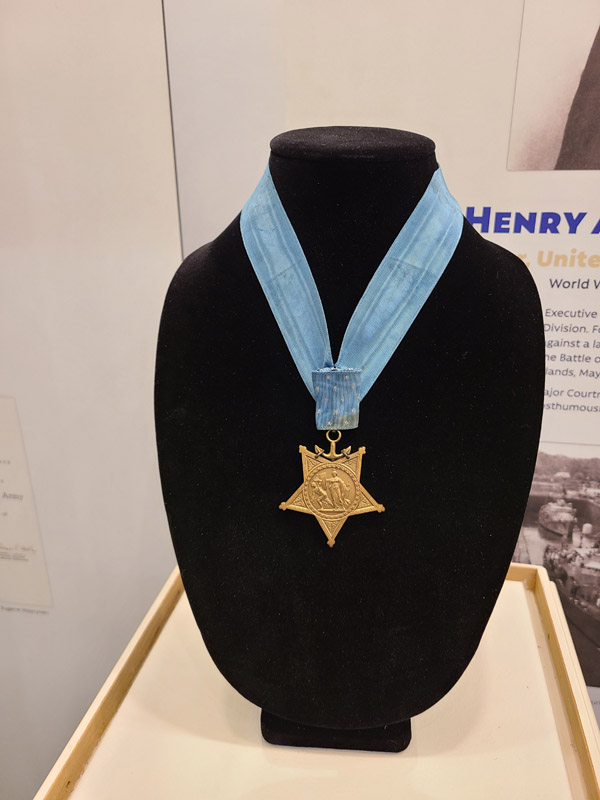 Posthumous honors
On Dec. 30, 1947, Courtney's parents received the Medal of Honor on his behalf from the commandant of the Marine Corps, Gen. Alexander A. Vandergrift, in a ceremony in Washington, D.C.
Twelve other Marines earned Medals of Honor for their actions during the Battle of Okinawa, 11 posthumously.
Courtney was initially buried in the 6th Marine Division Cemetery in Okinawa, but he was reinterred in 1948 in Calvary Cemetery in his hometown.
Courtney never married and he had no children, but he is remembered by his siblings and their children, as well as the military.
The USS Courtney II, a destroyer escort, was commissioned in September 1956 and used through 1973. Camp Courtney, a Marine Base that opened in Okinawa in 1956, was also named for him. It continues to be the home to the III Marine Expeditionary Force, 3rd Marine Division and the 3rd Marine Expeditionary Brigade Headquarters.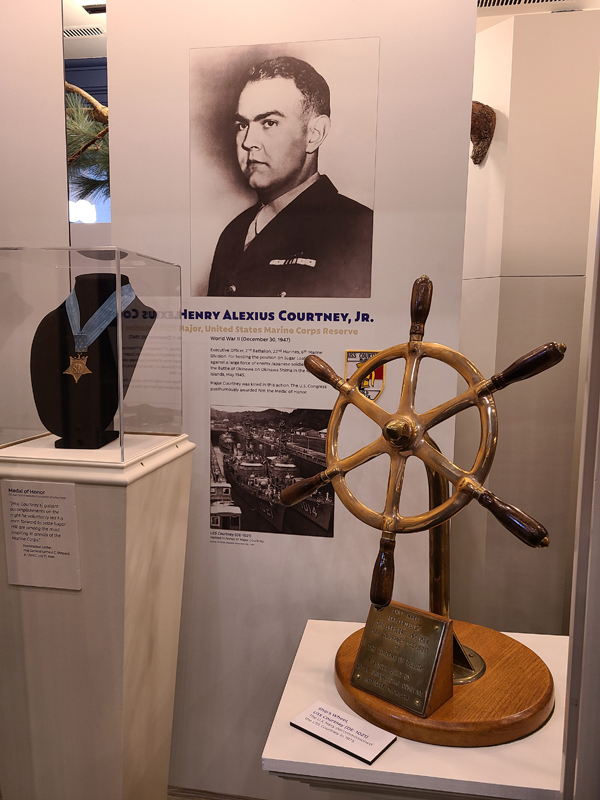 In 2016, Courtney's nephew, Court Storey, told the Duluth News Tribune that he's learned a lot about his namesake over the years.
"My uncle was this very happy-go-lucky, joyful guy," Storey said. "He was like a Newfoundland dog, always kidding and lighthearted."
Courtney's Medal of Honor had initially been donated in the 1980s to the Freedoms Foundation in Pennsylvania by Courtney's sister, Elizabeth. However, his family and the St. Louis County Historical Society successfully pushed to get it returned to his hometown. It was sent back to Minnesota in May 2019 and is now on display at the Veterans' Memorial Hall Gallery in the Duluth Depot on a five-year, indefinitely recurring loan.
Editor's note: Medal of Honor Monday highlights Medal of Honor recipients who have earned the U.S. militaryís highest medal for valor.