SACRAMENTO, Calif. — Vets4Veterans started out as a "shooting the breeze" session for vets coping with Post Traumatic Stress Disorder, and it turned into a regional non-profit serving a full spectrum of needs.
The volunteer group that provides services to veterans in need, was named Nonprofit of the Year on June 8, 2023, in the 34thAssembly District.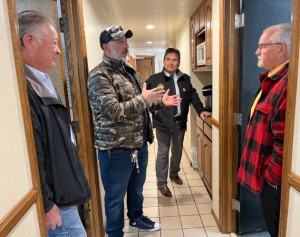 The award was bestowed on the third anniversary of the death of the group's founder, Tom Hilzendeger, a Vietnam War combat veteran who wanted to make something good happen for today's veterans, and veterans hailing back to his own era of service.
"It means so much that it happened today," said Megan Hilzendeger, surviving spouse of founder Tom Hilzendeger.
Hilzendeger participated in a group therapy session at the VA-affiliated Vet Center in Palmdale where veterans were finding ways to cope better with Post Traumatic Stress Disorder, and other mental health challenges connected to their combat service.
"Tom asked me, 'What is altruism?' after we talked about it in group, and I shared with the group that if you want to feel good in your own life, do good things," said Gerry Rice, a therapist who is also a Vietnam combat veteran.
A dozen years ago, Hilzendeger and other group members organized a car show and were surprised when they raised about $2,000 to contribute to a veterans' charity. That was how the group started, and kept growing over the years. Hundreds of at-risk veterans are served with funds raised at dinners, the car show, a golf tournament and other community events.
The 34thAssembly District represents much of the Antelope Valley and Assemblyman Tom Lackey, R-Palmdale, presented the award in the state Capitol.
"It's been very impressive to see what the organization has done, and they have been doing it for years," Lackey said during a recent tour of the organization's job training site at Armed Services Auto Body in Lancaster.
Lackey welcomed board leadership of the nonprofit and escorted them into the Capitol and the floor of the state Legislature.
Vets4Veterans provides emergency assistance to veterans in need of shelter, food, job training, and assistance with education and mental health challenges. The group is all-volunteer with no one taking salary.
"I was an infantry grunt, and we have a grunt philosophy that we leave no one behind," said John Parsamyan, job training coach at Armed Services Autobody. "People might think that's a cliché they heard, but that is how we really do it."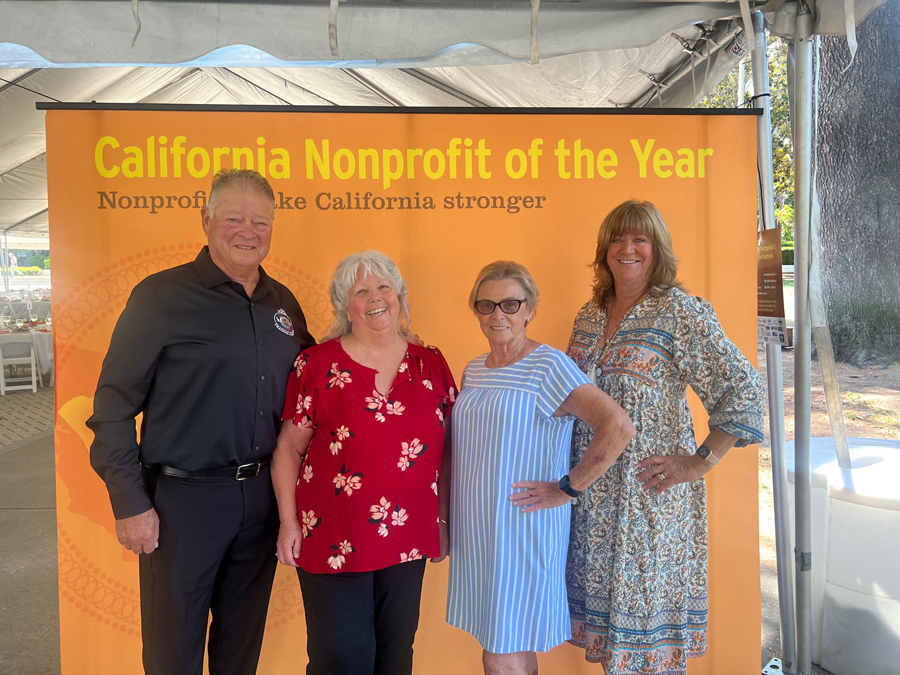 Board leadership present in Sacramento included Vietnam vet Rice, who is the current group President, along with board members Megan Hilzendeger, Sandi Woolbert, Carol Rice, Benjamin Berk and Tony Tortolano. Tortolano, who volunteers with many groups, was recently named Veteran Of The Year by the City of Palmdale.
A bronze memorial tribute to Hilzendeger, and Jack Woolbert, was installed at the Palmdale Veterans Enriched Neighborhood where the regional nonprofit Homes4Families is building market-entry homes for low-income veterans. Community volunteers, and the veterans who will have a stake in building their own homes are building homes.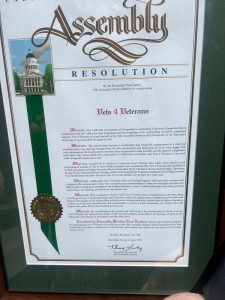 Jack Woolbert, who died in March 2022, succeeded Hilzendeger as president. Following the two presidents' deaths, Gerry Rice became president. Inadvertently, the presidency passed to the therapist whose discussion of altruism sparked the group's formation.
"You have to come to the meetings, or you might get elected to something," he joked. "But seriously, this is a volunteer organization that has a heart for the veteran. You don't have to be a veteran to help, you just have to want to help."
The organization, working with a grant from Palmdale, is in the process of establishing a second residence home where veterans in need can live for up to six months at no cost while getting their lives organized after military service.