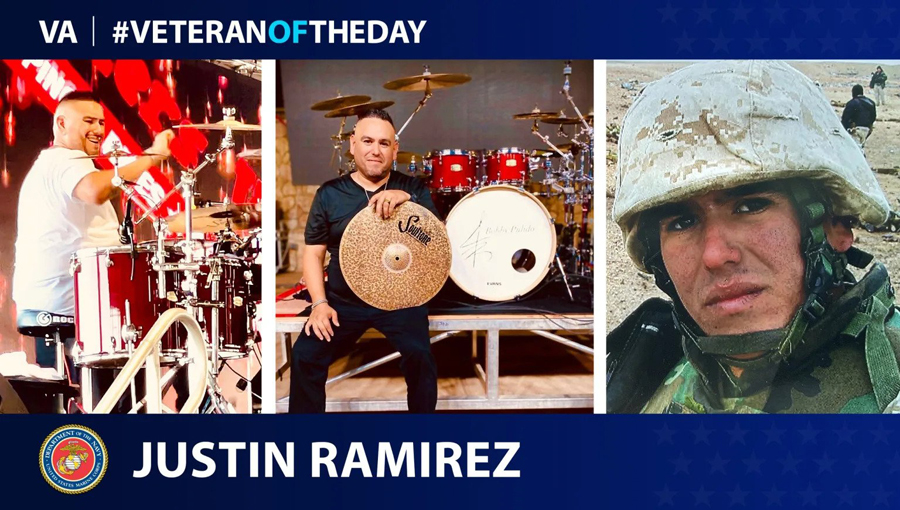 Justin Ramirez was born and raised in Victoria, Texas. Inspired by his father, he began drumming when he was only four years old. As a teenager, his love for drumming led him to join a local band. He continued developing this skill while playing for the Stroman High School band. Five years after graduating, he joined the Marine Corps, hoping to "do more with his life."
Ramirez completed basic training in San Diego, Calif. During his eight-year service, he deployed twice to Iraq, where he participated in operations in Ramadi and Fallujah. During that time, he continued to play the drums after receiving a drum pad and drumsticks from his family back home. Deployment gave him fresh perspective on life. He learned to not take life for granted, recalling how "fresh bath … a hot meal," or "anything you need," were easily available at home in the States. His service also led him to become "a very structured kind of guy." After returning home, he left the military and settled in San Antonio, Texas, with his wife and three children.
After his military service, Ramirez kept pursuing his passion for music. As a drummer, he has played throughout North America with well-known Tejano music bands and famous artists, including David Marez, Ram Herra, Garry Hobbs and many more. After posting a performance with Bobby Pulido, a Tejano musician, Ramirez accumulated over 19 million views on YouTube. In his live performances, he once played to a crowd of 30,000 people. Regarding the future, he hopes to "continue to perform to the best of [his] ability."
We honor his service.