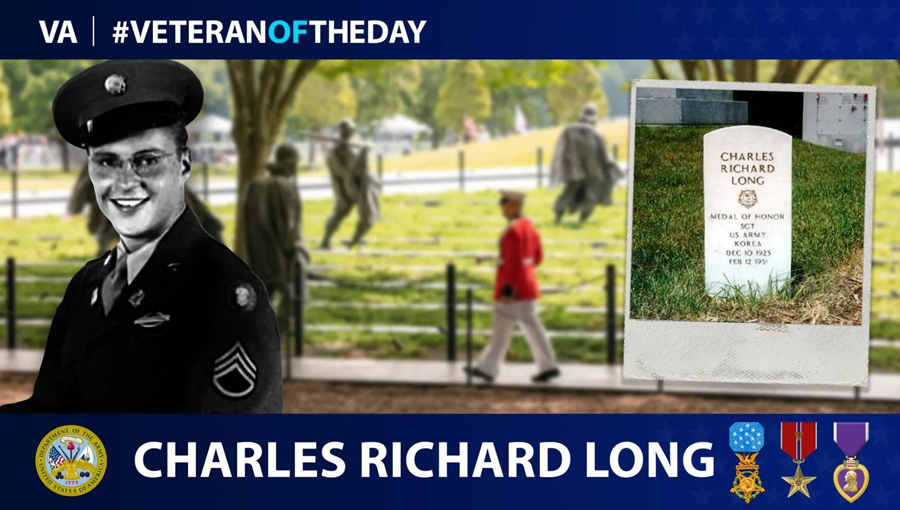 Army Veteran Charles Long served in the Army from 1943 to 1951, receiving a Bronze Star for Valor as a combat infantryman in World War II and earning a Purple Heart and a posthumous Medal of Honor in the Korean War.
Born in Kansas City, Mos., in December 1923, Long grew up in nearby Independence, Mo., and graduated from Kansas City's Northeast High School in 1941. He was drafted into the Army for the European Theater of Operations in the Ardennes-Alsace Campaign during 1944 and 1945.
Long served with Company D, the light tank company of the 745th Tank Battalion, alongside the 1st Infantry Division. In the Battle of the Bulge, Long's task force routed the German counteroffensive and established its own defensive line past Germany's former defense of the Siegfried Line. The 745th was instrumental in the Crossing of the Rhine.
Following World War II, Long remained in the Army Reserve until he was recalled to active duty for the Korean War in 1950 as part of the UN Defensive. He served through the first four phases of the Korean War, continuing through the UN Offensive and Communist Chinese Forces (CCF) Intervention before giving his life on Feb. 12, 1951, at age 27 to defend the retreat of his platoon in the first UN counteroffensive.
At Hoengsong, South Korea, Long was a forward observer for the mortar platoon in M Company, 3rd Battalion, 38th Infantry Regiment of the 2nd Infantry Division.
When an unexpected major offensive by four Chinese and two North Korean divisions overwhelmed inexperienced Republic of Korea forces on Feb. 11 and 12, the greatly outnumbered U.S. support troops suffered the war's most concentrated losses of American lives in the Hoengsong Ambush.
In the early hours of Feb. 12, a larger force attacked Long's platoon while it was in a defensive perimeter on Hill 300. Long voluntarily remained behind near the enemy so he could provide target locations, enabling the rest of his platoon to safely withdraw and reorganize while he calmly directed their mortar fire. He also provided cover fire with rifle and grenades for his platoon until he ran out of ammunition and was overrun; that's when he made one final call for fire: 40 explosive rounds on the enemies engulfing his position.
The citation for the Medal of Honor that President Truman gave to Long's family on Jan. 16, 1952, describes his deeds and "inspirational, valorous action [that] halted the onslaught, exacted a heavy toll of enemy casualties, and enabled his company to withdraw, reorganize, counterattack, and regain the hill strongpoint."
In honor of Long's service, Missouri's Charles R. Long Army Reserve Center and Sgt. Charles R. Long Memorial Display at Truman Memorial Building in Independence and South Korea's Camp Long and Long Road on Camp Humphreys bear his name.
Long was buried at Mount Washington Forever Cemetery in Independence, Mo.
We honor his service.