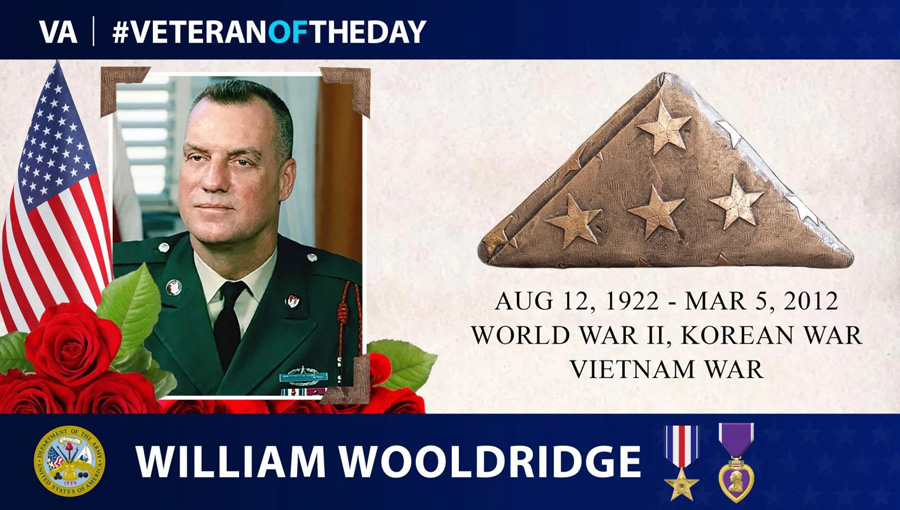 Army Veteran William Wooldridge served for more than 30 years and became the first Sergeant Major of the Army.
Wooldridge was born in 1922 in Shawnee, Okla., but grew up in Texas. He enlisted into the Army on Nov. 11, 1940, at Fort Worth, Texas. He was a squad leader when his division landed on the beaches of Normandy on D-Day in June 1944 and received two Silver Stars for his leadership during the Battle of Aachan in October 1944, and the Battle of the Bulge in December of that same year.
Thousands of candidates were considered for the role of the first Sergeant Major of the Army (SMA), but Wooldridge was selected for the position in July 1966, serving until Aug. 31, 1968. During his time as SMA, he implemented programs that improved the status of non-commissioned officers. He led the first Major Command Sergeants Major Conference, where he advocated for the Non-Commissioned Officer Candidate Course, the Sergeants Major Academy, Command Sergeant Major program and other programs that expanded how non-commissioned officers could be promoted. He regularly visited soldiers in combat zones, specifically in Southeast Asia, where he collected data to improve soldier training and morale.
Wooldridge was also the only SMA in history to return to an active-duty position after his service as SMA. After his final tour as SMA, he served as sergeant major of the Military Assistance Command in Vietnam.
Wooldridge died in March 2012. He was 89. He is buried at the Fort Bliss National Cemetery in Texas.
We honor his service.