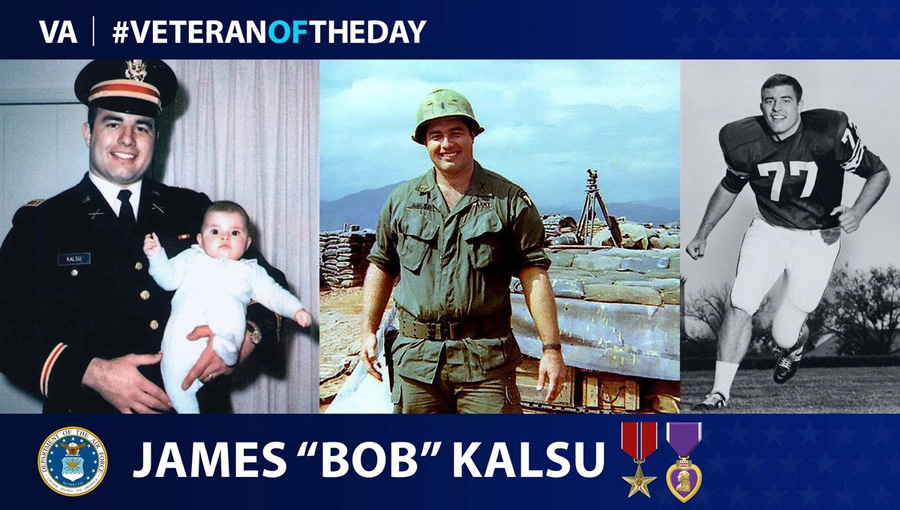 James Robert "Bob" Kalsu was born in April 1945 in Oklahoma City, Okla. From a young age, he was exposed to sports, as his uncle was a basketball player at Oklahoma State University. Although Kalsu wanted to follow in his uncle's footsteps, he instead played golf for a short while, and eventually started training for football.
After graduating from Del City High School in 1963 with experience on the football team, Kalsu began his college education at the University of Oklahoma. There, he played for the Oklahoma Sooners and was soon elected captain of the team. During his time at OU, he joined the Reserve Officers' Training Corps.
After graduating from OU in 1968, Kalsu was drafted by the NFL's Buffalo Bills and played as a guard. To fulfill his obligation with the ROTC, he joined the U.S. Army after the football season to serve in the Vietnam War. Although many tried to convince him to obtain a deferment, as he was newly married with a second child on the way, he stood his ground. He said, "I made a commitment to my country." Kalsu received his first commission and, in November 1969, completed field artillery training at Fort Sill, Okla., and joined A Battery, 2nd Battalion, 11th Field Artillery of the 101st Airborne Division. He began his duty during the Battle of Fire Support Base Ripcord.
Kalsu made an impact on those he encountered, even with something as simple as his smile and infectious laugh. He cared about people and their well-being and always "favored the underdog." Although he could have remained in his bunker, as he was an officer, he was often found working alongside his fellow servicemen, such as transporting 97-pound artillery rounds once they had been delivered by helicopters (an act like this was uncommon among officers). One soldier said that Kalsu helped "haul ammunition." Another soldier, Thomas Militello, who also served with him on Ripcord, said, "He was like one of the guys, easy-going and not standoffish." His fellow servicemen concurred that he wasn't like most officers — he was genuine, tended to those who served under him and knew how to complete tasks calmly and effectively.
Kalsu was killed by mortar fire at Firebase Ripcord in July 1970 in Vietnam.
Kalsu married his wife, Jan, in 1968 and was married for two years. Together, they had two children: one daughter, Jill, and one son, James Robert Kalsu Jr., who was born at the end of Kalsu's time in Vietnam.
Kalsu received many military decorations, including a Bronze Star medal, a Purple Heart medal, an Army Commendation medal, a National Defense Service medal and more. In addition to these military decorations, many facets within the U.S. have been named in his honor. In 2000, he was added to the Buffalo Bills Wall of Fame. Del City High School's football stadium also bears his name, as well as a Del City post office, which was officially named the James Robert Kalsu Post Office in November 2016.
We honor his service.