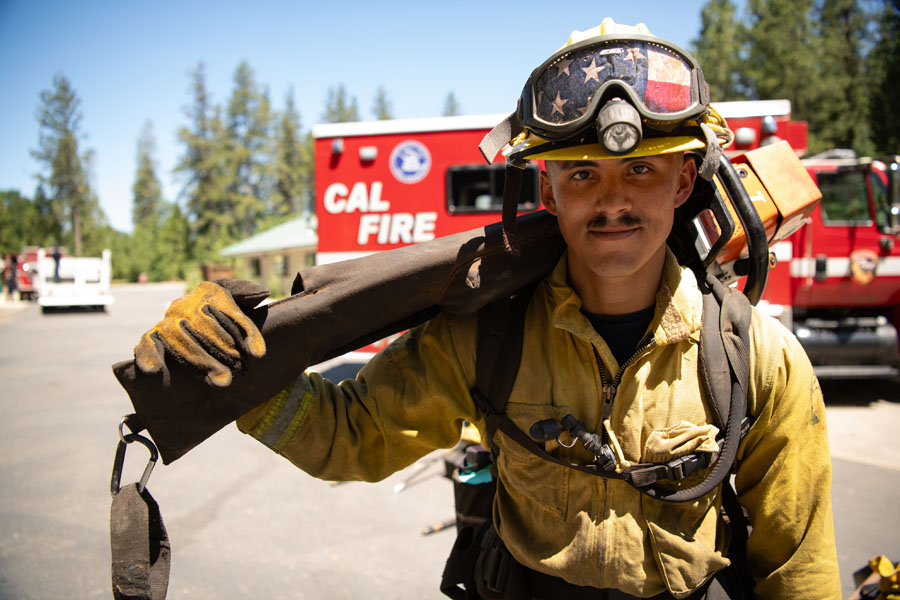 It wasn't until the adrenaline rush wore off that Army Sgt. Jonathan Salazar and Army Staff Sgt. Michael Bargas grasped the magnitude of what they were up against as fire engulfed the unforgiving terrain at the edge of California's Sierra Nevada Mountains in August 2020.
They were just months into their first fire season as members of Joint Task Force Rattlesnake, the California National Guard's newly formed wildland firefighting corps, when their crew set out in a race to starve the growing inferno of fuel.
Armed with chainsaws, Bargas and Salazar were tasked with clearing a strip in the untamed bramble that thrives in the sloping contours along the Yuba River.
They set a quick pace at first, growling through endless entanglements of manzanita brush that blocked the advance of the heavy bulldozers used to cut lines of demarcation in the battle against the blaze.
At first, they were blind to the fatigue that set in as they fought, inch by inch, against the overgrowth with heavy, rattling saws that, at a certain point, test even the most seasoned firefighter.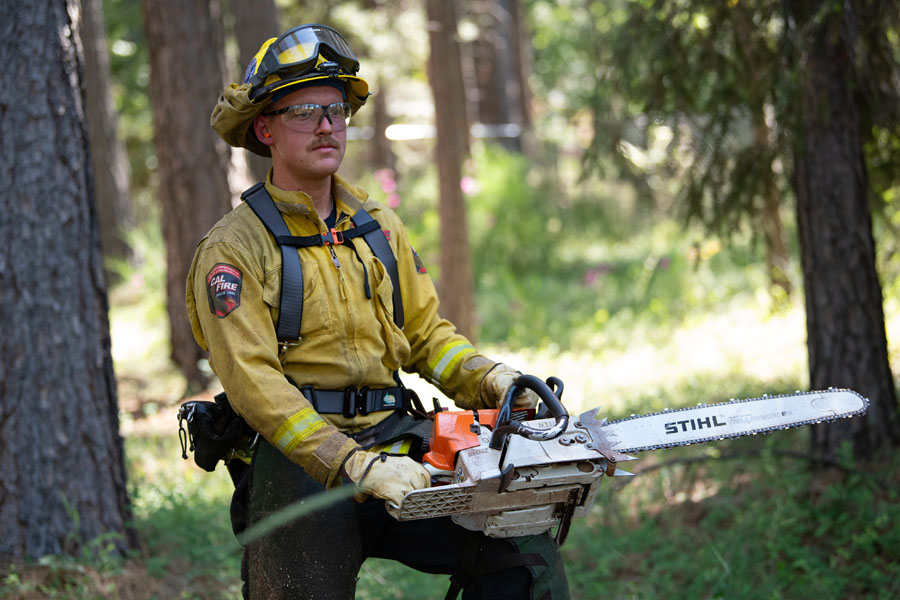 "Our first few hours on the line, we were cutting downhill in the drainage, all manzanita," Bargas recalled during an interview at the Nevada City, Calif., firehouse where he and Salazar still serve. "We hadn't quite figured out it was a marathon, yet. We were just trying to go, go, go."
"Three or four hours in, Sal and I were smoked," he said.
Despite hitting a wall early, their day — which began with a 6 a.m. briefing at the incident command post — was far from over.
Taking just a few minutes to rest, Salazar and Bargas were back on their saws carving a downhill path in the brush as the fire continued to advance.
The unpredictable force constantly threatened to entrap the crew as they cut through the thick overgrowth covering a steep drainage basin on the river's edge.
After hours of grueling battle, the crew of Guardsmen eventually cleared enough brush to allow the bulldozers to advance.
It was close to midnight before the crew finally came off the fire line.
Salazar said the Nevada City blaze, which burned for 11 days across 705 acres, was a wake-up call that sticks with him to this day.
"It just kind of opened my eyes," Salazar said. "I had never experienced something like that. I was exhausted on a level I've never experienced before."
"It makes you respect the job a lot more," he said. "You begin to understand that you have to take your personal life choices into account a lot more – hydration, fitness, and those things – because if you're not prepared you can get stuck in a drainage [basin] like that, [and] it's not going to be a good day."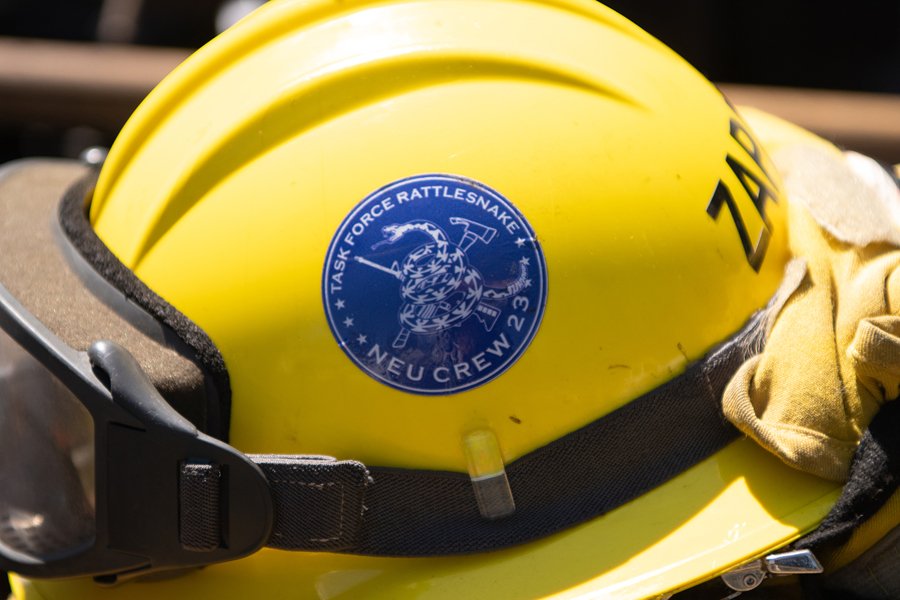 The perfect storm
The California National Guard has for years played a vital role in responding to the perennial threat of wildfires that plague the state.
The California Air National Guard's 146th Airlift Wing is one of only four units throughout the country to field C-130s outfitted with the Modular Airborne Fire Fighting Systems. Developed by the U.S. Department of Agriculture's Forest Service in the 1970s, the MAFFS douse wildfires with thousands of gallons of fire retardant with each overhead pass.
The California Army National Guard has also long fielded troops during the height of fire season. They've assisted local and state officials at check points and evacuation areas and formed hand crews to assist with forest management projects during the off-season.
But the growing frequency and intensity of wildfires, fueled by persistent drought and other ecological factors, created wide swaths of dead trees throughout the state, setting the stage for a more permanent role for the California National Guard.
"It was basically the perfect storm," said Army Lt. Col. Michael Riley, commander of Joint Task Force Rattlesnake. "Extreme measures had to be taken."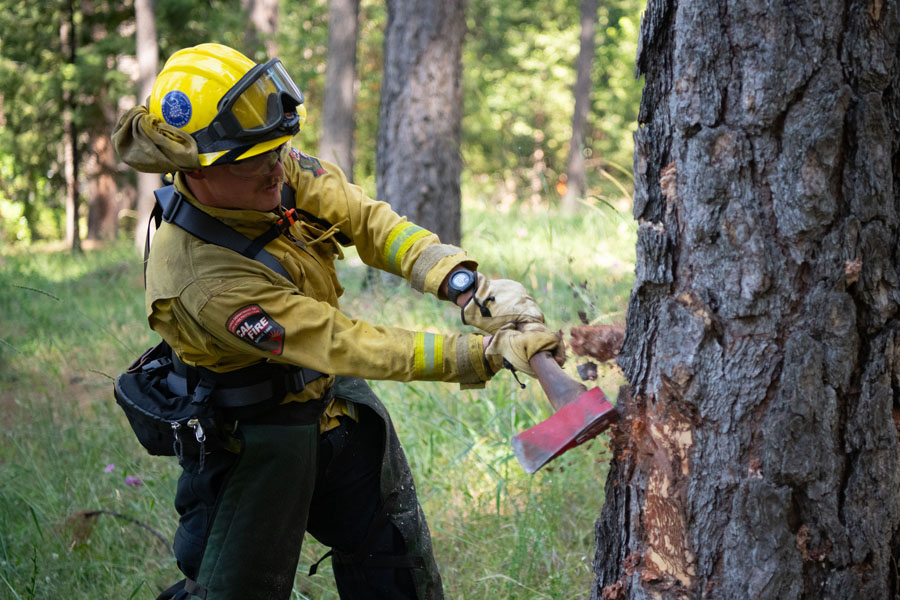 The Guard stood up the task force in 2019 with 100 soldiers and airmen who served on five, full-time teams alongside the California Department of Forestry and Fire Protection, known as Cal Fire.
Initially, the task force was stood up to support Cal Fire's fuel reduction efforts by clearing dense, dry vegetation.
During the 2019-20 off-season, Cal Fire and its contracted crews — including the Rattlesnake crews, other state entities and the Californian Conservation Corps — treated more than 104,000 acres, up from 60,000 acres the prior year.
Rattlesnake crews quickly proved themselves on the frontlines during the California wildfire season, which traditionally spans from May through October.
In 2020, California saw a record-setting 4.3 million acres consumed by a total of 8,648 wildfires. Those figures dwarfed previous years, which had been considered among the most destructive in the state's history.
"We never saw fires like this," said Cal Fire Chief Justin Schmollinger, who has been a firefighter for 25 years. "The fire behavior we're seeing … I've never seen that either until the last five years or so."
"It's a big deal," he said. "Some of the fires we've had in the past five to seven years have just taken out towns … destroyed whole towns."
On top of the increased intensity, Schmollinger, who oversees the training and certification of fire crews across the state, said fire crews across the state must be prepared to fight a large-scale fire at any time, further taxing the crews on hand.
Joint Task Force Rattlesnake has stepped up as demand has grown, adding more crews statewide each year. It now stands at 14 crews with 26 members each.
Mike Kidwell, a Cal Fire captain in Nevada City, said the soldiers and airmen have proven to be a natural fit at the firehouse and in the field. Kidwell said seasoned members of the task force now operate almost instinctively on the fire line.
"That only came from years of being out there working together, getting ourselves into trouble then going 'Okay, how do we get ourselves out?' [and] going to work together day in and day out," Kidwell said.