For the third year, NASA employees stepped into classrooms to teach the next generation about aeronautics during Aero Fair.
During Aero Fair, which takes place during the Spring semester, students are educated on concepts such as Newton's Laws, Bernoulli's Principle, the Four Forces of Flight, and the Mars helicopter, Ingenuity. Each student is given a NASA bag containing all the necessary materials for engaging in basic experiments and activities related to these subjects.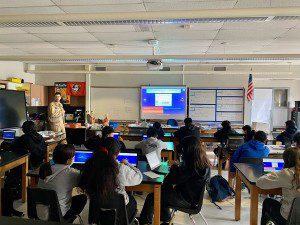 NASA employees from Armstrong Flight Research Center in Edwards, Calif., and Ames Research Center in Silicon Valley, Calif., noticed a lack of diversity in the applicant pool for several job openings. After assessing the surrounding communities, the group concluded that there was a lack of opportunity and inspiration for underrepresented and underprivileged children at the formative stages of their education. Enter NASA's Aero Fair.
The Aero Fair team collaborated with the California Office of STEM Engagement to develop a three-part STEM engagement activity to introduce middle-school students to the basics of aeronautics and inspire them to further science and math education as they progressed to high-school and beyond. The team leveraged contacts from California Office of STEM Engagement to reach out to educators who were willing to incorporate Aero Fair into their classes.
The 2023 Aero Fair reached over 3,400 students, the majority being in California, however, the program was also taught virtually in Santa Fe, N.M., Tucson, Ariz., Queens, N.Y., and Plainfield, N.J.
Aero Fair is well received and highly requested by the teachers and schools visited each year. Although the impact of the program will not be seen for years to come, the connections, relationships, and interactions the volunteers are having with the students in each of the classes create life-changing moments which are at the core of Aero Fair. Showing these underrepresented students there is more to reach for in their life and they are not limited in anything they can do or become.
Aero Fair will continue expand its reach to students around NASA Armstrong and NASA Ames, as well as the other aeronautics-focused NASA centers. More Aero Fair content is being developed and updated as NASA's aeronautics work continues to grow.