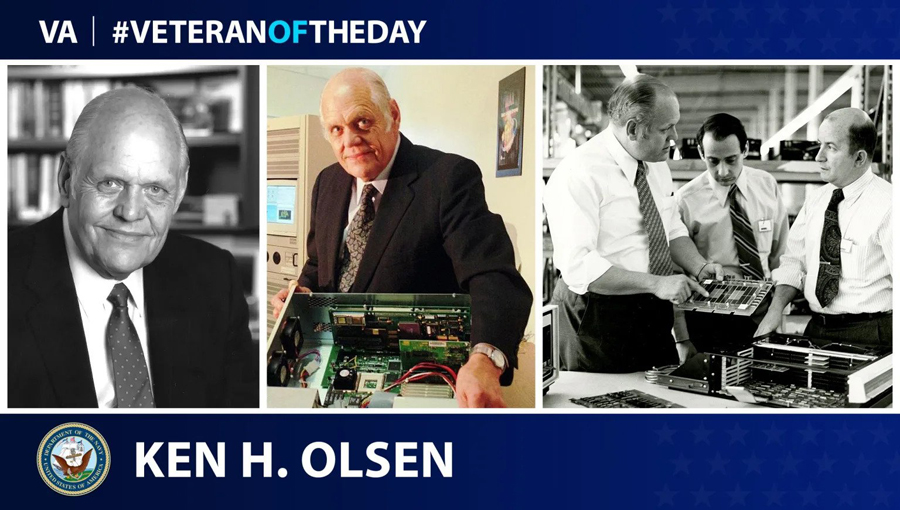 Kenneth H. Olsen was drafted into the Navy during World War II, serving between 1944 and 1946. After his short naval career, he went on to become the president of Digital Equipment Corporation and a pioneer in the realm of multi-vendor computing and electrical engineering.
Olsen was born in Bridgeport, Conn., in February 1926 and was raised in Stratford, Conn. Before joining the Navy, he spent his summers working in machine shops, building an interest in how things work and were made. He would fix radios and tinker in the basement in his childhood home with his brother Stan.
When Olsen returned to the States, he returned to education at Massachusetts Institute of Technology. There, he received his B.S. in electrical engineering in 1950 and graduated with an M.S. in 1952. While at MIT, he was recruited by the Office of Naval Research and the Department of the Navy—not as a seaman, but as an engineer—helping to build computerized flight simulators, the first transistorized research computer, and other projects.
Olsen partnered alongside another MIT colleague to begin a venture capital firm in 1957. He founded Digital Equipment Corporation (DEC), which built off his graduate work in magnetic-core memory engineering. His team tested various electronics equipment and, in 1965, DEC developed the first minicomputer to be mass-produced. Throughout the 1970's, DEC further capitalized the PDP-11 minicomputers which became the most popular line of minicomputers in history.
Olsen was known not only as an inventor, but for his unique leadership style. He was described as having an open corporate culture and one that embraced innovation and new ideas. In a 2011 New York Times article, Olsen was noted to "prefer flannel shirts to business suits." DEC now employees over 110,000 employees, is spread across 97 countries and continues to be a leader in computer engineering.
Olsen received many awards over his career, including an IEEE Founders Medal, inductions into the National Inventor's Hall of Fame, election to the American Philosophical Society, and others. He was named in Fortune magazine in 1986 as "America's most successful entrepreneur." He retired from his role as president of DEC in 1992. He was a trustee at Gordon College, a liberal arts college in Wenham, Mass., that dedicated their science building to him in 2008. In the lobby, there are interactive kiosks and memorials for students and staff to read stories of his service and career.
Olsen died in February 2011 in Indianapolis, Indiana, when he was 84.
We honor his service.