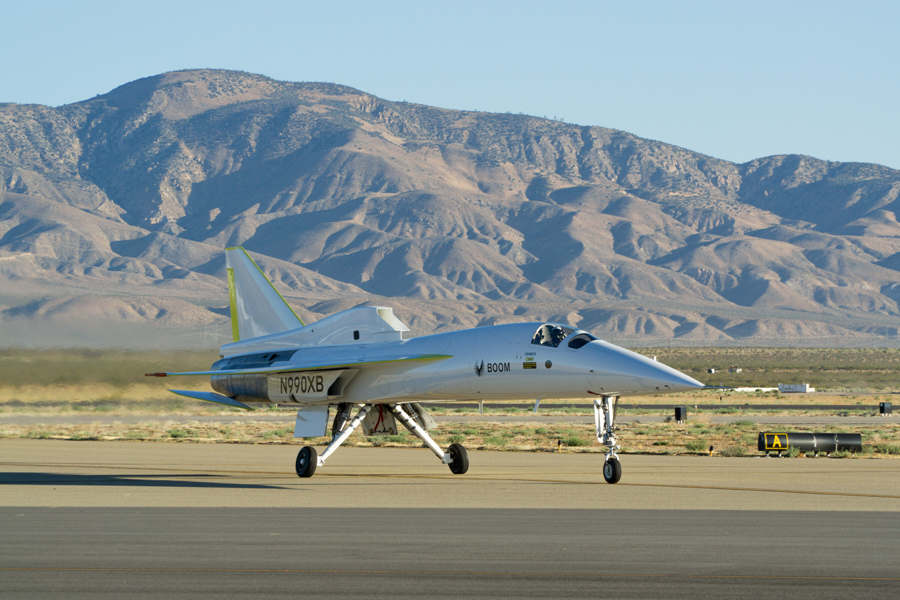 Boom Supersonic, the company building the world's fastest airliner, Overture, announced Aug. 24 that it has completed several key milestones for XB-1, Boom's technology demonstrator aircraft.
XB-1 leverages 60 years of progress in airplane technologies like carbon fiber composites, advanced avionics, and digitally-optimized aerodynamics to enable sustainable supersonic travel.
Earlier this year, XB-1 was moved from the company's hangar in Centennial, Colo., to the Mojave Air and Space Port in Mojave, Calif., to continue preparations for flight. The aircraft has undergone extensive ground testing since arriving, including taxi testing this week.
"The recent progress made towards XB-1's first flight reflects the team's collective efforts to build and safely fly the world's first independently developed supersonic jet," said Blake Scholl, Boom Supersonic's founder and CEO.
In addition to the ongoing testing, XB-1 recently received an experimental airworthiness certificate from the Federal Aviation Administration, following a detailed aircraft inspection. Boom has also secured letters of authorization to allow Chief Test Pilot Bill "Doc" Shoemaker and test pilot Tristan "Gepetto" Brandenburg to fly XB-1. Additionally, letters of agreement with airspace authorities are in place allowing for flights of the aircraft over the Mojave Desert. XB-1's historic first flight will occur in the same airspace where Chuck Yeager first broke the sound barrier in the Bell X-1 and the Mach 3+, strategic reconnaissance SR-71 "Blackbird" first flew in 1964.
XB-1 has provided the company with valuable learnings, including the development of a robust safety culture. In preparation for flight, Boom's test pilots have completed hundreds of hours in the simulator for aircraft evaluation, operations development, training, and human factors assessments to achieve the highest levels of safety. The test pilots also maintain flight proficiency in a T-38 trainer aircraft, the same aircraft that will be used as a chase plane for all flight tests of XB-1. To further increase safety, the test pilots will use the T-38 to practice formation flying.
"It's fitting that XB-1 is now progressing toward first flight at the Mojave Air and Space Port, home to more than 50 first flights and other significant aviation events," said Shoemaker, chief test pilot for Boom Supersonic. "I'm looking forward to flying XB-1 here, building on the achievements of other talented engineers and pilots who inspire us every day to make supersonic travel mainstream."
XB-1 features a carbon composite and titanium fuselage measuring 71 feet in length. Its ogive (modified delta) wing enables safe operation at takeoff and landing as well as supersonic speeds. The three General Electric J85 engines that power XB-1 produce a combined maximum thrust of 12,300 pounds of force.
The supersonic demonstrator aircraft rolled out of Boom's hangar in Centennial, Colo., in October 2020. Since then, rigorous testing of all of XB-1's internal subsystems has been completed. Upgraded landing gear and supersonic engine intakes were also installed on XB-1, both of which increase performance and safety.
Across its development, XB-1 has validated Boom's approach to airplane design and enabled engineers to leverage advanced tools like computational fluid dynamics which are critical components of Overture's development. Overture is the sustainable supersonic airliner from Boom that will fly at Mach 1.7, or about twice the speed of today's fastest airliners, and is designed to run on 100 percent sustainable aviation fuel.