The Solid Rocket Motors from the shuttle Endeavor have been in storage at the Mojave Air and Space Port, about 100 miles north of Los Angeles, since September 2020.
On Oct. 10, they were moved from their current home at the Mojave Air and Space Port to the California Science Center.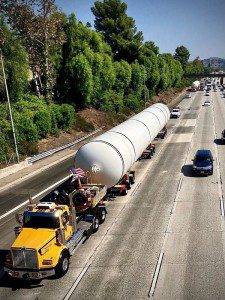 They are the final elements of space shuttle Endeavour's stack to arrive at the California Science Center. The components, including NASA's last remaining built-for-flight external tank, will make up the world's only exhibit of an authentic shuttle poised for flight.
Components of these two Solid Rocket Motors flew on a combined 81 space shuttle flights and 32 static tests, dating back to STS-5 in 1982, the fifth NASA Space Shuttle mission and the fifth flight of the Space Shuttle Columbia.
The last use of a component was for STS-133, the last flight of Discovery. The rocket motors departed the Mojave Air and Space Port at 9 a.m., Oct. 10, exiting south on Airport Blvd, then east on the Mojave-Barstow Highway, and then continuing to Route 58 over the next two days.
"We're excited to see the SRB's on display in the future," said Mojave Air and Space Port CEO Tim Reid.
On Oct. 11, 2023, the California Science Center will continue Go for Stack with the arrival of the large Solid Rocket Motors.
Each Solid Rocket Motor will be mated to an Aft Skirt, already installed in the Shuttle Gallery of the future Samuel Oschin Air and Space Center; then Forward Assemblies will be mated to the top. Once stacked, these elements will complete the Solid Rocket Boosters.