Astronaut Frank Borman passed away Nov. 7, 2023, aged 95 in Billings, Mont.
Borman commanded the Apollo 8 mission, the first Americans to circle the Moon.
"Today we remember one of NASA's best. Astronaut Frank Borman was a true American hero," said Bill Nelson, NASA Administrator."Among his many accomplishments, he served as the commander of the Apollo 8 mission, humanity's first mission around the Moon in 1968.
"His lifelong love for aviation and exploration was only surpassed by his love for his wife Susan."
The crew of Apollo 8 – Borman, James Lovell and William Anders — launched from Cape Canaveral on Dec. 21, 1968 and the crew spent three days travelling to the Moon, slipping into orbit on Dec. 24 – Christmas Eve.
They circled the Moon 10 times before heading home to Earth on Dec. 27.
On Christmas Eve, the three astronauts read from the Book of Genesis in a live telecast.
"In the beginning, God created the heaven and the earth. And the earth was without form, and void; and darkness was upon the face of the deep."
Borman ended the broadcast with, "And from the crew of Apollo 8, we close with good night, good luck, a Merry Christmas, and God bless all of you — all of you on the good Earth."
In his book, "Countdown: An Autobiography," Borman said Apollo 8 was originally supposed to orbit Earth. The success of Apollo 7's mission in October 1968 to show system reliability on long duration flights made NASA decide it was time to take a shot at flying to the moon.
But Borman said there was another reason NASA changed the plan: the agency wanted to beat the Russians. Borman said he thought one orbit would suffice.
"My main concern in this whole flight was to get there ahead of the Russians and get home. That was a significant achievement in my eyes," Borman explained at a Chicago appearance in 2017.
It was the crew's fourth orbit of the Moon when Borman took the famous and iconic "Earthrise" photograph showing the blue and white Earth rising above the stark, monochromatic lunar landscape.
"We were the first humans to see the world in its majestic totality, an intensely emotional experience for each of us," Borman later said. "We said nothing to each other, but I was sure our thoughts were identical — of our families on that spinning globe. And maybe we shared another thought I had; this must be what God sees."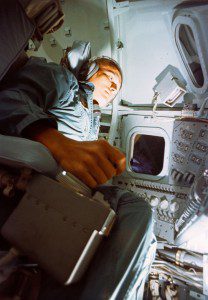 But Borman's journey to the stars started long before that 1968 flight to the Moon.
"Frank began his career as an officer with the U.S. Air Force. His love of flying proved essential through his positions as a fighter pilot, operational pilot, test pilot, and assistant professor. His exceptional experience and expertise led him to be chosen by NASA to join the second group of astronauts," Nelson said.
A career Air Force officer from 1950, his assignments included service as a fighter pilot, an operational pilot and instructor, an experimental test pilot and an assistant professor of Thermodynamics and Fluid Mechanics at West Point.
When selected by NASA, Frank Borman was instructor at the Aerospace Research Pilot School at Edwards AFB, Calif.
In 1967 he served as a member of the Apollo 204 Fire Investigation Board, investigating the causes of the fire which killed three astronauts aboard an Apollo spacecraft, reminiscent of the Challenger tragedy. Later he became the Apollo Program Resident Manager, heading the team that re-engineered the Apollo spacecraft. He also served as Field Director of NASA's Space Station Task Force.
"In addition to his critical role as commander of the Apollo 8 mission, he is a veteran of Gemini 7, spending 14 days in low-Earth orbit and conducting the first rendezvous in space, coming within a few feet of the Gemini 6 spacecraft," said Nelson.
Borman retired from the air Force in 1970, but is well remembered as a part of this nation's history, a pioneer in the exploration of space and a veteran of both the Gemini 7, 1965 Space Orbital Rendezvous with Gemini 6 and the first manned lunar orbital mission, Apollo 8, in 1968.
Borman's retirement from the Air Force in 1970 did not end his aviation career. He became a special adviser to Eastern Airlines in early 1969 and in December 1970 was named senior vice president-Operations Group.
He was promoted to executive VP-General Operations Manager and was elected to Eastern's Board of Directors in July 1974. In May 1975 he was elected president and chief operating officer. He was named CEO in December 1975 and became Chairman of the Board in December 1976.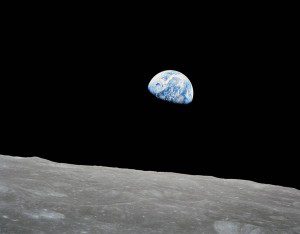 During his tenure as CEO of Eastern, the airline industry went through an enormous change caused by deregulation. He retired from Eastern Airlines in June 1986.
Borman was privileged to serve as Special Presidential Ambassador on trips throughout the Far East and Europe, including a worldwide tour to seek support for the release of American Prisoners of war held by North Vietnam.
He received the Congressional Space Medal of Honor from the President of the United States. Borman also was awarded the Harmon International Aviation Trophy, the Robert J. Collier Trophy, the Tony Jannus Award and the National Geographic Society's Hubbard Medal — in addition to many honorary degrees, special honors and service decorations.
In September of 1990, Borman along with fellow Apollo 8 astronauts, Lovell and Anders, was inducted into the International Aerospace Hall of Fame. And in October of 1990 received the Airport Operators Council International Downes Award. In March 1993, he was inducted into the U.S. Astronaut Hall of Fame.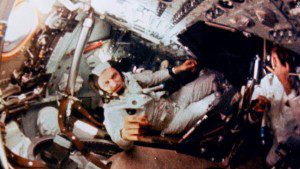 Borman was born in Gary, Ind., and was raised in Tucson, Ariz. He earned a Bachelor of Science degree from the U.S. Military Academy, West Point, in 1950 and a Master of Science degree in Aeronautical Engineering from the California Institute of Technology in 1957. He completed the Harvard Business School's Advanced Management Program in 1970.
He is survived by his sons Fred and Edwin.
"Frank knew the power exploration held in uniting humanity when he said, 'Exploration is really the essence of the human spirit,'" said Nelson. "His service to NASA and our nation will undoubtedly fuel the Artemis Generation to reach new cosmic shores."
For more on Frank Borman, see Frank Borman was USAF fighter pilot before becoming NASA astronaut