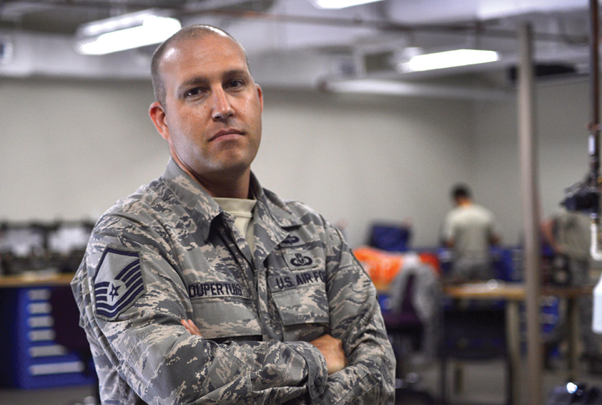 MACDILL AIR FORCE BASE, Fla. —
Inspiration for the modern marathon, a 26.2-mile race, stems from military origins. Legend tells of a Greek soldier who ran from Marathon to Athens to deliver news of the defeated Persian army. More than two millennia later, one Airman at MacDill Air Force Base is writing his own story.
Master Sgt. Michael Dupertuis, 6th Operations Support Squadron aircrew flight equipment superintendent, is part of a select group of athletes driven to compete in the sport of ultramarathon running. An ultramarathon is any race that is longer than the traditional marathon length of 26.2 miles; typically, they run between 30 to 100 miles.
Though he tackles the distance now, Dupertuis never planned to become a serious runner, let alone an ultramarathon athlete.
"The Big D Marathon in Dallas was eye opening," Dupertuis said, recalling how unforgiving the pavement had been. "By about mile 18 my body started breaking down."
After he completed his first traditional street marathon, Dupertuis said he never intended to continue running.
But he did.
His interest in running began while stationed at Moody AFB, Georgia, where he was introduced to trail running during daily physical training.
"I've always enjoyed being outside and running in the woods," he said. "It's quieter, less crowded and lets me enjoy the wildlife and terrain around me."
He continued trail running at a subsequent duty station and said, the more he ran, the more he enjoyed the sport. With the support of a nearby trail running community and his family, Dupertuis attempted his first ultramarathon.
"I started running ultramarathons because I wanted to prove to myself and others that I could," he said. "I had already run a marathon and I figured that 50 kilometers wasn't much further."
However, Dupertuis said his first ultramarathon, a 50k, started off on the wrong foot — a failure he believes to be the result of inadequate preparation.
"I was going back out to do the last eight miles and I caught my toe, tripped and my legs cramped up," he said. "Everything cramped up, and I was exhausted. I pushed through because my wife and kids were going to be at the finish line. I wanted to show my kids that if you push, you can finish anything you start."
Dupertuis said it took him three-and-a-half hours to finish the last eight miles of the race. However, despite his defeat, he was determined to try again. To date, Dupertuis has logged two ultramarathons and many shorter long-distance races. His longest run so far is a 100k ultramarathon.
"I found the 100k because I was looking for a 50-mile race," Dupertuis said.
He said the race website advertised a medal for everyone that finished, but something more attractive caught his eye.
"Those who completed the 100k would get a big ole' belt buckle, and being me, I decided to run 12 more miles," he said.
Dupertuis said that except for a brief period of doubt around mile 30, his 100k performance was a significant improvement from his first marathon.
"I felt good the whole time; I was just enjoying it," he said. "The last 16 miles were nothing but rain and I loved it. Running in the dark with only a headlamp, slopping through the mud, made me feel like a kid again."
Dupertuis' accomplishment is largely the result of extensive conditioning, which he claims is key to completing an ultramarathon.
"During the week, I run twice a day and cross-train with weights," he said. "On the weekends, I do a pace run on Saturday and a long run on Sunday. The idea is to run on tired legs so your body is used to it during a race."
For new runners, the feat of an ultramarathon may seem out of reach, but Dupertuis encourages others to start small by building a strong base and gradually adding distance as he did.
"I didn't start running until Master Sgt. Dupertuis introduced me to trail running two years ago," said Peter Raspitzi, a friend and neighbor. "Running up and down the hills was difficult at first, but now I train about once a week with him."
Raspitzi said that although he has completed a few short-distance races, he plans to leave ultramarathon running to his neighbor, who he describes as exceptionally driven.
"I think his drive and determination is what makes him so successful," Raspitzi said. "I told him he was out of his mind to run an ultramarathon, but he was determined to prove that he could. When he puts his mind to something, he does it."