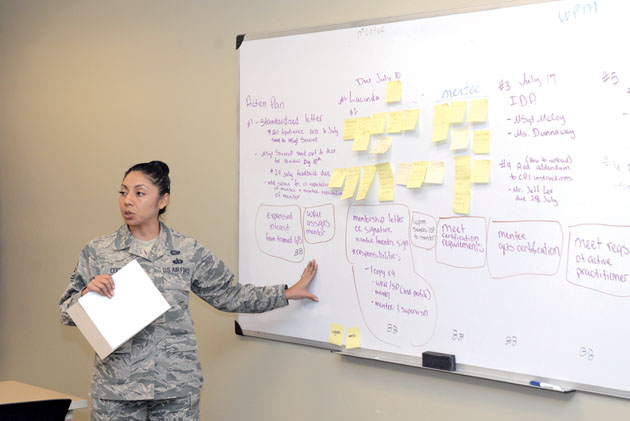 JOINT BASE SAN ANTONIO-RANDOLPH, Texas — The Air Education and Training Command's Innovation and Transformation Office hosted its annual Wing Process Manager Workshop June 27-29.
The three-day workshop brought together wing process managers from across the command to foster new ideas to improve how missions are accomplished as well as to better recognize the Airmen – uniformed and civil service alike – who bring those ideas forward.
"Today's Airmen are empowered to be agents of change, take risks, work as a team, and get the job done," said Brig. Gen. William Spangenthal, director of AETC's Plans, Programs, Requirements, and Assessments. "They're making improvements to processes all the time, and this program allows their ideas to be brought forward to their leadership. We have a responsibility as a service to pursue anything we can do to improve mission effectiveness."
Spangenthal cited the recent example of a KC-135 Stratotanker boom operator and a "horseshoe track," referring to the flight path for transient aircraft needing mid-air refueling. Working through his WPM, the boom operator's idea to create a closer circuit to expedite refueling not only decreased refueling times, but it also saved the Air Force more than $60 million. Spangenthal expressed hope that the wing process managers attending the recent workshop would be able to stoke similar fires of innovation at their own bases for their respective missions.
The experience levels of attendees ranged from the experienced to the novice, but many expressed confidence that the methods taught in the workshop would improve not just their own skill sets, but their problem-solving skills as well.
"You gain a lot of information in a workshop like this," said Lucinda Lazaro, Chief of Manpower for the 97th Force Support Squadron at Altus Air Force Base, Oklahoma. "You learn about processes and steps to apply to get those ideas seen by your leadership. But here you can also find mentors who can guide you into how you handle challenges you face along the way. Mentorship is a great incentive for the WPM because good guidance stays with you for your entire career."
Lazaro had spent 20 years in manpower programs, working for both the Army and the Air Force, but said she learned new concepts she can take back to Altus. Her Air Force Black Belt certification training – the proof of concept for a practitioner of a continuous process improvement – will be complete next month, and she said she is eager to seek out Green Belt candidates to mentor who will further encourage innovation across the service.
This was the first workshop for Dr. Byron Nichols, a Black Belt trainee for the 59th Medical Support Group at JBSA-Lackland, Texas. He said the workshop illustrated how wing commanders envision their organizational culture interacting with major command and Headquarters Air Force goals.
"It's good to see how the command approaches proposed solutions that come from their Airmen," he said. "I mentor two Green Belt trainees and submitted their packages for certification, so this workshop is worthwhile to observe and hear what's being discussed, to learn the language of your bosses."
With the goal behind the workshop being a wider acceptance of innovations from all ranks to develop a more efficient flying force, the acting chief of AETC's Innovation and Transformation Office, Sean Harrington, said the objective all comes down to enabling Airmen to coach and mentor their successors.
"We can all be trailblazers," said Harrington. "Mentors help navigate the landscape for the next team and lay down markers for processes to become established. Those processes address mission requirements and workshops like this help the WPM recognize where customer needs can be met more efficiently."
According to Harrington, while there are 16 certified Air Force Black Belts within AETC, not all are filling positions as wing process managers. In fact, just five of the 13 wings currently being tracked have a certified Air Force Black Belt as their WPM. The good news is the remaining WPMs are at various stages in the certification process. As in martial arts, a Black Belt's responsibility is to teach a more efficient means of confronting difficult situations to persons eager to learn. He said the command leadership is committed to furthering the development of the culture of innovation within AETC.
"What wing process managers do will make the jobs of our Airmen easier and more efficient," Spangenthal said. "If our people embrace their empowerment to improve how they work, they will go on to do great things for all of us."