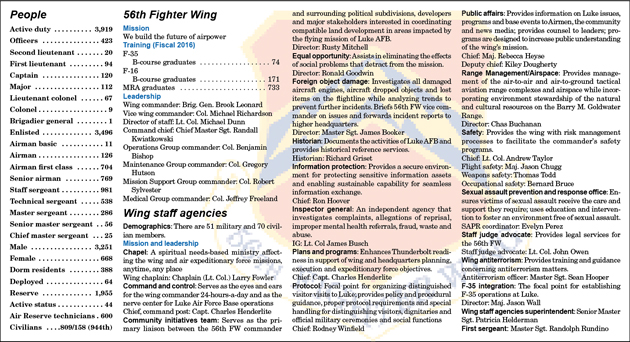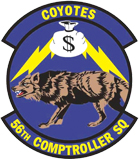 56th Comptroller Squadron
Mission: Deliver world-class decision support on all financial matters while deploying mission-ready Airmen.
Demographics: CPTS consists of three officers, 19 enlisted and 17 civilian employees.
Leadership
Commander: Lt. Col. Joseph Nicholas
Superintendent: Senior Master Sgt. Patrica Helderman
First sergeant: Master Sgt. Randolph Rundio
Responsibilities: CPTS is responsible for planning and executing an annual operations and maintenance budget of $116 million and maintains operational control of more than $500 million in accounting operations; performs cost analysis and economic studies as needed; provides financial customer support for more than 6,000 military, civilians and Reserve personnel.
Fun facts: Comptrollers (a.k.a Paymasters) have been "making it rain" since they were established by the Continental Congress in 1775 and have been an integral part of the U.S. Armed Forces ever since.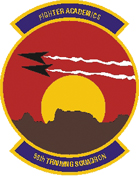 56th Training Squadron
Mission: Train the world's greatest F-35 and F-16 pilots by providing peerless instruction, virtual training and training systems management.
Demographics: There are 16 officers, nine government civilians and more than 200 contract employees.
Leadership
Commander: Lt. Col. Matthew Hayden
Director of Operations: Lt. Col. Andy Pitts (F-35) and Lt. Col. Nathan Harrold (F-16)
Responsibilities: Building the future of airpower, the TRS provides 100 percent of the Air Force's initially qualified F-35 pilots and more than 60 percent of the initially qualified F-16 pilots, totaling almost one-half of all the Air Force's fighter pilots each year. It conducts the world's finest instruction in aircraft systems, air-to-air, air-to-ground, suppression of enemy air defenses fundamentals, special missions and high performance aircraft physiology. Additionally, the TRS manages all
lesson content, courseware, aircrew training
devices, graduation evaluation program, and the 56th Fighter Wing's programmed flying training for 13 F-16 and F-35 training syllabi executed across three geographically separated training locations.
Fun fact: Our contract employees have survived more than 4,500 hours of aerial combat and have been awarded 12 Distinguished Flying Crosses, 98 Air Medals and one Purple Heart.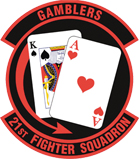 21st Fighter Squadron Gamblers
Mission: Train lethal warriors
Demographics: There are 13 instructor pilots, 12 civilians and 75 contracted maintenance professionals.
Leadership
Commander:
Lt. Col. Matthew Tuzel
Director of operations: Lt. Col. Mark Whisler
Fun facts: The unit has flown the P-47 Thunderbolt, F-86 Sabre, F-100 Super Sabre, F-4 Phantom II, OA-10 Thunderbolt II and the F-16 Fighting Falcon.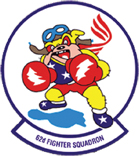 62nd Fighter Squadron Spikes
Mission: Train the world's best F-35 pilots.
Vision: Develop professional fighter pilots and leaders for the U.S. Air Force and our partners.
Demographics: Currently there are seven U.S. Air Force officers, eleven Norwegian officers, five Italian officers, and seven enlisted personnel.
Leadership
Commander: Lt. Col. Peter Lee Director of operations: Lt. Col. Robert Miller
Norwegian senior national representative: Lt. Col. Martin Tesli
Italian senior national representative: Maj. Giuseppe Ambrosio
Responsibilities: The 62nd FS is the only multi-partner F-35 squadron in the world and is responsible for conducting F-35 partner training for the United States and seven partner nations at Luke; the 62nd will eventually consist of 14 U.S., seven Norwegian and five Italian F-35s.
Fun facts: The squadron motto: "Spike Aces … 357 and Counting!" Since January 1941, the 62nd FS has destroyed 357 enemy aircraft either in the air or on the ground.

56th Operations Support Squadron
Mission: We provide outstanding service and operational support.
Demographics: There are 16 officers, 180 enlisted, 28 civilians and two contractors.
Leadership
Commander: Lt. Col. Paul Jelinek
Operations officer: Lt. Col. James Smith
Superintendent: Senior Master Sgt. George Kirkwood
Responsibilities: Provide airfield management, air traffic control, rated training and flying training syllabus support, weapons, tactics, and intelligence expertise, weather forecasting services, flight records management, operations scheduling, aircrew flight equipment, and rated manning management. Executes an annual flying hour program of more than 24,260 hours and 18,100 sorties.
Fun facts: The squadron war cry, "Get in the fight!" serves as a call to arms and a challenge to others to match the squadron's excellence.