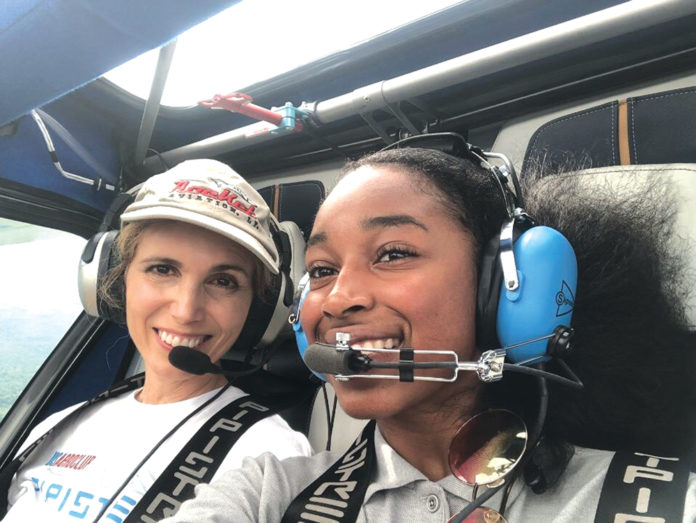 JOINT BASE SAN ANTONIO-RANDOLPH, Texas — The Air Force concluded its Aviation-Character-Education Solo Flight Program, lead by Air Force Recruiting Service, after graduating the final class of the year, July 12, in Tuskegee, Alabama.
"It's impressive to see these incredible students developing into young leaders and aviators," said Maj. Jeri-Lynn Harper, the Tuskegee A.C.E. class director of operations and an E-3 Sentry pilot. "They've come together and worked hard to improve daily; which was evident in the amazing progress they made in such a short period of time. This has been a phenomenal opportunity for all of the cadre, certified flight instructors and students. We are so grateful to be a part of such an inspirational program."
The A.C.E. Solo Flight Program, which began in 2018, is a unique, STEM–science, technology, engineering and math–focused summer program designed to motivate and mentor minorities and women to pursue aerospace careers, with an emphasis on Air Force opportunities.
For AFRS, the three-week program was a key element in the effort to increase diversity within the Air Force's rated officer corps.
"The A.C.E. Solo Flight Program advances the warfighting imperative of increasing diversity and reducing the pilot shortage through meaningful engagement of the next generation of Airmen," said Brig. Gen. Jeannie Leavitt, Air Force Recruiting Service commander.
AFRS set a historic milestone in that the program's third class in Tuskegee marked the first time the Air Force has conducted flight training operations out of Moton Field since the illustrious Tuskegee Airmen learned how to fly there in the 1940s. The location was specifically chosen to honor the contributions and rich heritage of the Tuskegee Airmen.
The other two A.C.E. Solo Flight programs this summer were held at the Citadel, the Military College of South Carolina and the Organization of Black Aerospace Professionals' Lt. Col. Luke Weathers Jr. Flight Academy in Memphis, Tennessee. Cadre were comprised of Airmen representing operational and support career fields. The program's success centered upon robust interaction with role models from all components of the Air Force: active duty, Air National Guard and Air Force Reserve.
"It was the most empowered I've ever felt," said Sebastian Almonte, Air Force ROTC cadet, about his solo flight. "I had proven to myself that I had the skills and confidence to take off smoothly, fly safely and land perfectly.
A total of 48 students ages 16-22, consisting of 24 Air Force ROTC cadets, four U.S. Air Force Academy cadets and 20 high school students participated in the flight program. Over the course of three weeks, they completed a combination of 480 flight hours, with more than 37 students soloing an airplane. This milestone builds confidence that carries pilots throughout their entire aviation career.
"Soloing changed my outlook on aviation," said Daniel Farrell, Air Force ROTC cadet. "It made me never want to stop flying."
While aviation was the primary theme of the A.C.E. Solo Flight Program, students also benefited from a variety of experiences from their instructors who enhanced their abilities by developing character and education. Students practiced group leadership projects and listened to briefings on a variety of subjects that included aerospace career options, S.M.A.R.T. goal setting and resiliency. Additionally, students engaged in informational field trips to military bases and college tours and had the opportunity to hear from Air Force senior leaders about their career experiences and pathways.
"During the character and education portion of the camp, I learned a lot about myself," said Sydney Flowers, a high school student. "Specifically, I learned the ways I need to improve in time management and study skills."
AFRS intends to conduct a larger A.C.E. Solo Flight Program in summer 2020.